I'm a big fan of American Express business cards. I find that for those with excellent credit, Amex business cards are among the easiest to be approved for. Amex likes to work with small businesses from early on, so even if you have a small business that's in its early stages, it's typically not too tough to be approved for their cards. It looks like a new restriction has been added to Amex business card applications this year, which I've received quite a few questions about.
The basics of applying for an Amex business card
It can be intimidating to apply for your first business credit card, though even if you're a small business or sole proprietorship, you should be eligible. When applying for an Amex business card, you'll be asked the following questions:
Legal Business Name
Business Address & Phone Number
Industry Type
Company Structure
Years In Business
Number Of Employees
Annual Business Revenue
Estimated Monthly Spend
Federal Tax ID
If you're a sole proprietorship, how should you approach this? First of all, and most importantly, answer everything truthfully. I think the concern that a lot of people have is that they think they need an incorporated business, a separate office, etc., in order to be considered for a business card. That's not the case:
You can use your name as your legal business name
The business address and phone number can be the same as your personal address and phone number
You can select "other" as your industry type, if that's the case
If you're a sole proprietorship, you can select that as your company structure
In terms of years in business, there's no shame in saying it has been less than a year, 1-2 years, etc.
In terms of the number of employees, saying just ons is perfectly fine
For the federal tax ID you can put your social security number
The new restriction on Amex business card applications
There's one new requirement that Amex seems to have instituted on business card applications recently, which is noteworthy. In the past it used to be possible to get approved for an Amex business card while stating $0 as the "Annual Business Revenue." That's no longer the case — now if you try to enter $0, you get a message saying that "Your Annual Business Revenue must contain at least four (4) digits." Unfortunately $10.01 doesn't count as four digits for these purposes.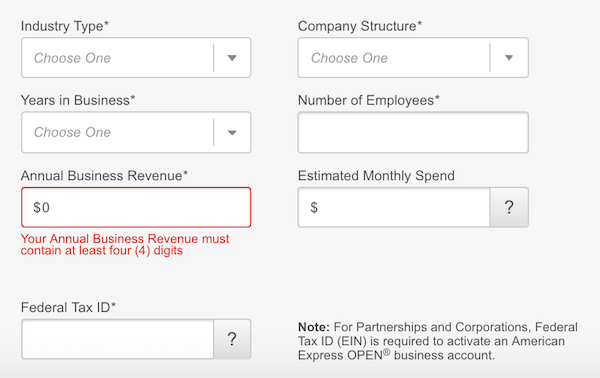 This means that to be approved for an Amex business card, you need to have a minimum business revenue of $1,000.
I've received several reader questions regarding this, mostly from people asking what they should do. As I always say, you should answer every aspect of the application truthfully. Logically it doesn't make sense that Amex wouldn't approve someone for a card with $0 past business revenue, given that a start-up business that's ramping up may not have any revenue yet, but may have big potential. After all, getting a good credit card should be one of the things you do while setting up your business.
That's why it's worth pointing out one interesting distinction I've heard from readers. Some report that Amex reps over the phone say that it's acceptable to provide projected business revenue. In the case of the online application, I don't see anything indicating whether the revenue stated has to be actual revenue from the past year, or projected revenue over the next year.
Personally I think it's logical that you could state projected business revenue over the next year, as that matches what phone agents are reported to be saying, and they're going through the same process. At least that's how I interpret the application.
Amex business card bonuses
American Express has quite a few business cards and several of them have welcome bonuses right now, including:
Earn points with these Amex business cards:
Bottom line
Amex's business applications now require you to state at least $1,000 as your business revenue. For a vast majority of businesses that shouldn't be an issue. However, if you have a start-up small business and don't have any business revenue yet, there seem to be inconsistent reports as to whether that's intended to be revenue in the past year, or projected revenue. Amex phone reps seem to be saying that it's acceptable to provide projected revenue, so personally I'd feel pretty comfortable applying and stating the projected revenue.