Early last year, American put into service their first Boeing 777-300ER. To me, that plane was really the beginning of the "new"American. If you asked me five years ago what I thought about American, I would have simply said "old," given that more than half of their fleet was MD-80s back then. They've been doing a lot to change that.
Possibly the most exciting part of their new 777-300ERs was the business class cabin, which marked the first time that American offered fully flat beds in business class. And not only were they fully flat beds, but they were my favorite variety of them — reverse herringbone seats.
These seats really are better than a vast majority of first class seats a decade ago. They're the same seats that Cathay Pacific has in business class.

Cathay Pacific reverse herringbone business class seats
Interestingly, however, American had different plans for business class on their newly reconfigured 777-200s. I initially assumed they would have the same product, though apparently it was cheaper to design a new product than to continue licensing Cathay Pacific's product.
So in April I wrote a post about what we should expect on American's new 777-200s, including some renderings of the product.
All-in-all, the product looked very similar to their reverse herringbone product, except these seats were staggered — some faced forwards, while some faced backwards. Here are the pictures I posted at the time:

American 777-200 new business class seat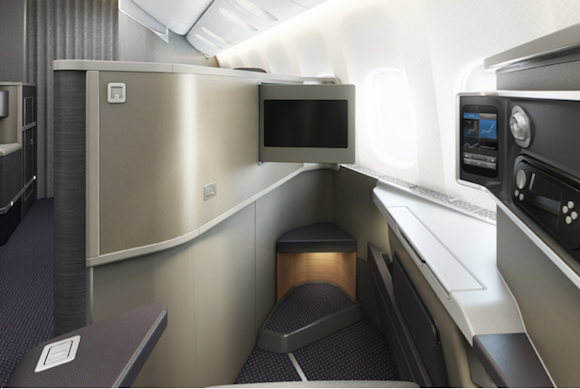 American 777-200 new business class seat

American 777-200 new business class seat
Anyway, American's first 777-200 has finally been reconfigured, and just flew from Hong Kong (where the reconfigurations happen) to Dallas.
User tripp7dfw posting the following picture of the first reconfigured 777-200 on airliners.net: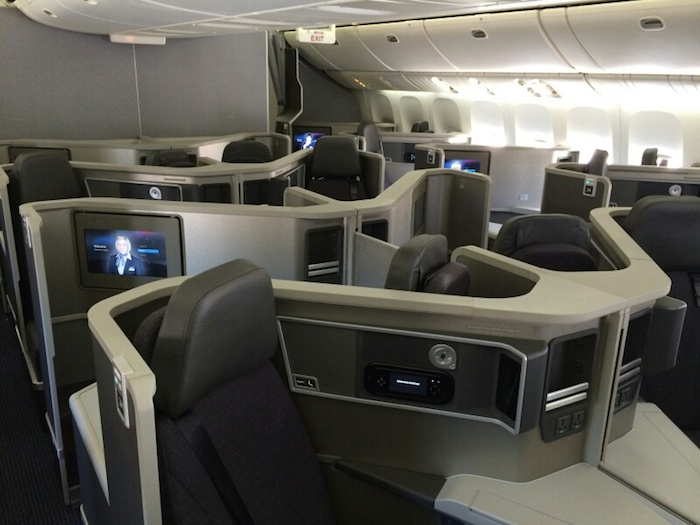 American 777-200 new business class
Swanky! Now is it actually better than American's business class product on the 777-300ER?
There are three things I immediately noticed:
1. The new 777-200 business class seat has a shoulder harness. So during takeoff and landing you'll have to put on the harness.

American 777-300ER business class
2. The new 777-200 business class seats are even more private. There's already tons of privacy in the center seats on the 777-300ER due to the center console, but in the case of the 777-200, half of the center seats actually look away from one another. So there was plenty of privacy already, but there will be even more.

American 777-300ER business class
3. The foot compartment on the 777-200 seems less restrictive. The 777-300ER seat is plenty spacious, though the area where your feet goes is a bit restricted. That's because your feet kind of go underneath the console of the seat in front of you, so if you have big feet it can be tough to have them point straight up. If I'm looking at the pictures of the 777-200 correctly, it seems like there's lots more room for your feet, as there's nothing preventing how far they can go vertically.

American 777-300ER business class
4. The 777-200 cabin does look "tighter." All the positive things being said, the 777-200 cabin does look more "compact" somehow. Admittedly we only have one picture so that might be why, but the 777-300ER cabin looks more spacious, I think.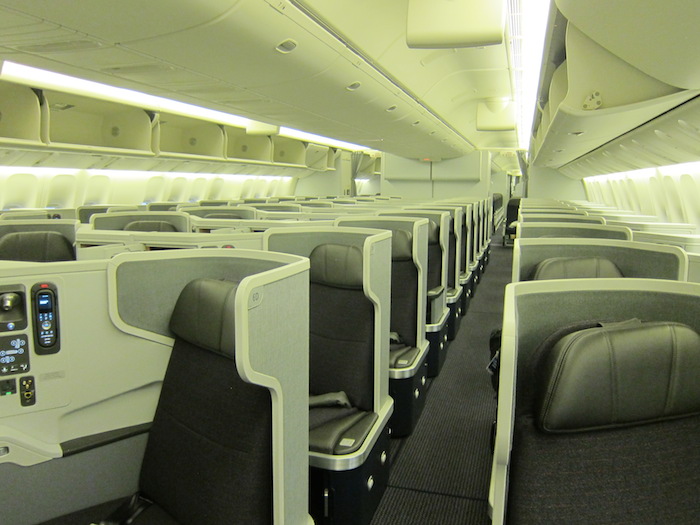 American 777-300ER business class
The first 777-200 should be in service within the next week or so, so I guess we'll find out for sure soon!
What do you think of American's 777-200 business class, based on what we've seen?