As part of their fleet renewal, American will soon be taking delivery of their first Airbus A319 aircraft. They'll be going into service in mid-September, and will initially operate out of Dallas to secondary markets. The initial schedule has them flying between Dallas and Charlotte, Cleveland, Memphis, Wichita, Dayton, Lubbock, El Paso, Huntsville, McAllen, and Toronto. So these really aren't premium routes. You can find the full details of the new A319 routes here.
The more interesting news is the seatmap of the new A319, which has now been published. It ain't pretty. Before we get too much into it, let's be clear that the A319 is more or less replacing the MD80 in American's fleet, which has 16 first class seats, 40 Main Cabin Extra seats, and 79 coach seats.
The A319, on the other hand, will only have a total of eight first class seats, making it the smallest first class cabin in American's fleet. American's 737s and MD80s all have 16 first class seats, and even their regional jets have nine first class seats. So this is a huge reduction in first class capacity.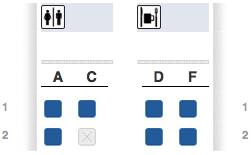 Then there are only three rows of Main Cabin Extra for a total of 18 seats, which is less than half the size of the Main Cabin Extra cabin on the MD80.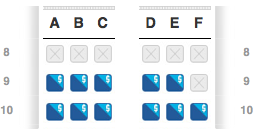 Then there will be 102 coach seats.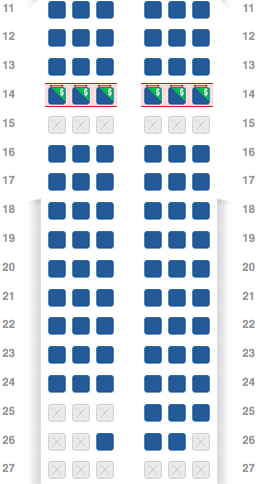 Just to be clear, the plane itself is a huge upgrade over the MD80, though as an elite member hoping for a first class upgrade or Main Cabin Extra, this will be a plane to stay away from.
I'm a bit conflicted on what to make of this. The configuration itself is bad news for elites, and I think we should've all seen this coming with the merger. It's simply not sustainable for American to have 16 seat first class cabins, and have a third of their coach cabin be Main Cabin Extra. At least not on an A319, which has fairly high operating costs. That being said, this is the other extreme.
That's why I kind of wonder whether American plans this configuration for their entire A319 fleet, or whether they'll have sub-fleets of A319s. I can't imagine there's all that much premium demand between Dallas and Cleveland, for example, but I imagine American will also be flying these in more premium markets eventually. For example, currently flights between Chicago and Dallas are almost exclusively operated by MD80s, and even with 16 first class seats, they often sell out in advance. If you cut the number of seats in half I think we can all kiss goodbye to upgrades on the route ever again.
Anyway, here's to hoping that this configuration is only for a sub-fleet of their A319s, and that the A321s have a much larger first class cabin.
What do you guys think? Will this be the configuration throughout the A319 fleet, and how many first class seats do you think they'll have on the A321s?