Through July 8, 2016, American is offering up to a 10% discount plus 100,000 bonus miles when you purchase AAdvantage miles. This potentially represents the lowest cost at which I've ever seen American sell miles.
The 10% discount applies no matter how many miles you buy, while the bonus miles are tiered, and based on how many you purchase, as follows:
Buy 11,000-20,000 miles, get 2,500 bonus miles
Buy 21,000-50,000 miles, get 5,000 bonus miles
Buy 51,000-75,000 miles, get 15,000 bonus miles
Buy 76,000-100,000 miles, get 27,500 bonus miles
Buy 101,000-125,000 miles, get 45,000 bonus miles
Buy 126,000-149,000 miles, get 70,000 bonus miles
Buy 150,000 miles, get 100,000 bonus miles
To achieve the lowest cost on a per mile basis you'll want to purchase exactly 150,000 miles. If you did that, you'd receive a total of 250,000 miles at a cost of $4,311.19, which is a cost of ~1.72 cents per mile.
As usual, AAdvantage accounts less than 30 days old aren't eligible to purchase miles. Furthermore, there's a cap of purchasing 150,000 AAdvantage miles per account per calendar year (pre-bonus).
As far as the relative value of this promotion goes, this is the lowest cost at which I've ever seen American sell miles, at least in recent years. In April American sold miles for as little as ~1.81 cents each, which was otherwise the lowest cost I've seen on purchased miles in quite a while.
Of course it's worth keeping this in context, since American did devalue their award chart in March. While the cost per purchased mile is the lowest I've seen, miles are also worth less than they were earlier in the year.
Is it a good deal?
With American's recent devaluation, my valuation of AAdvantage miles has decreased from ~1.8 cents to ~1.5 cents each. It's international first class award redemptions which went up in price most, with awards increasing in price by up to ~70% in some instances.
Meanwhile the cost of most business class awards increased as well, though not nearly as drastically. As a reminder, here's the cost of first and business class awards originating in the US under the new program:
| Contiguous 48 U.S. To: | Business Class | First Class |
| --- | --- | --- |
| Contiguous 48 U.S. States | 25,000 | 50,000 |
| Canada & Alaska | 30,000 | 55,000 |
| Hawaii | 40,000 | 65,000 |
| Caribbean | 27,500 | 52,500 |
| Mexico | 27,500 | 52,500 |
| Central America | 27,500 | 52,500 |
| South America Zone 1 | 30,000 | 55,000 |
| South America Zone 2 | 57,500 | 85,000 |
| Europe | 57,500 | 85,000 |
| Middle East / India | 70,000 | 115,000 |
| Africa | 75,000 | 120,000 |
| Asia Zone 1 | 60,000 | 80,000 |
| Asia Zone 2 | 70,000 | 110,000 |
| South Pacific | 80,000 | 110,000 |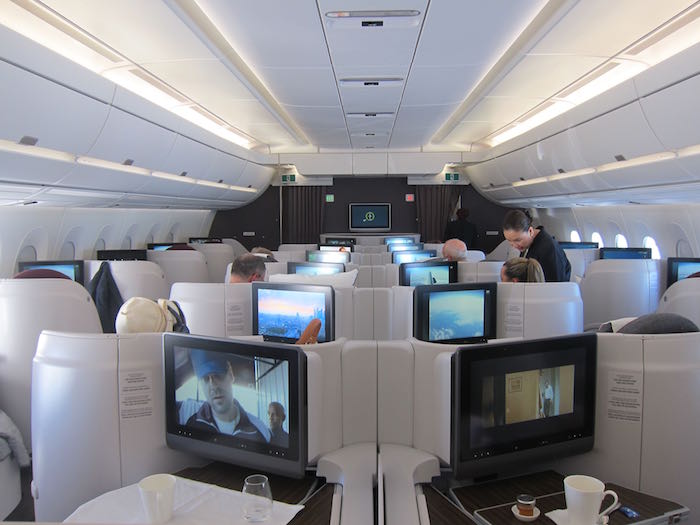 Qatar Airways business class continues to be a great use of American miles
I find the cost of business class redemptions to still be reasonable in most cases, and if you're essentially picking up miles at ~1.7 cents each, there are instances where buying miles can make sense.
You'll of course want to crunch the numbers for yourself in order to decide.
Which credit card should you buy miles with?
As of last year, American processes mileage purchases directly (rather than through points.com), which means the purchase of miles does qualify as airfare spend. Therefore you'll want to consider using one of the following cards for your purchase, since they offer the following bonus miles for airfare spend:
Bottom line
On a per mile basis, AAdvantage miles were significantly more valuable before the devaluation. However, this is the lowest cost I've ever seen on the value of AAdvantage miles, and there are certainly circumstances under which it could make sense to take advantage of this promotion, especially if you're looking to redeem miles for international business class.
If you are looking to buy miles, keep in mind that American allows five day award holds (meaning you can hold an award ticket, purchase miles, and then ticket the reservation). This promotion is valid for nearly a month, so you have a lot of time to decide whether or not you want to take advantage of this promotion.
Do you plan on buying American miles for as little as ~1.72 cents each?