As a loyal American flyer and German, I've long been disappointed by American's lackluster route network to Germany. For a while their only route to Germany was Dallas to Frankfurt, which really isolated anyone on the east coast from flying American to Germany.
Then last April American launched a Chicago to Dusseldorf flight, which was a logical enough route given that airberlin joined oneworld in 2012, and that's one of their primary hubs.
In a way American's merger with US Airways took care of any shortcomings they had with service to Germany, given US Airways' service to Frankfurt and Munich. I was starting to wonder whether those routes would last, given that they were largely centered around being able to drive connecting traffic onto Lufthansa. Since US Airways transitioned from Star Alliance to oneworld, that's no longer an option.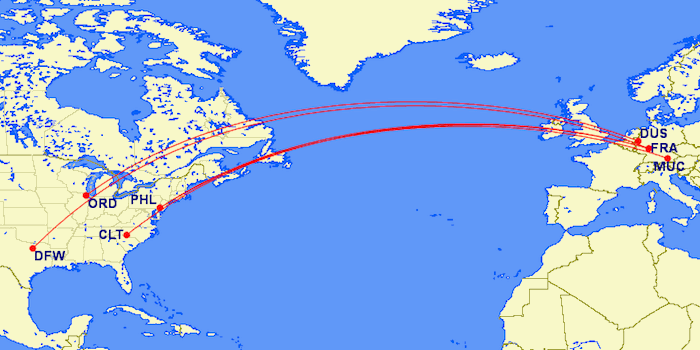 The "new American's" routes to Germany
I was kind of surprised when Doug Parker announced yesterday that American plans to resume Miami to Frankfurt flights in the first half of 2015. While nothing is official yet, it does seem like they're serious about it.
American operated Miami to Frankfurt with a 767-300 until 1997, at which point it was discontinued. I suspect it will once again be operated by a 767-300, most likely one that's refurbished with the new business class.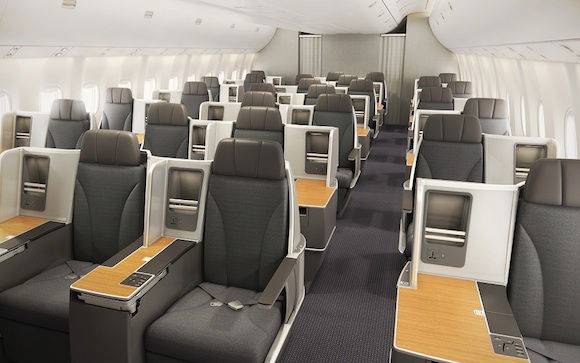 American 767-300 new business class
On one hand I'm excited since my family is from the Frankfurt area so this is incredibly convenient. But I'm not sure I get this move from American's perspective.
I would have expected that any additional service to Germany would be to Berlin or Dusseldorf, given the opportunity for feed on airberlin. Since airberlin flies to Chicago, Ft. Myers, Los Angeles (seasonally), Miami, and New York, I would have expected a route from Dallas or Philadelphia to Berlin or Dusseldorf.
I think the most likely scenario here is that we're simply seeing a route swap, and that US Airways will cut one of their frequencies to Frankfurt in favor of a Miami to Frankfurt flight.
While Frankfurt is the financial capital of Germany, I don't think American has much chance of winning German corporate traffic given Lufthansa's daily A380 flight. At best they're looking at:
Price sensitive customers, who will choose American if it's cheaper
Passengers connecting to Latin America, which I'm guessing is the primary reason for this route
Is anyone else surprised to see American's next route to Germany be to a Star Alliance hub rather than a oneworld hub?