Many non-US airlines offer a premium economy product, which has become considerably more popular over the years. As economy seats keep getting tighter and business class seats keep getting more spacious, there's room for some middle ground between the two cabins.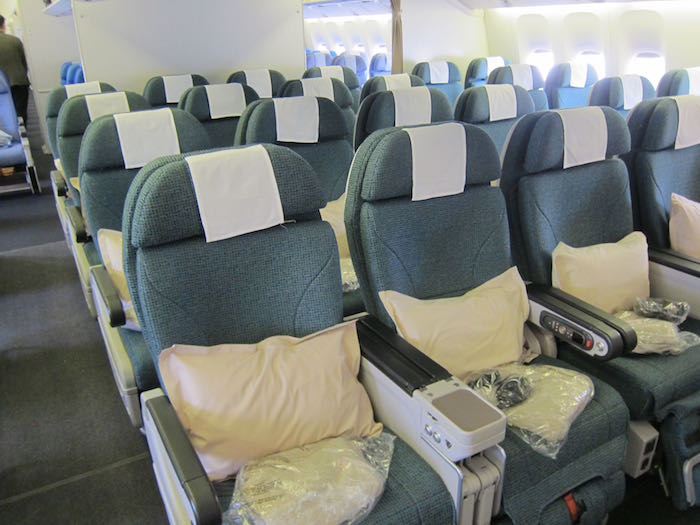 Cathay Pacific's Premium Economy
Premium economy typically consists of wider seats with more legroom, and in many cases extra amenities and better service.
Interestingly no US airline has adopted a true premium economy product, though. Instead US airlines largely have "extra legroom" seating, whereby you can pay extra for seats with additional legroom which are otherwise identical (except for Delta, which is slowly differentiating their extra legroom seating).

American's Main Cabin Extra
Could American introduce premium economy?
AusBT has a post with a quote from American's CEO, Doug Parker, about the possibility of them adding a premium economy cabin:
"We're looking at it," American Airlines CEO Doug Parker told Australian Business Traveller earlier this month, after a pause to carefully choose his words. "We think there's a lot of opportunity there."
I wouldn't read too much into the quote, personally. It seems to be said in the same way airline executives respond to just about any question with no 100% certain answer, of them saying that they're looking into it.
Why I doubt US airlines will adopt premium economy
I highly doubt we'll see American introduce premium economy. But let's look at the pros and cons.
From their perspective, why should American introduce premium economy?
American has joint ventures with British Airways, Japan Airlines, and Qantas, all of which offer premium economy products. In order to streamline product offerings as much as possible, it could certainly make sense to offer the cabin as well, especially due to the revenue sharing arrangements in place.
Premium economy has big revenue potential, as it can cost considerably more than economy.
It could be a further way to limit upgrade potential, as they could have a policy whereby you can only upgrade one class of service, meaning you'd have to book premium economy in order to upgrade to business class, for example.
Why shouldn't American introduce premium economy?
It would mean the death of Main Cabin Extra, as they can't feasibly have both premium economy and extra legroom seating. American is earning some revenue from Main Cabin Extra and is also appeasing elites by offering it.
Delta and United don't offer a premium economy product. If Delta isn't doing something, surely American wouldn't take a risk and do it either. Delta doesn't seem like they're at all considering getting rid of it, as they keep investing in the product.
It would be tough for American to offer the product consistently. As it stands, American has Main Cabin Extra throughout most of their fleet, both domestic and international. Premium economy would presumably only be offered throughout their longhaul fleet, so it would be tough to maintain product consistency (not that this has been a huge focus for American).
Qatar Airways' CEO chimes in
Perhaps the best quote about premium economy, though, comes from Qatar Airways' CEO:
"We won't roll out premium economy" affirms CEO Akbar Al Baker in an interview with Forbes.

"I don't think there is any room for premium economy in our region" Al Baker says, adding that in the airline's current economy cabin "we give you a premium economy seat with an economy class price."
The first and second quote from Al Baker are fine. The third quote is hilarious, though you'd expect no less from him. It's especially funny that he makes this claim at the same time that Qatar Airways is transitioning to 10-across seating on the 777.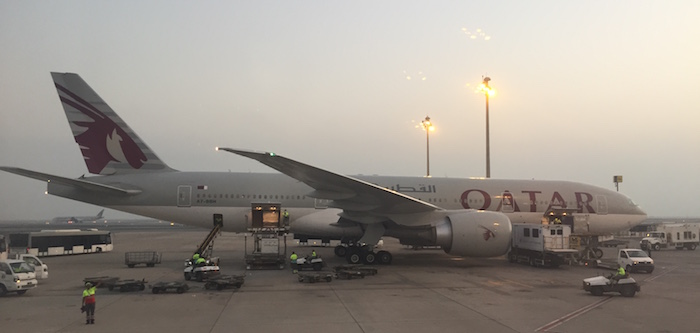 Qatar Airways 777
Bottom line
I certainly could be wrong, though I highly doubt we'll see any of the "big three" US carriers introduce a true premium economy product. Much like Delta I suspect they'll keep improving their extra legroom seating, but there are just too many barriers for a true premium economy product.
And that's good news, because the implications of premium economy wouldn't be good for those of us looking to upgrade, in my opinion.
What do you think — is there any chance American will introduce a true premium economy product?