While US airlines have offered extra legroom seating for years (American, Delta, and United have offered Main Cabin Extra, Comfort+, and Economy Plus, respectively), none have offered a formal premium economy cabin.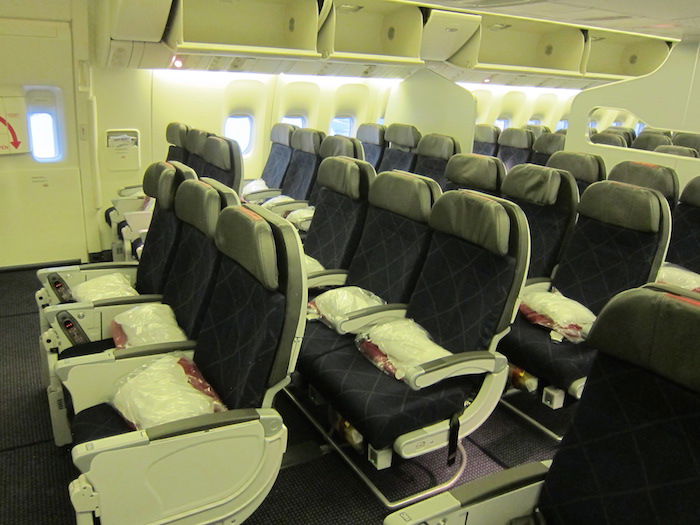 American Main Cabin Extra
It's very popular on foreign carriers, as it's a nice middle ground between business class (which keeps getting more spacious) and economy class (which keeps getting less spacious). The major distinction between extra legroom economy and premium economy is that seats in premium economy are usually a bit wider. Often they also come with improved amenities and service.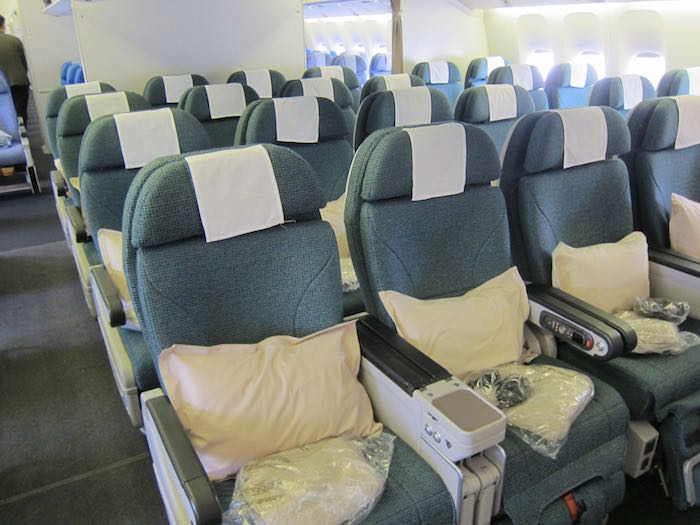 Cathay Pacific Premium Economy
American was considering adding premium economy
A couple of weeks ago I wrote about the possibility of American introducing a premium economy cabin. This was based on an interview AusBT had with American's CEO, where he said the following about a premium economy cabin:
"We're looking at it," American Airlines CEO Doug Parker told Australian Business Traveller earlier this month, after a pause to carefully choose his words. "We think there's a lot of opportunity there."
At the time I was skeptical of American introducing a premium economy product. As I outlined, there are pros and cons to such a cabin.
From American's perspective, why should they introduce premium economy?
American has joint ventures with British Airways, Japan Airlines, and Qantas, all of which offer premium economy products. In order to streamline product offerings as much as possible, it could certainly make sense to offer the cabin as well, especially due to the revenue sharing arrangements in place.
Premium economy has big revenue potential, as it can cost considerably more than economy.
It could be a further way to limit upgrade potential, as they could have a policy whereby you can only upgrade one class of service, meaning you'd have to book premium economy in order to upgrade to business class, for example.
Why shouldn't American introduce premium economy?
It would mean the death of Main Cabin Extra, as they can't feasibly have both premium economy and extra legroom seating. American is earning some revenue from Main Cabin Extra and is also appeasing elites by offering it.
Delta and United don't offer a premium economy product. If Delta isn't doing something, surely American wouldn't take a risk and do it either. Delta doesn't seem like they're at all considering getting rid of it, as they keep investing in the product.
It would be tough for American to offer the product consistently. As it stands, American has Main Cabin Extra throughout most of their fleet, both domestic and international. Premium economy would presumably only be offered throughout their longhaul fleet, so it would be tough to maintain product consistency (not that this has been a huge focus for American).
Big premium economy announcement coming shortly
Rumor has it American will announce the introduction of a premium economy cabin shortly, as early as tomorrow. This would be available on most of American's longhaul fleet (777s, 787s, and A330s), though not on their domestic planes.
Like I said, this is a RUMOR, though I have reason to believe it's accurate. I'd be willing to bet with near certainty that premium economy on American will be a reality soon, though I can't guarantee the timing (though I've heard pretty reliably that it could be tomorrow).
I'll certainly be watching closely for this announcement.
Bottom line
It would be interesting to see American leading the way for once among the US carriers, rather than Delta. What I care more about than premium economy as such are the implications of this in two regards:
Upgrades. Will it only be possible to upgrade one class of service? In other words, will it only be possible to use a systemwide upgrade to go from economy to premium economy, or from premium economy to business class? As if cutting systemwide upgrades in half for Executive Platinum members wasn't bad enough…
Main Cabin Extra. Will American have both Main Cabin Extra and premium economy seating? If so, will the premium economy seating come at the expense of business class seats, Main Cabin Extra seats, or regular economy seats?
Stay tuned, this should get interesting!
How do you feel about the potential of American adding premium economy to their longhaul fleet?