File this under "things that don't really matter, but you can't help but wonder who thought of it."
American has long had a pretty straightforward way of taking first and business class meal orders. The system was abbreviated "FEBO," and stands for "Front Even Back Odd." Basically they'd start taking meal orders at the front of the cabin on even numbered flights, and at the back of the cabin on odd numbered flights.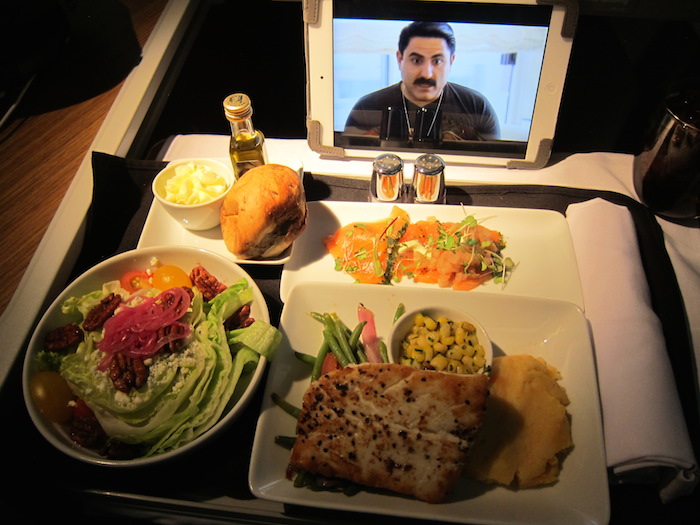 In addition to that they've let you pre-order first and business class meals, so you can actually choose your meal in advance regardless of where you're seated.
Apparently that system was too simple.
On September 1, American and US Airways will be aligning their meal policies, and as part of that they're apparently also making the system by which they take meal orders more complicated. Because FEBO was just too straightforward, I guess?
Under the new system, meal orders will be taken based on direction of flight.
If a flight involves a change of time zones:
Meal orders will be taken starting in the front on eastbound flights
Meal orders will be taken starting in the back on westbound flights
If a flight doesn't involve a change of time zones:
Meal orders will be taken from the front on southbound flights
Meal orders will be taken from the back on northbound flights
This gets especially fun because there are several routes where seasonally there's a time change, while other times of year there isn't. For example, right now Miami and Santiago are in the same time zone, while later in the year they're not.
Again, this isn't a big deal at all, I'm just puzzled about what problem they were trying to solve with this, and who came up with it and thought it would be a good idea.
I do hope they'll continue to give the option of pre-ordering meals after September 1…
(Tip of the hat to Gary)