While I think the Star Alliance is the all around most comprehensive in terms of their member airlines, historically oneworld is the best in terms of creating a relatively seamless experience for passengers. In the context of the quality of alliances, I don't think SkyTeam even has to be mentioned, even though they have a few decent airlines.
Where does oneworld beat Star Alliance?
Generally all oneworld airlines make all/some premium cabin award space available to partner airlines; conversely in Star Alliance, airlines like Singapore and Swiss don't generally make first class award space available to partner airlines
Oneworld gives first & business class passengers lounge access when traveling internationally even during same day connections, while Star Alliance only offers access before your eligible segment (in other words, if you're flying Lufthansa first class from Frankfurt to Chicago and United first class from Chicago to Los Angeles, you don't get lounge access in Chicago)
Oneworld Emerald members get first class lounge access, which is an awesome perk; I love using lounges like the Qantas First Class Lounge, Cathay Pacific First Class Lounge, Japan Airlines First Class Lounge, etc.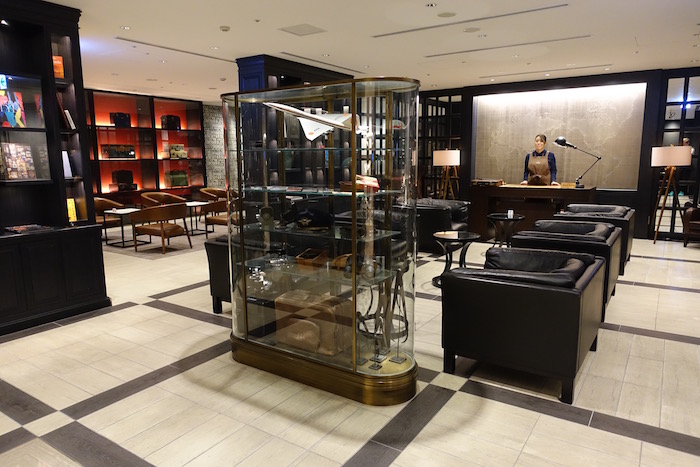 Unfortunately in June, oneworld eliminated one of their other most useful benefits for passengers traveling on multiple oneworld tickets. Specifically, oneworld has offered the following benefits to make the passenger experience as seamless as possible:
If you're booked on two separate tickets on oneworld carriers, you've been able to check your bags through to your final destination
If you're booked on two separate tickets on oneworld carriers, you've been protected in the event of a misconnect or cancelation
Cathay Pacific conformed to these new rules pretty quickly, though obviously airlines have been allowed to go above and beyond if they'd like. At the time American said they wouldn't update their policy, and would continue to check bags when traveling on multiple oneworld airlines on separate tickets.
Well, it looks like American has changed their mind. According to View from the Wing, as of September 1, 2016, American will no longer allow passengers on separate bookings to check their bags through, even if travel is entirely on oneworld airlines.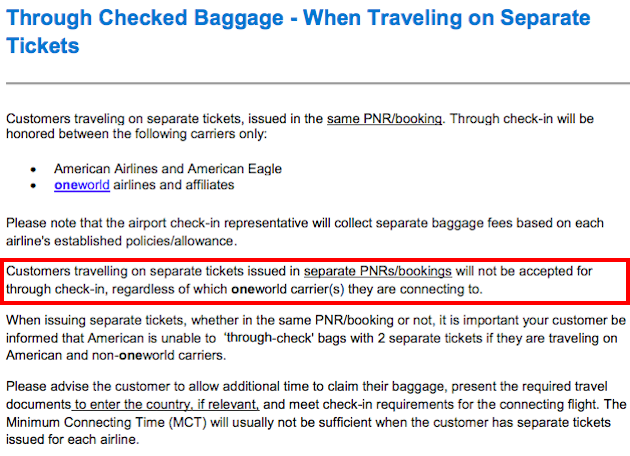 View from the Wing claims that there's an exception in place where if one reservation is an award ticket and the other a revenue ticket, you can still check them through. However, that's not something I'd count on frontline agents knowing.
This sucks, plain and simple. This was a nice advantage for oneworld for so long, and it's so silly that they eliminated this, since it cost them nothing. Now if you're traveling on separate tickets internationally you can enjoy clearing immigration at your intermediate point, waiting at baggage claim, checking in your bags again, and then queuing for security.
This change comes at a time when American's operational performance is horrible, so that makes this especially bad. If traveling on multiple tickets you may want to leave a really long layover, given that you're not protected if you misconnect, and also have to claim your bags and check them back in.
There's a lot of substance to American's #GoingForGreat marketing campaign, eh? I used to think they were being modest by suggesting they were only going for great (and not already great), though nowadays I feel like that's a serious stretch as well…