This situation seems to be escalating quickly, potentially for a variety of reasons. American Airlines has stopped using Russian airspace for their flights as of yesterday (April 14), which has caused some diversions.
Apparently Russian airspace rights for US airlines expire on April 17. There were supposed to be talks between the US State Department and Russia's Ministry of Transport regarding airspace rights, though they've canceled these meetings, so it remains to be seen what will happen there. It's not entirely clear whether these talks were canceled due to a disagreement and unwillingness to come to a consensus, or if they're just not prioritizing it (which seems unlikely). In and of itself that shouldn't be an issue yet, since it's just April 15, so the rights haven't yet ended.
Perhaps this issue has something to do with the US airstrikes in Syria, and Russia's stance on it.
What's happening? American Airlines has stopped using Russian airspace, which impacts some of their flights to China. In some cases this only leads to a marginally longer flight time, while in other cases it's causing diversions.
For example, yesterday's flights from Chicago to Beijing, Dallas to Beijing, and Dallas to Hong Kong, all diverted to Los Angeles, where they refueled and had a crew change.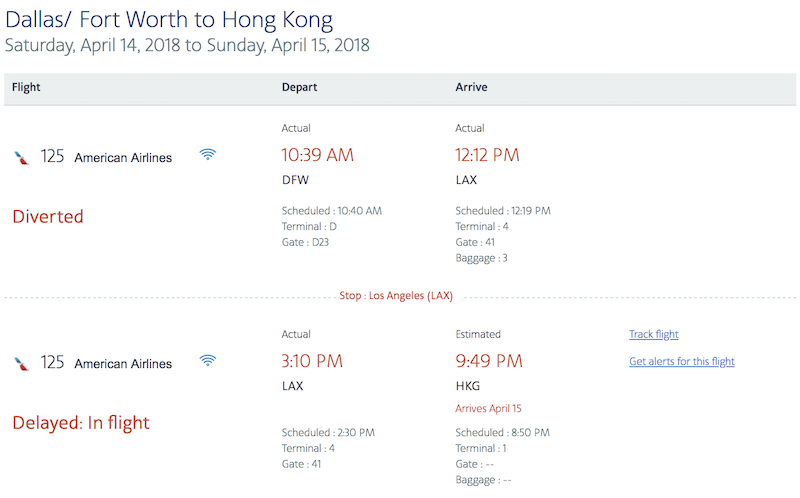 As of now only American is rerouting their flights, while Delta and United haven't had any diversions as of yet. It would appear as if American is just being extra cautious here, since there don't yet seem to be any directives from the government on this topic.
It'll be interesting to see how this situation unfolds over the coming days, especially with talks between the US and Russia regarding airspace rights not happening. This could resolve itself very quickly, or could we see all US airlines banned from Russian airspace, which could have huge impacts on some ultra longhaul routes?
This has the potential to be the next major international aviation "conflict," which we seem to see an increasing number of lately.
We'll mark this as "developing" for now…
(Tip of the hat to View from the Wing)