Update: Unfortunately the video has been removed. If I find it anywhere else online I'll be sure to post it.
Admittedly there are more important things going on in the world than new airline safety videos, though I find this interesting nonetheless.
American Airlines' new safety video
We've known for a while that American Airlines was supposed to introduce a new safety video, which was to coincide with their introduction of new uniforms several weeks back.
American hasn't actually made the switch over to the new safety video, given everything else going on in the world. View from the Wing flags what seems to be American's new safety video, which is the first time I've seen it leak.
The video was initially published on Vimeo by Charlie Uniform Tango, the production company that worked on the video. Unfortunately they've now deleted it within hours of the video getting attention.
I think it's safe to say that this is the new video, given that the employees are wearing the new uniforms.
For context, here's American's old safety video:
My thoughts on the new safety video
This safety video isn't going to win any awards. It's not like American Airlines was going to have a comedy routine or rap battle in their safety video, so that's not too surprising.
My initial take on the video is the following:
I like that the video is visually interesting to watch and that it's not annoying, in the sense that frequent flyers shouldn't be bothered by it
I don't like the outrageously fake smiles all employees have; the smiles are just so big that it reeks of insincerity, in my opinion
What I was most curious about with this video is what slogan they'd use. In 2019 American Airlines requested trademarks for the following terms, leading us to believe that (at least) one of them would be their new slogan:
"To Care For People On Life's Journey"
"We Fly So You Can Soar"
"Our Favorite Destination Is Yours"
"Time Well Spent"
Well, the video ends with "We Fly So You Can Soar," and I guess that answers our question as to which one they decided on.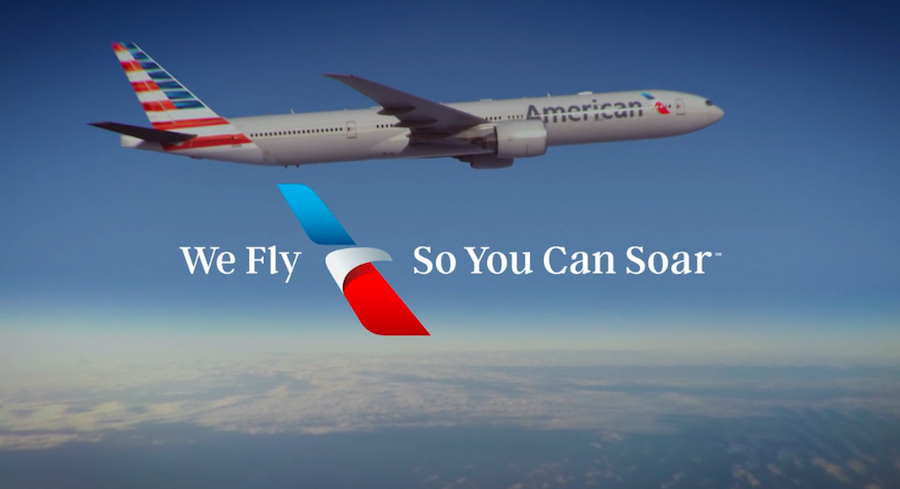 At the time I shared my take on each of the above new slogans, and my thoughts on that one was the following:
We're humans, not birds. And the first thing that comes to mind is "we fly so you can be sore," given American's new aircraft interiors. It also sets the bar low, and does nothing to differentiate American from any other airline.

Every airline flies, so why are American customers more likely to "soar?"
So yeah, it's probably the most honest of the potential slogans, though does nothing to raise the bar for the airline.
Bottom line
I assume the above is American Airlines' new safety video. It was presumably supposed to be launched in conjunction with new uniforms, but was likely delayed given everything that's going on.
I think the video is non-offensive enough — it's not too long, and it won't become tiresome as a frequent flyer.
Then again, with American removing TVs from many planes (and not offering them on any newly delivered narrow body planes), the number of flights with safety videos will be decreasing (since planes without TVs have manual safety demonstrations).
What do you make of American's new safety video?