American Airlines is in the news once again for threatening to kick someone off over their clothing choice.
American Passenger Forced To Cover Up Shirt
As reported by BuzzFeed News, Swati Runi Goyal and her husband were traveling from Florida to Nevada on October 30, when the crew advised her that she had to change her shirt or would be kicked off the plane.
Goyal was wearing a "Hail Satan" shirt.
Goyal isn't a "satan worshipper," but rather is a member of The Satanic Temple, which is a non-theistic religious group. They're recognized as a church for the purposes of tax exemption, and are active in 13 states in the US. The stated mission of the group is "to encourage benevolence and empathy among all people."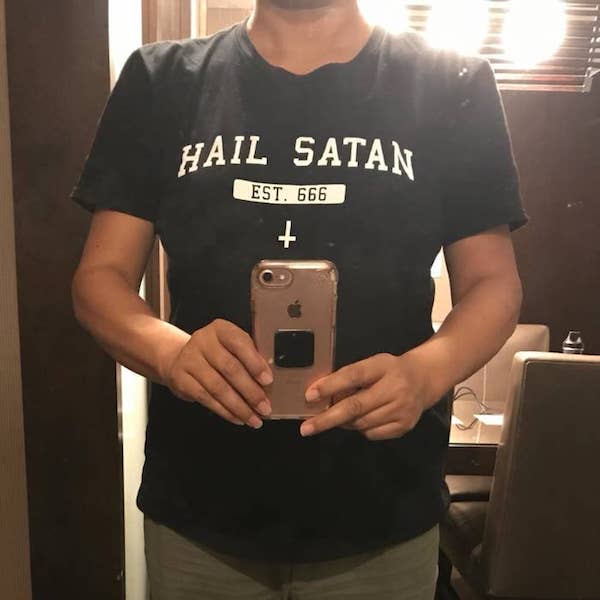 As Goyal described the shirt:
"It's an ironic shirt. People usually laugh at it, or they give me a thumbs up because they understand the meaning behind it."
So how did this all unfold? Goyal got settled into her seat and was approached by a crew member and told she had to change her shirt or get off the plane:
"He said, 'Our crew has found your shirt to be offensive.' We initially just thought it was a joke. But he repeated the directive, and there was another female crew member who was behind him with her arms crossed looking very angry.

"The man said, 'Your shirt is offensive. Do you know what that means?' I said, 'I'm a foreign-born minority woman, I understand 'offensive,' and this shirt is not offensive.'"
Her husband was wearing layers, so she covered up the shirt with one of his shirts, and they were allowed to stay onboard.
What Is American Airlines' Dress Code?
American Airlines has a vague and lax dress code, as follows:
Dress appropriately; bare feet or offensive clothing aren't allowed.
What American Airlines Says
When Goyal first contacted American Airlines to complain, she was dismissed. She got a response saying that they "have policies in place to ensure that no passengers are subjected to objectionable situations while on board."
The response went on to say that "our flight attendants have a responsibility to all passengers in our care, and we must sometimes make difficult decisions associated with the application of our policies."
Only once this made it to social media yesterday did American take it seriously. An American spokesperson said the following:
"We apologize to Ms. Goyal for her experience, and we are reaching out to her to understand what occurred."
The airline allegedly contacted her and offered to refund her tickets.
My Take On This Situation
It's completely ridiculous that this lady was threatened over her t-shirt. It seems pretty obvious that it's intended to be ironic. Also, American's dress code policy might seem lax on the surface, though more than anything else just seems vague. Suggesting that people can't wear "offensive" clothing is very open-ended.
Could wearing a cross be considered offensive to someone of a different religion? Where is the line drawn?
I'm happy that social media ended up being what exposed this story, because otherwise it seems like American wouldn't have taken it seriously.
What do you make of this situation?