Today American put out a press release emphasizing the ways in which they're expanding their route network in 2018. They mention that they're introducing 52 new nonstop flights in 2018, though most of these have already been announced. However, there are a couple of new changes being announced today.
Here's what Vasu Raja, American's VP of Network & Schedule Planning, had to say about the additions:
"Our 2018 schedule opens up so many new possibilities of destinations. We are making it easier and more convenient for our customers to fly on American to places that are important to them all over the world, from serving smaller cities more frequently to visiting places we've never flown before."
These changes complement the expansion that American has already announced to Budapest, Hungary, Prague, Czech Republic, and Reykjavik, Iceland (which I personally consider to be most exciting). On January 22, American will add the following new routes for travel as of June 7, 2018:
Three routes from PHL to Fort Wayne, Indiana (FWA); Oklahoma City (OKC); and Pensacola, Florida (PNS)
New service from both Charlotte Douglas International Airport (CLT) and DFW to Panama City, Florida (ECP) and South Bend, Indiana (SBN)
Service from Chicago O'Hare International Airport (ORD) to Wilkes-Barre/Scranton, Pennsylvania (AVP)
Here's a map showing all the new routes that American is adding this year: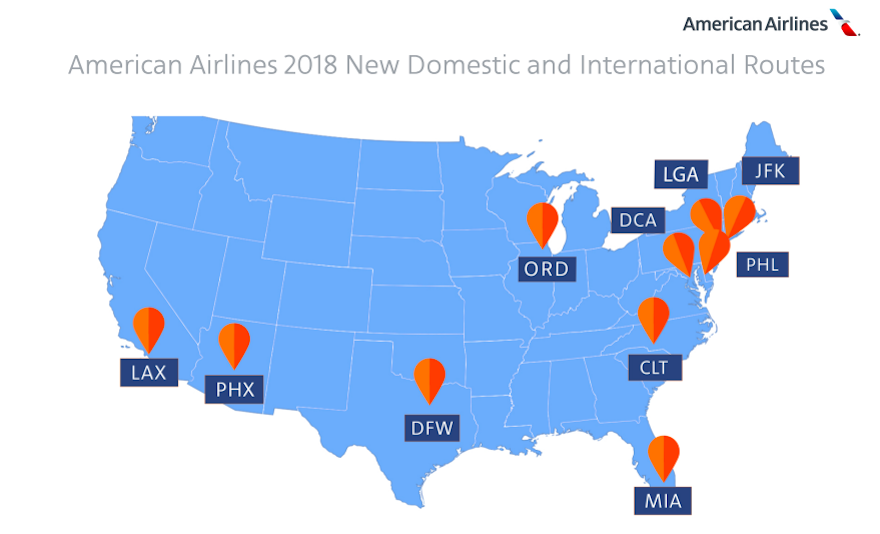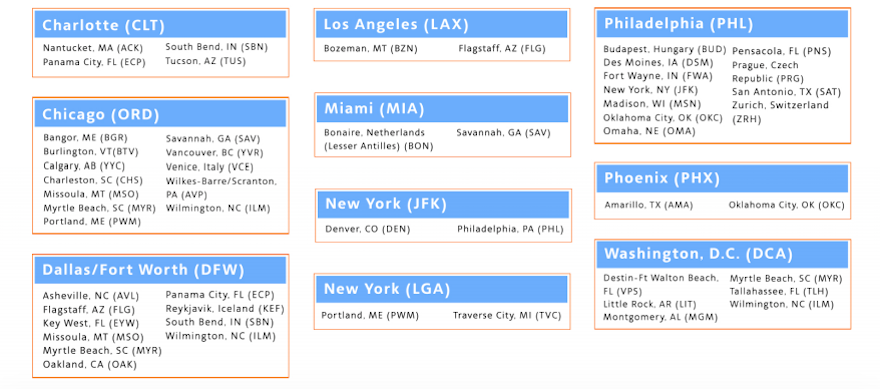 On top of that, American has announced that they're expanding their Shuttle service. Presently American operates Shuttle service between New York LaGuardia and Boston, New York LaGuardia and Washington Reagan, and Washington Reagan and Boston. Effectively April 4, 2018, American will be adding Shuttle service between New York LaGuardia and Chicago. American will offer hourly flights between the two cities, with up to 15 flights per weekday.
For customers there are a few benefits to the Shuttle service, the most significant of which is free beer and wine in the main cabin. On top of that, Shuttle gates are generally closer to the security checkpoint, there are dedicated check-in areas, and the cutoff for check-in is also extended.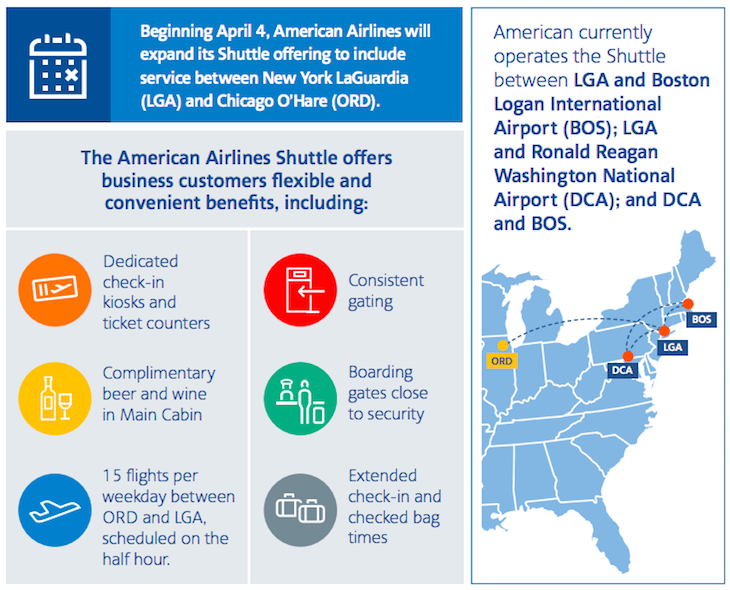 American already offers up to 15 daily frequencies between the markets, so it doesn't look like the frequency and schedule is changing, but rather they're just improving the experience somewhat.
Presently Delta offers Shuttle service between Chicago and New York LaGuardia (even though Chicago isn't a hub for them), so I think American is just matching Delta here.
Bottom line
These changes aren't huge. At the moment American is just announcing new routes to some smaller markets, and is expanding Shuttle service to Chicago. It's nice to see American adding service to smaller markets, though I wouldn't call any of the changes here radical. This is part of American's overall growth strategy, though I don't see anything here that's out of the ordinary.
Anyone excited about any of these changes from American?