Flying is incredibly safe. I feel as safe on a plane as I do sitting in a hotel room. However, that doesn't mean there aren't instances where people get scared on planes. After all, one of the reasons people have an irrational fear of flying is due to the lack of control they have over their situation. Most people don't mind driving down a bumpy road in a car, because they're in control, while they're terrified of turbulence on a plane, because they're not in control and can't see what's causing it.
So while aviation accidents only happen extremely rarely, there are exponentially more incidents where something goes wrong, but the plane still lands safely.
For example, last July a Cathay Pacific flight from Hong Kong to Los Angeles had a terrifying diversion. There was smoke in the cockpit about halfway over the Pacific, so the passengers had to put on life vests in preparation for a water ditching in the Pacific. Fortunately the plane managed to divert to Eareckson Air Station. Here's a video of the terrifying incident:
I think even the most experienced and calm flyer would have been terrified in the above situation.
While perhaps not quite to that level, on Sunday night an American Airlines plane was flying from Boston to Miami, and diverted to New York due to some serious mechanical issues.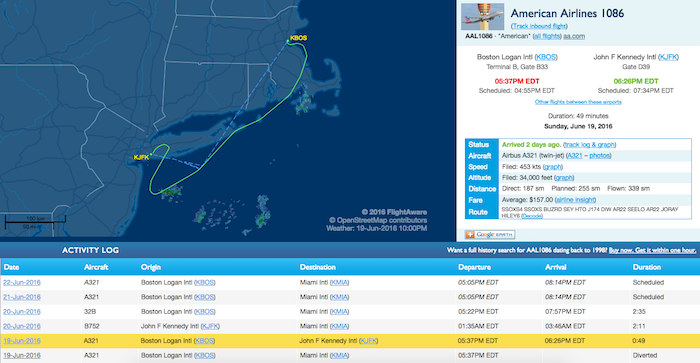 Per the Boston Globe:
The first boom came about 30 minutes into the flight. Moments later, another shook the plane as it flew Sunday night from Boston to Miami with 180 passengers aboard. That's when passengers reported seeing fire shooting out of the engine on the left wing, and the cabin filled with smoke.

"The plane started to shake and rattle, and people really started to freak out," said Drew Nederpelt, a Miami business executive who was traveling with his girlfriend. "There was a lot of crying and screaming. One of the flight attendants was literally shaking and sobbing, and we looked at each other like, 'Somebody else has to speak through the PA.' "
I wasn't initially going to write about the incident, though a long time blog reader emailed to say his brother was on the flight. Here's what he had to say about the incident:
My brother was on the flight with his wife and 3 year old daughter. He said that first they heard something that sounded like an explosion that rattled the plane. Then smoke started coming out of one of the engines. There was another explosion sound and the cabin filled with smoke. At this point people were frightened but not panicking yet. But then the flight attendant started speaking over the PA while CRYING and then everyone on the flight started to panic — people screaming that they were going to die, etc. After they landed they were provided with no information, apology or anything besides a new flight and some sandwiches by AA.
He also shares the email American customer relations proactively sent to his brother after the incident:
We are writing to follow up with you about the situation you encountered as a passenger on our flight 1086 on June 19. While we are sure you can appreciate our decision to land in New York was motivated by our commitment to your safety, we also can appreciate that many of our customers' important plans were significantly affected, and for that, we are sorry.

In appreciation for your patience, we have added 7,000 AAdvantage® bonus miles to your account. You should see this mileage adjustment in your account very soon, and you can view this activity via our web site, www.aa.com.

Your loyalty is important to us and we would like to assure you that we are committed to getting you to your destination as planned. We'll do our best to provide a smooth trip the next time you fly with us. We will look forward to welcoming you aboard again soon.
While I can appreciate airlines want to downplay situations like this, I think this takes it too far, and completely ignores how terrifying this situation must have been for those aboard. I'm not suggesting American should apologize for what happened (mechanicals can happen on any airline), but rather simply to acknowledge that this was likely a very traumatizing situation.
Any of these things individually probably wouldn't have scared me. But even as someone who has flown millions and millions of miles, I'd be terrified if I were on a flight with two explosion-like sounds, rattling, smoke in the cabin, and a crying flight attendant.
Just because flying is safe doesn't negate the fact that there can be some terrifying moments.
At least the plane landed safely!
Would you have been terrified in the above situation? Do you think American handled the situation correctly by not acknowledging what happened onboard?