American has been trying to get a copyright on the logo they have been using since they rebranded a few years ago. Specifically, I'm talking about this blue, red, and white thing that's supposed to look like a wing, or a bird, or something.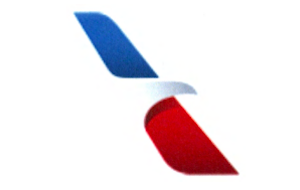 The United States Copyright Office refused their request, though American filed a request for reconsideration. Unfortunately that didn't get them very far, though the response from the US Copyright Office is epic. The five page explanation of why they're refusing American's claim is worth a quick read, though here are a couple of the best lines:
"the creative spark is utterly lacking or so trivial as to be virtually nonexistent"

"while the bar for creativity is low, it does exist and the Work cannot glide over even its low heights"
Ouch!! In many ways this is a perfect metaphor for how American is being run in general. They make lazy choices and are unoriginal, and think it will lead to success.
For anyone who is curious about the ruling but doesn't want to read the entire five page document, here's a more detailed explanation of why American's logo can't be copyrighted:
Simply put, the Work is a dual-colored, curved trapezoid with a bisecting, shaded and curved triangle (i.e., roughly a "beak" shape). The Work thus is comprised of basic geometric shapes. As American acknowledges, copyright does not protect familiar shapes or designs, geometric shapes, or mere variations of coloring. 37 C.F.R. § 202. l(a). American asserts that when a work contains such basic shapes, the copyright in that work can be registered when the shape is transformed beyond its common character by modification, arrangement, or abstraction. See Second Request at 8, 11. American itself does not dispute that the Work consists of underlying geometric shapes, and although it criticizes the Office's characterization of the Work's shapes as containing "an elongated rectangle," it describes the same design element of Work as "trapezoidal." First Request at 2. Neither insignificant variations in shape, coloring, nor word choice used to describe the Work change its character; trapezoids, rectangles, and triangles are all basic geometric shapes. Further, use of the colors of the United States flag (red, white, and blue) are exceedingly common and do not lend themselves to arguments that the Work's design choices were especially creative. Finally, to the extent the Work evokes an airplane wing or bird design, that does not propel the design into the range of copyrightability. See Second Request at 5. To the contrary, a very common design choice for an airline logo is to use the outline of a bird's anatomy. See Birds of a feather flock together, LOGO DESIGN LOVE, https://www.logodesignlove.com/airline-logos (Apr. 26, 2010). In any event, even if a bird motif were unusual in this context, the Work falls below the threshold for creativity required by the Copyright Act.
Thanks to the Copyright Office Review Board for a good laugh!