Usually new planes are something to look forward to, though American's upcoming 737 MAX orders are an exception. American's 737 MAX aircraft won't feature personal televisions at every seat, as the airline argues that it's sufficient to just offer streaming content, since most people bring their own portable devices. American has 100 of these planes on order, and will begin taking delivery of them in the coming months.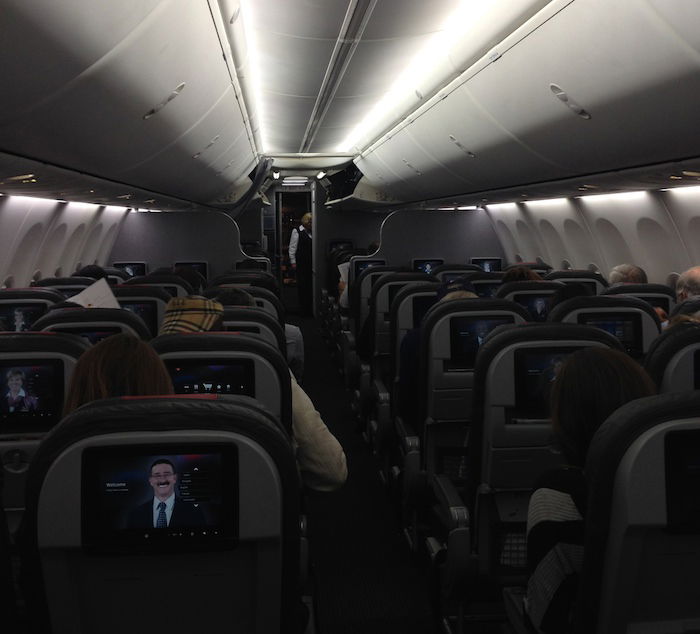 However, it looks like the lack of entertainment on the 737 MAX may be the least of our concerns. There are rumors going around that American will be increasing their 737 MAX seat count from 160 to 174. Perhaps most significantly, this would mean that the first class seat count will be reduced from 16 to 12. The rumor was started on airliners.net, and a reliable contact at American said that he had the same understanding, though couldn't guarantee the information or speak publicly on it.
Just how bad would it be if American increased the 737 MAX seat count by 14 seats? Well, here's the seatmap for American's current 737-800 aircraft. They have 16 First Class seats, 30 Main Cabin Extra seats, and 114 Main Cabin seats.
Really there's only one way that American could get the seat count up to 174 seats, given the location of the overwing exits, which can't be moved:
Eliminate one row of first class, and then add two rows of seats in front of the exit row
Add one row of seats behind the exit row
It goes without saying that this would be a very, very tight fit. But unfortunately that's the direction the industry is headed, and there's a great sense of pride that airlines take in squeezing in as many seats as humanly possible.
How could this be done?
Ryanair has 16 rows behind the exit row on their 737-800s, while American has 15 rows, so clearly there's room to squeeze in an extra row (just expect 29-30″ of seat pitch)
American has 40″ of pitch in 737-800 first class, so they could reduce that by 2-3″, and also take 1-2″ of seat pitch out of the other seven rows, and they'd have enough room for yet another row of seats
Anything could happen, and I can't confirm with certainty that this is American's plan. However, if American does indeed try to install 174 seats on their 737s, it might be the most uncomfortably configured domestic plane out there. We won't even see a standard 31″ of pitch anymore, and you can say bye-bye to upgrades.
American moving to a 12 seat first class cabin on the 737 MAX shouldn't come as a surprise, I suppose, given that they're down to just eight first class seats on their A319s. They'd rather offer seats that match the direct demand for paid first class, with little consideration for frequent flyers.
I suspect we'll officially find out the configuration in the next few weeks. Here's to hoping that they don't in fact go with this 174 seat configuration…