This past weekend I flew Alaska Airlines first class roundtrip from Los Angeles to Puerto Vallarta, and wanted to report back on the experience. This isn't a full trip report about the two flights, but rather just a reflection on Alaska's overall first class product.
Back in the day when I lived in the Pacific Northwest I flew Alaska all the time, though it has been a while since I've flown with them. So I figured I'd share my overall impression of the Alaska first class experience.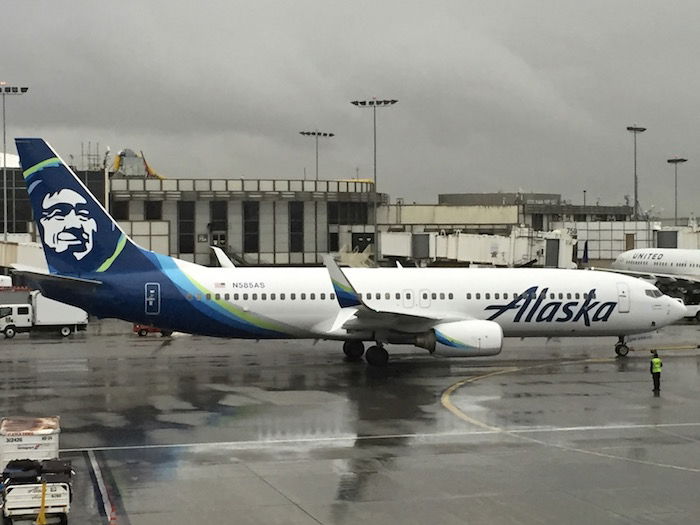 Alaska's 737-900 aircraft feature 16 first class seats.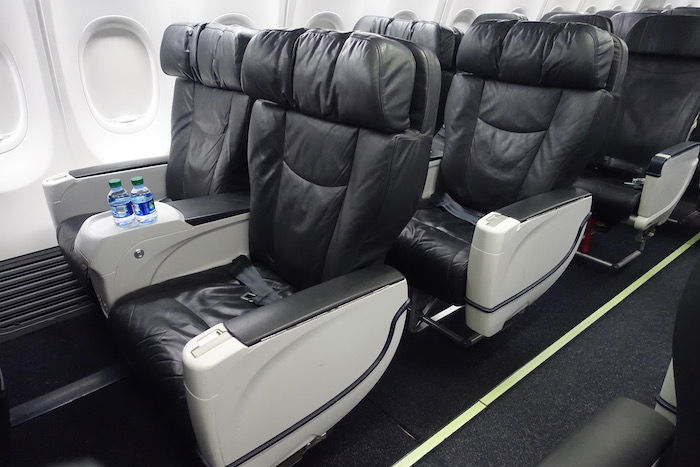 I find the pitch in Alaska's first class is a bit worse than on other carriers — SeatGuru says it's 36″, which sounds about right. I definitely prefer the comfort of American's domestic first class seats, though Alaska's are perfectly fine for a three hour flight (I've still never flown them on a transcon, or worse, from the east coast to Hawaii with a stop on the west coast).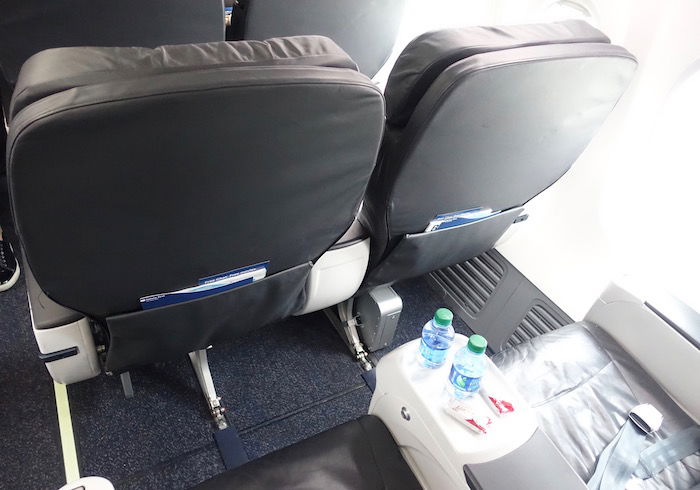 Before departure there was bottled water at each seat, and on the outbound there were even a couple of biscoffs. On the outbound we were also offered pre-departure beverages, while we weren't on the return, probably due to the delay. They typically offer pre-departure beverages of choice, which is a nice touch.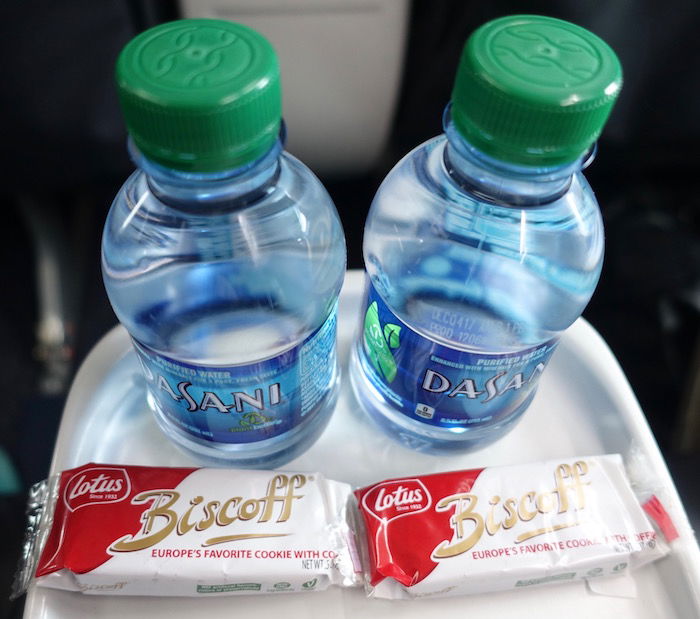 Alaska finally has power ports on most (or maybe even all) of their 737s. Back when I flew them frequently they didn't have any power ports, which I found to be extremely frustrating. So while none of their planes have built-in entertainment, I appreciate that they have both a USB and 110v outlet.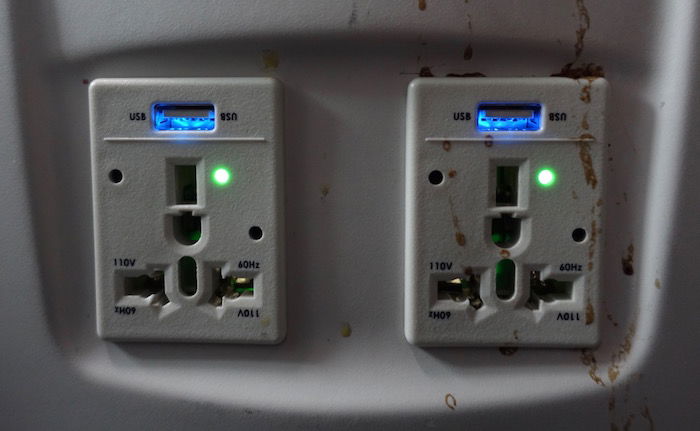 Alaska is unique when it comes to catering. They serve at least some food in first class on almost all flights, even hour-long flights. I don't know of any other U.S. carrier where that's the case. So even on a 60 minute flight they serve food.
Alaska's food is pretty good, at least in comparison to what's offered by other U.S. carriers. I also find that Alaska is one airline where you're unlikely to gain weight in first class, because their portions aren't as over-the-top as other airlines, and aside from longer flights, they don't have over-the-top desserts.
However, they also don't have meal choices on medium-haul flights.
On the outbound there was a pasta dish, a side salad, and a lemon square bar for dessert.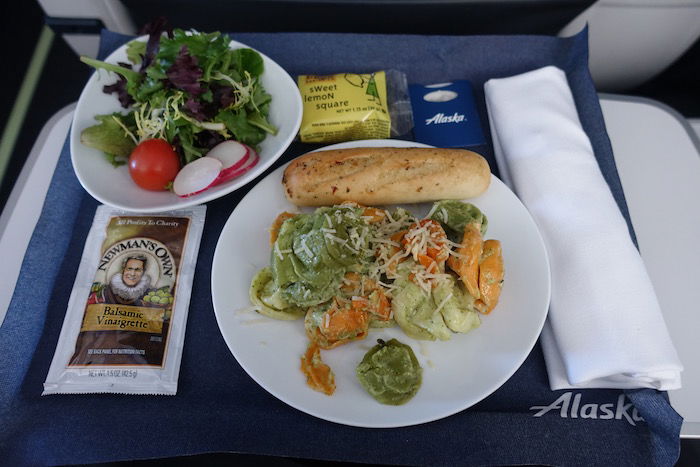 On the return flight there was chicken with rice and spinach, a side salad, and a packaged chocolate chip cookie for dessert.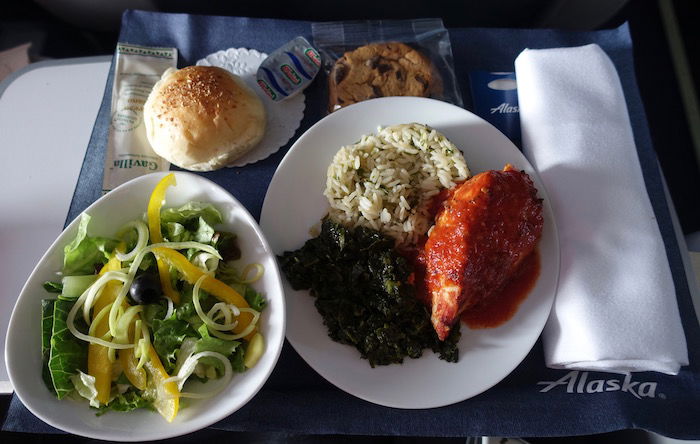 Alaska also has a solid beverage selection. I especially love their liquor from the Pacific Northwest.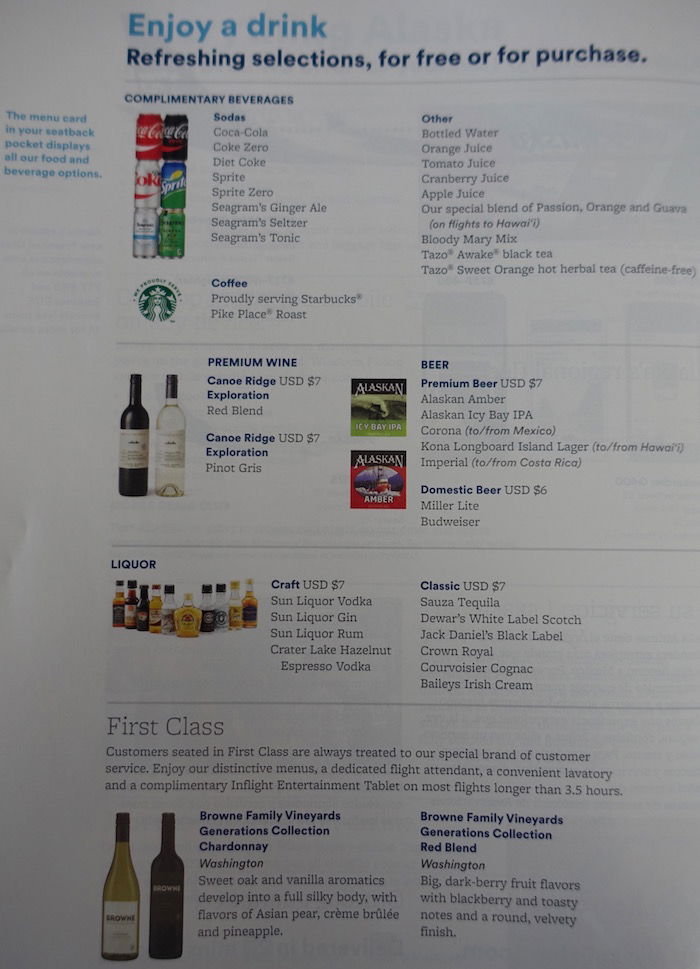 The crater lake hazelnut espresso vodka is really good. I also quite like the Sun Liquor gin.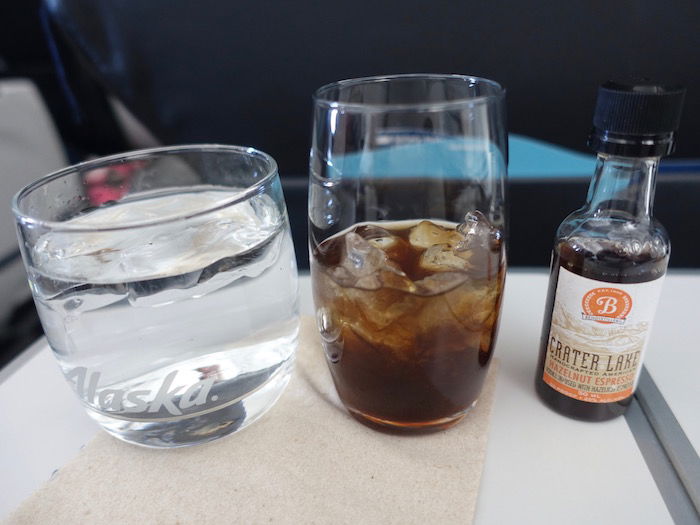 Perhaps what sets Alaska apart the most are the employees. I don't drink the Alaska Airlines Kool-Aid quite to the degree of others, which is to say that many people in the Pacific Northwest make Alaska Airlines employees sound like they're exceptional across the board. I haven't found that to be the case.
However, on average, I find Alaska flight attendants to be among the best of any U.S. airline. Despite growing so much, the airline still sort of has a hometown feel, and their flight attendants are mostly friendly and professional. Both the crew on the outbound and return were top notch.
Speaking more generally of Alaska first class:
On transcon and Hawaii flights, Alaska has menus, a multi-course meal, a choice of mains, and a proper dessert
Portable tablets are available in first class on most flights over 3.5 hours
All (or almost all) Alaska 737s have Gogo Wi-Fi, and feature streaming movies and music, which can play to your device
If you're on a paid first class ticket (either in cash or miles — just upgrades don't qualify) you get complimentary access to Alaska lounges
Alaska has started reconfiguring some 737s, to increase first class seat pitch from 36″ to 41″; unfortunately this comes at the expense of four first class seats, though
Bottom line
Alaska Airlines first class is pretty no frills — the legroom isn't great (at least on the non-reconfigured planes) and there's no seatback entertainment. At the same time, their crews are among the best in the U.S., and they serve some food on almost all flights, even if the portions are small (which is probably a blessing, since it's one of the few airlines where I feel like their meals don't have 2,000 calories).
If you've flown Alaska first class, what was your experience like?