This story just sounds awful. Randi Zuckerberg (who is an entrepreneur and is also the sister of Mark Zuckerberg) shared on Twitter a letter she addressed to Alaska Airlines management regarding a flight yesterday from Los Angeles to Mazatlan.
Here's what she Tweeted:
Feeling disgusted & degraded after an @AlaskaAir flight where the passenger next to me made repeated lewd sexual remarks. The flight attendants told me he was a frequent flier, brushed off his behavior & kept giving him drinks. I guess his $ means more than our safety?
And here's the full letter she sent, which she attached to the Tweet: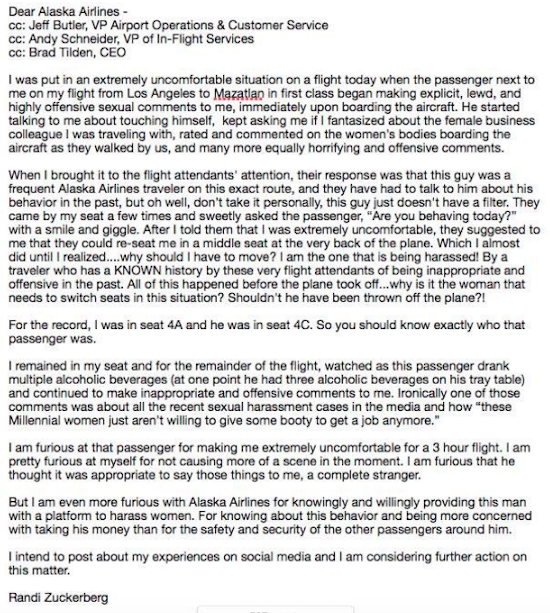 To summarize, the guy next to her was sexually harassing her (asking if she fantasized about female colleagues, commenting on the women boarding the plane, etc.). When she brought it to the attention of the crew, they said that the guy was a regular on the route and a frequent flyer on the airline, and said she shouldn't take offense to it. They jokingly asked if he was behaving today, and kept serving him more and more alcoholic drinks, and offered to reseat her in a middle seat in the back of the plane.
Less than two hours later she Tweeted that two executives from Alaska reached out to her and said they were performing an investigation:
I'm curious what comes of this, and if they share the results with the public. What an unfortunate situation…