This comes as absolutely no surprise, but Alaska Airlines has announced that they'll discontinue their daily flight between Los Angeles and Havana as of January 22, 2018. Alaska Airlines launched the route on January 5, 2017, meaning that it will have operated for just over a year before it's canceled. According to Alaska's press release:
"Travel is about making connections, and we were honored to have played a role in helping people make personal connections by traveling between the U.S. and Cuba," said Andrew Harrison, chief commercial officer for Alaska Airlines. "We continually evaluate every route we fly to ensure we have the right number of seats to match the number of people who want to go there."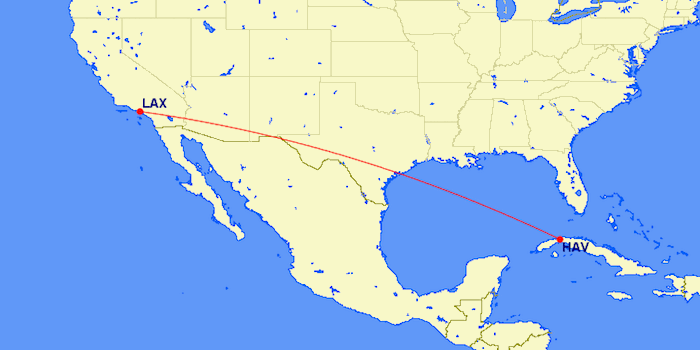 This follows the latest move by the US banning most types of tourism to Cuba. Alaska Airlines says that about 80% of their passengers traveling between Los Angeles and Havana were doing so under the "people-to-people" educational travel category, and that's no longer allowed going forward. As a result they'll instead redeploy the plane in markets where demand continues to be strong.
Those Alaska Airlines passengers who were booked on this flight will be rebooked on other airlines at no additional cost (with connections, since Alaska was the only airline flying nonstop), or will be offered a full refund.
While the latest policy changes might be the proverbial straw that broke the camel's back, Alaska's route between Los Angeles and Havana has been the most questionable new Cuba route to begin with. Not only is it the longest flight to Cuba operated by a US airline, but Los Angeles (and the entire west coast, for that matter), doesn't have all that big of a Cuban population. So while there's obviously demand out of cities like Miami and Tampa, just about all of these other routes have left me scratching my head. That's why it's not surprising to see all the capacity cuts we've seen to Cuba, both before and after the latest travel restrictions were announced.
The airlines were dead wrong about Cuba, though with the latest restrictions they can at least cancel service and save face. I suspect this cancelation would have come sooner or later anyway, but this probably sped things up.
(Tip of the hat to Live and Let's Fly)