I'd argue frequent flyer programs are one of the best ideas the airlines ever had. I think it would be any capitalist's dream to be able to make hundreds of millions of dollars selling a "currency" where you control every aspect of the earnings and redemption rates.
If the airlines want to change how many miles they give to members, they can do that. If they want to change how many miles it takes to "buy" something, they can do that as well. Heck, you don't even own the miles you "earn" from the airlines — instead the airlines do.
Historically frequent flyer programs are the only consistently profitable part of airlines' operations. American might not even be in business if it weren't for Citi buying hundreds of millions of dollars worth of miles from them upfront when they were in Chapter 11.
But there's one huge mistake I think the airlines are making. Let me explain…
I don't blame airlines for revenue based earning
With the upcoming AAdvantage changes, all of the "big three" US carriers will issue miles based on revenue rather than distance flown. As someone who likes good deals, am I fan of that system? No way. Do I understand where the airlines are coming from? Absolutely, and therefore I don't blame them — it may very well be the right business decision.

Airlines are trying to monetize their frequent flyer programs even more. In the US, over half of miles are issued through non-flying means (credit cards, dining programs, shopping portals, etc.). That number keeps growing every year.
What it comes down to is simply that the airlines are doing extremely well, and they don't need to give frequent flyers as much of an incentive to fly with them. They're as aggressive as ever before about issuing miles, but they want it to be a profit center rather than a cost center.
Why miles have become so popular (and mutually beneficial)
While many of us perhaps take it to an extreme, we're not the only ones into miles & points. Look at how many Americans have credit cards which earn points that can be redeemed towards flights or hotel stays. It really is incredible how much frequent flyer programs have become a part of everyone's day-to-day life, even without really realizing it.
Why are miles so awesome? Because they don't have a fixed value, and that's what makes them so lucrative. Most people redeem their miles extremely inefficiently, because they're at an information disadvantage.
But they continue to collect them because miles are this aspirational currency. When I say "aspirational" I'm not just talking about redeeming miles for Cathay Pacific first class or Etihad first class, but rather that people view it as monopoly money, and are excited when they can get something for "free."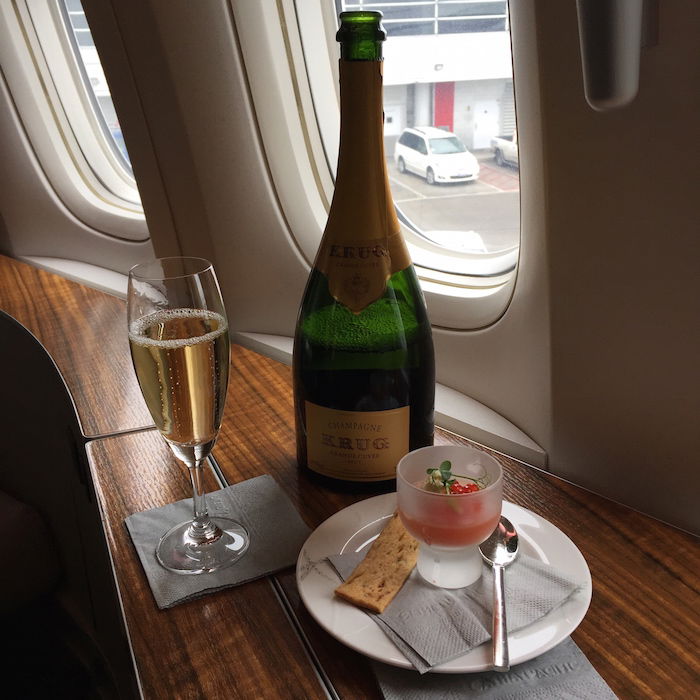 "Aspirational" awards aren't limited to international first class
When I tell non-frequent flyers what I do in a social setting, I've come to realize everyone has a story they want to share about redeeming miles. People are proud when they redeem their miles. "Oh yeah, I love miles, I redeemed them for a free ticket to Orlando last year, which saved me $200. I can't wait to get my next free ticket."
And that's why the programs work so well.
The mistake I think airlines are making
This brings us to the misstep I think the airlines are making. I'm not going to argue that revenue based mileage earning is a bad idea. I don't like it, but that doesn't mean it's not smart from the airlines' perspectives.
But what I think is a really bad idea is that the "big three" US carriers are slowly headed towards revenue based redemptions. Delta SkyMiles wants your miles to be worth at most one cent each. They want you to view them as a currency that you can redeem for just about anything travel related. You can take $100 off the cost of a ticket by redeeming 10,000 miles. You can buy premium drinks in the SkyClub at the rate of 100 SkyMiles per dollar.
This is just the beginning, as they're trying to condition consumers into thinking of SkyMiles as a currency they can redeem for just about anything at a fixed value. If there's one thing we've learned over the years, it's that when Delta does something, United and American follow. It certainly seems like that's the direction things are headed.
So why is it a huge mistake to try and tie miles to a certain dollar value? Because if you want to make the frequent flyer programs thrive based on non-flying means, there needs to be a value proposition or an element of mystery/aspiration.
Simply put, there are credit cards which offer 2% cash back. I actually think most consumers would be better off with cash back cards rather than mileage earning cards, assuming they're at an information disadvantage when it comes to redeeming miles.
But many still earn miles because the perceived value is higher, because they never really calculate the value of what they're getting. If the airlines get to the point where one mile equals one cent, then there's no mystery anymore. Then there's no rational reason most consumers should use a credit card which basically earns 1% cash back towards travel on an airline rather than 2% cash back with no annual fee.
Bottom line
If this is the direction the airlines are headed, they're making a huge mistake. And for that matter if they're basing their entire business model around consumers being uninformed, then that's not a very good place from which to start.
I get why Delta is wanting to make SkyMiles revenue based on the redemption side. A lot of people working at SkyMiles have backgrounds in revenue management. When they make a last minute saver award seat available on an international flight they're saying "well, that seat would have cost $7,000 if someone bought it," rather than saying "that seat would have gone out empty and not generated any revenue." Surely there's some middle ground between those two approaches.
What do you think — if mileage redemptions become revenue based with miles worth a penny each, would there be any reason to ever use a mileage credit card again? If this is the direction the airlines are headed, are they just counting on us being uninformed, or?