Yesterday I posted about the letter that American's pilot union sent to the airline's CEO, Doug Parker. The conversation eventually switched to pilot pay, and just how much some pilots make.
Back in the day I wanted to be a pilot more than anything else in life, given how much I love flying. So until I was about 12, I was convinced I'd be a pilot.
And then one day to the next I decided I didn't want to be a pilot anymore, at least not as my career. I loved flying every bit as much as the day before, but I figured it would be really demotivating. Why? Because all that matters at an airline is your seniority number. And I'd hate for having my most significant metric be the date I was hired.
The other thing is that after 9/11 there were huge layoffs, and when you're a pilot and laid off, it can be difficult to land a comparable job elsewhere. So it's not like other jobs, where switching companies can advance you. Instead, you're basically locked into one company for most of your life, and if things don't go as planned, that could be bad news.
In addition to huge layoffs, pilots at the various US carriers received huge pay cuts when the airlines went through bankruptcy, though fortunately most pay is back closer to where it was before bankruptcy now.
With that in mind, how much do airline pilots make? If you've always been curious, airlinepilotcentral.com is a great website which has the pay scales for many airlines.
They publish pay scales for all kinds of airlines, from US legacies like American Airlines and Delta Air Lines, to international carriers like Cathay Pacific and Emirates, to cargo airlines like Fedex and UPS.
For example, here's what American Airlines captains make on an hourly basis: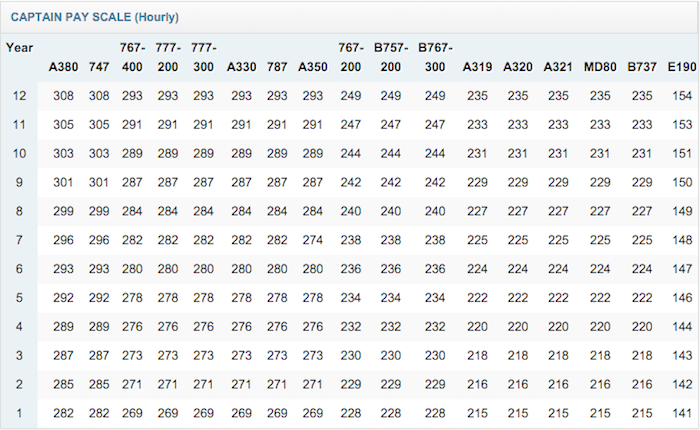 Pilots at US carriers can work up to 100 hours per month and up to 1,000 hours per year, though in practice most pilots are going to fly closer to 900 hours per year.
For example, a 12th year captain on the 777, 787, or A330, is making $293 per hour. At 900 hours per year, that's ~$264,000 per year. That doesn't include things like their flight benefits and per diem pay (~$2.80 for every hour they're gone on an international trip).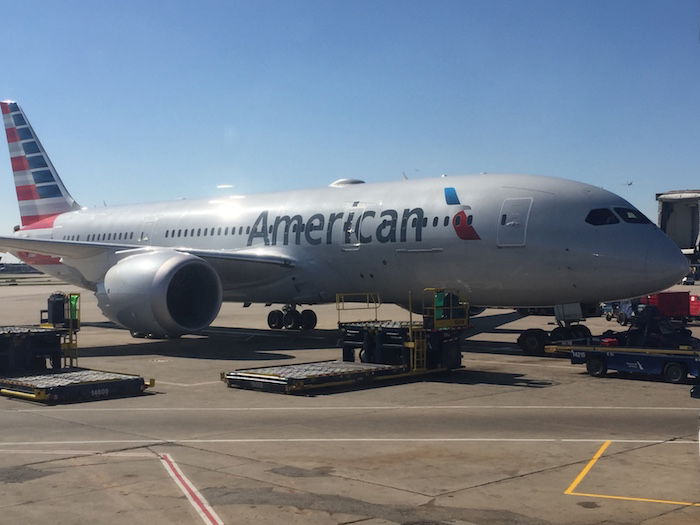 Of course that's the absolute max they can make, and that's after you've been at the airline for 20+ years. Meanwhile a third year first officer on the 737 would make $136 per hour, which is closer to ~$122,000 per year. That's still really good money, but the point is not every pilot at American is making $250,000+ per year.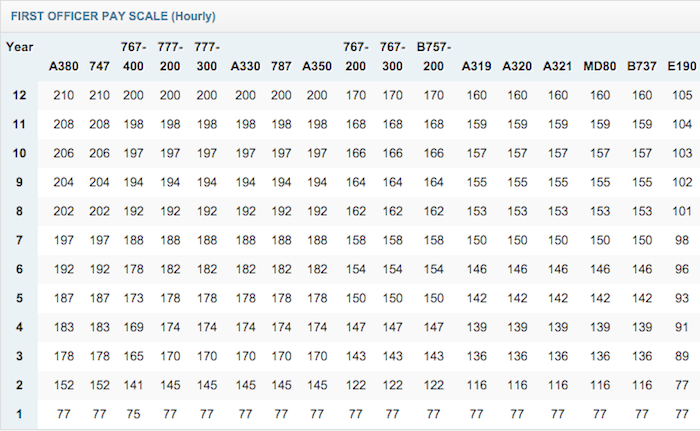 On the other end of the spectrum, your first year first officer at Mesa Airlines (a US regional carrier) is making $22 per hour, so you can expect they're making under $20,000 per year.
How about at our beloved Emirates? Their pilots get paid the same regardless of which planes they fly (A330, 777, or A380), so all that matters is whether they're captain or first officer, and how many years they've been at the airline.
They actually get paid monthly, as follows (below numbers are in USD):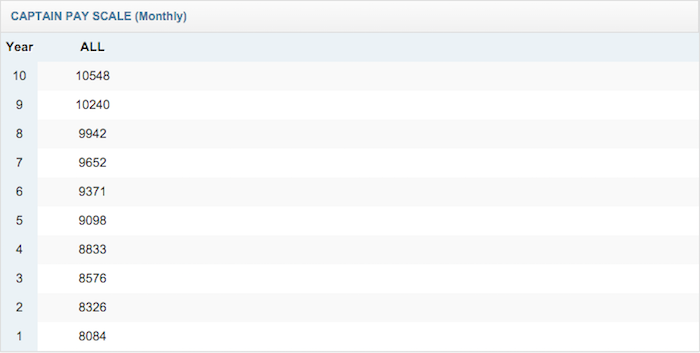 So the most senior captain would make $126,576 per year. However, this doesn't include:
Flight time pay, where a captain earns another $16.26 per hour for every hour they're flying, so figure that's another ~$16,000 per year
A per diem, which is based on the cost of three local meals a day at the destination you're flying to (so for a ~24 hour trip to New York, that's an extra $100)
Living in the UAE is tax free, unless you're a US citizen, in which case you'll be taxed on part of your income
A housing allowance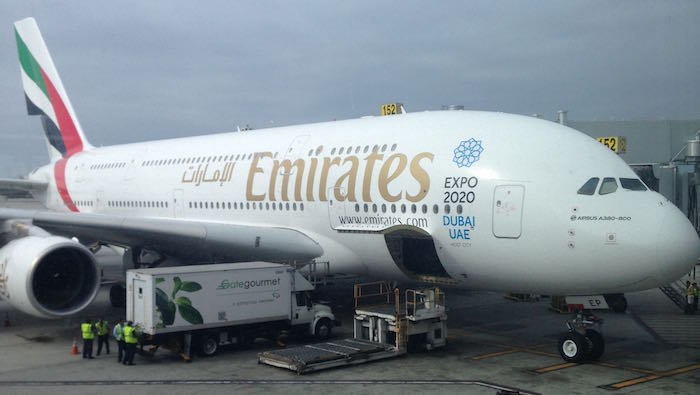 Bottom line
This post isn't intended for those looking to become pilots, but rather just as a general primer on how pilot pay works (at some airlines it's hourly, and at others a monthly salary) and what it's based on (years at the airline, position as captain or first officer, etc.).
Overall pilots are very well paid, though it's worth keeping in mind that for the past couple of decades promotions at US carriers have been really slow, so the people making the truly big bucks have been at their respective airlines for a long time.
How does this compare to what you were expecting pilots earn?