I love those who go out of their way to make our travel experiences special, and I think it's important to recognize their hard work, so that they'll continue to be encouraged to do that, and so that more people may be inspired to go above and beyond. So I do what I can to send feedback to airlines and hotels when I encounter someone who is exceptional.
I do so in many forms — sometimes I'll hand out the "appreciation" certificates that some programs give us for being elite members. Sometimes I ask for their names so I can send an email to the company's customer relations department. Sometimes I reach out to a hotel's general manager to recognize someone. Sometimes I'll fill out a post-experience survey, and mention them by name. And of course I often mention people who go above and beyond by name in my reviews.
This is something I really care about. The ideal situation is that the employee is going above and beyond because they're a great brand ambassador and have a passion for making people smile. But I also recognize that going above and beyond often goes unappreciated, so I think there's a classy way to ask for feedback.
For example, I don't have any issue — and in many ways think it's smart — when a cabin manager on a flight hands out their business card and says "if you have any feedback on our service, we'd love to hear from you." I think that's a non-pushy, non-suggestive way to ask for feedback.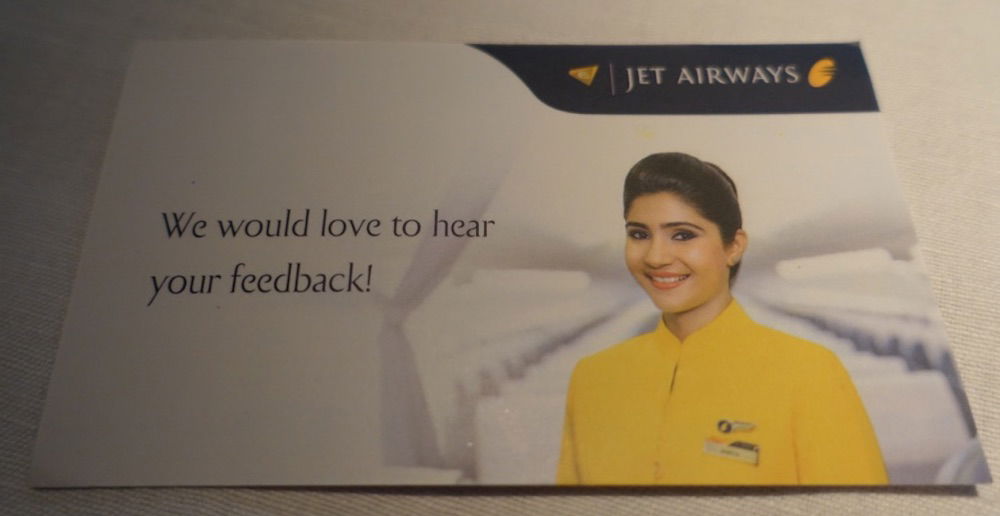 However, in the past week I've gotten some of the most ridiculous "feedback" requests. that sort of leave a bad taste in my mouth. It's funny how you can get good service, but then the motive of why they're providing good service becomes so clear. At least be subtle!
I won't name airlines right now (I'll save that for the reviews, though I'm sure you can connect the dots), but just to give a few examples…
I was enjoying a lounge's a la carte dining facility, and the service was great. I was asked if I wouldn't mind filling out a feedback form. Sure, no problem. The only thing is that the "feedback form" was a blank page on an iPad's "Notes" app. And I don't really think of it much as feedback if you write something and then the server reads it while standing at the table, and then says "if you want to give me something, that is fine too."
Then there was a shift change, and service was attentive with the new server for a few minutes. Then the new person asked if I wouldn't mind sharing feedback. When I explained I had filled it out just 15 minutes prior, service became a lot less attentive.
On a recent 90 minute flight I was asked about 20 minutes after takeoff if I could "write some nice things about the flight." I was given a pen and an empty sheet of paper on which to write.
Recently I sat down in a lounge, and less than five minutes after arriving was brought an iPad and asked if I would mind sharing feedback on the lounge's services. I haven't had time to experience any of the services yet, so…
Ultimately I guess this is a side effect of my enthusiasm with these products. When I enter a lounge or get on a plane, I'm typically very enthusiastic, for two reasons — first of all, because I genuinely love this stuff, and second of all, because I take a lot of pictures, and things come across as less suspicious if you seem like you're just really excited about being there and like you don't fly premium cabins often, rather than them suspecting that you're reviewing them. It's one of the ways I try to fly under the radar.
So to those who work in hospitality, you deserve to be recognized for your great work. However, there's a right and wrong way to solicit that feedback. I know going above and beyond is often thankless, but asking someone to fill out a survey when they first arrive somewhere, or on a random sheet of paper, or specifically telling them to write nice things, isn't the way to go about it, in my opinion.
Anyone else have experience with over the top requests for feedback? How do you handle these situations?