For decades telephone was the way to contact airlines, whether to book a ticket, change a reservation or voice complaints. However, most airlines now offer online features for everything, including feedback and compensation requests. Of the airlines I fly frequently, I've found that United and Norwegian are stars when its comes to online customer service. The six and two times respectively that I've submitted requests for compensation of some kind, my requests have all been honored without a word of objection.
This brings me to a recent situation I had with Brussels Airlines. It's an airline I love and would gladly choose over its competitors. Unfortunately, my last trip with them this summer, a one-way ticket from Gothenburg to Prague via Brussels, didn't go quite as smooth as usual.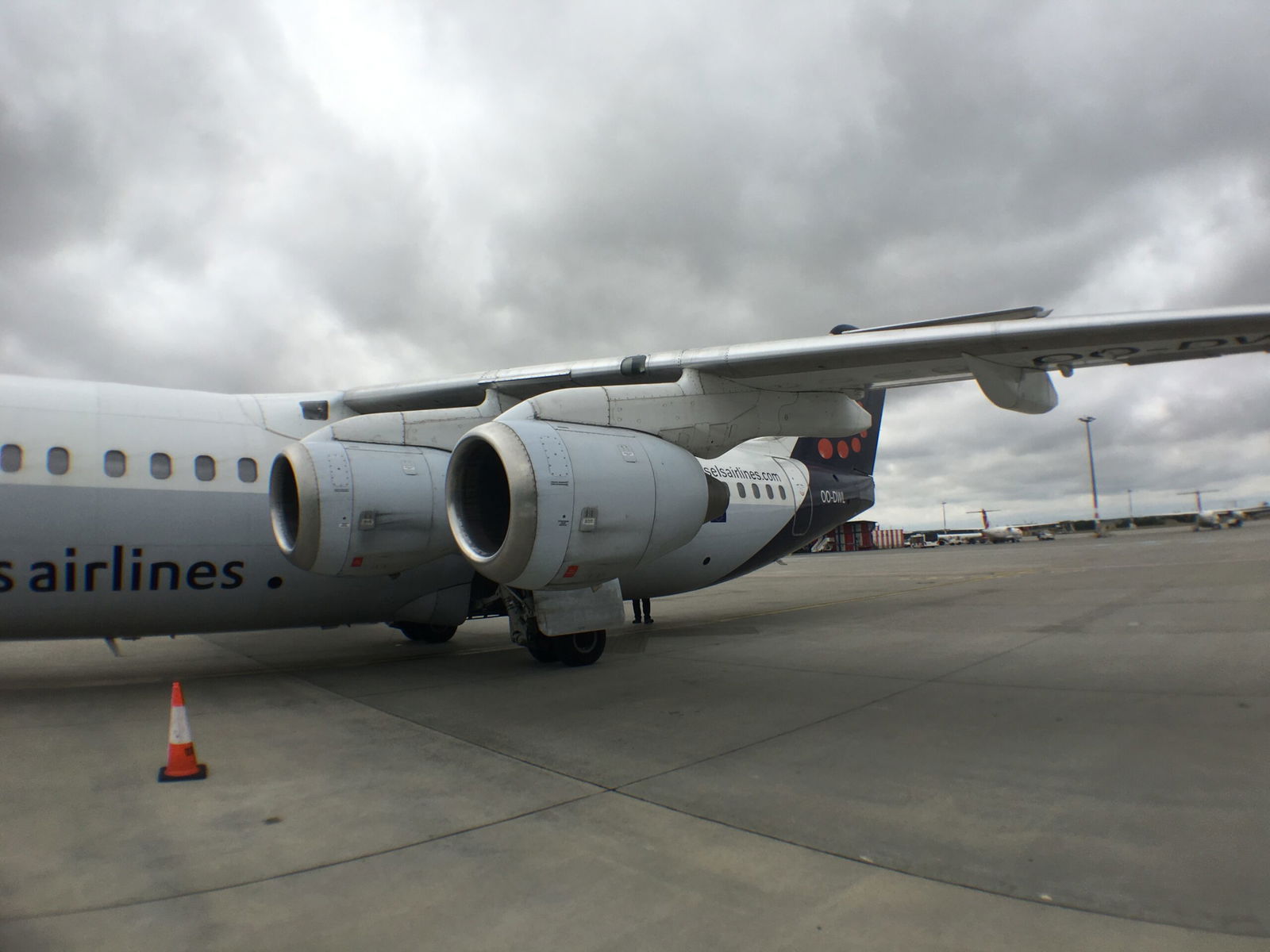 Once I landed in Prague I realized my bags had not arrived. I've never had problems with connecting luggage in Brussels before, so I thought this was a little strange given my reasonable connection time.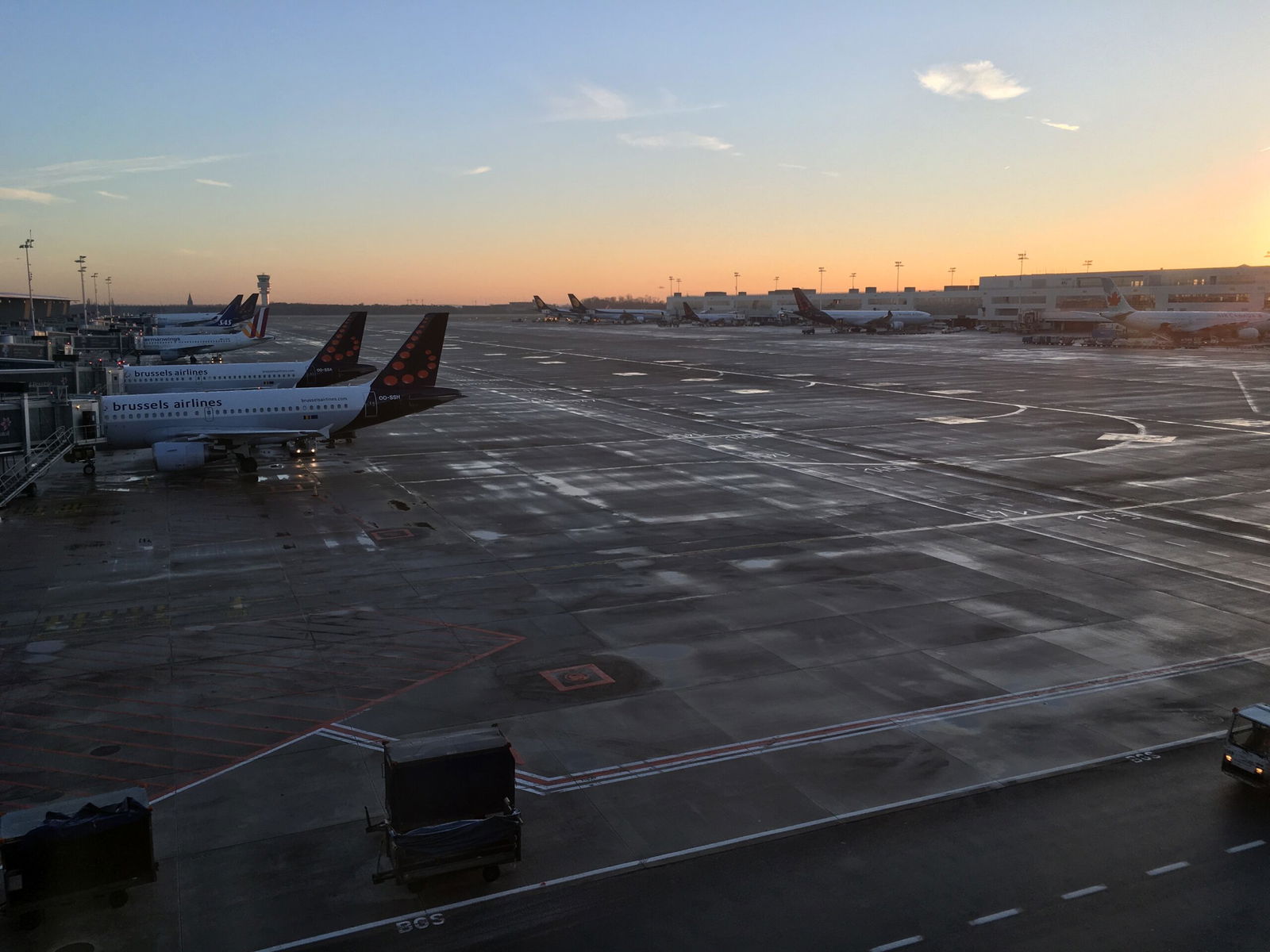 It was a full two days before my bags arrived in Prague, though I'd bought everything I needed assuming the airline would cover the costs.
When I got home, I filled in the online form and submitted it. Shortly after I received a very positive response promising compensation for all my expenditures.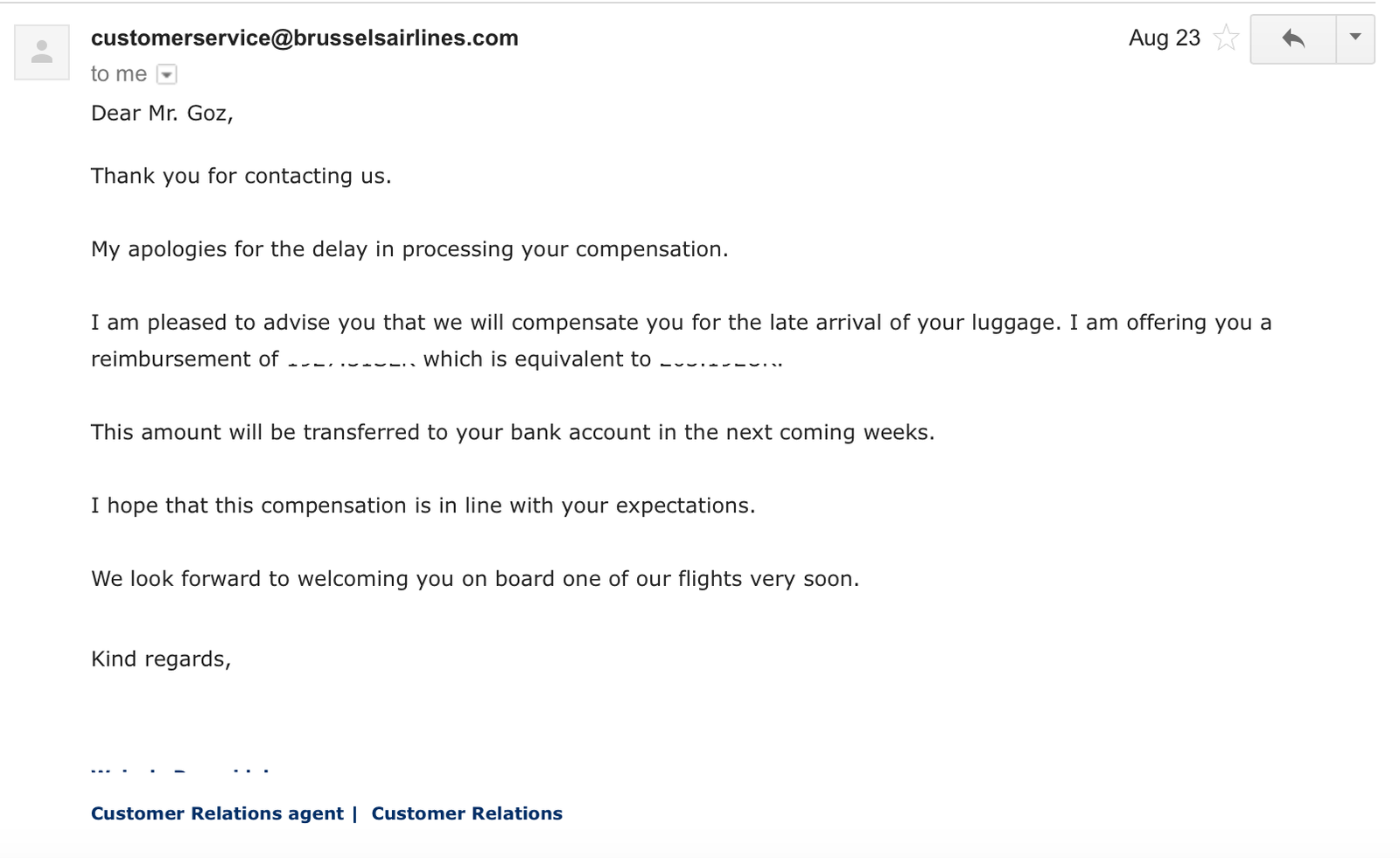 The speed and ease with which my case was handled seriously impressed me. The lady at Brussels Airlines customer relations said the money would appear in my account "in the next coming weeks", which didn't sound too bad.
Well…
One month passed and nothing happened. I sent an email to the Brussels Airlines customer relations again reminding them about my transfer. I received no response. One week later, I sent another one and still no response.
At this point I picked up my phone, around 40 days after the compensation was promised. All I could find on Google was a telephone number to customer service – the same place you call to make or change a booking. I figured that was better than nothing, so I called up and eventually reached a agent.
She was very apologetic and vowed to immediately contact customer relations about my claim to see what was going on. The day I called was a Friday, so she told me I could expect an email from their team on Monday.
Monday passed and again, nothing. I called again and had another apologetic agent give me her name and promised she'd get back to me.
Seven calls and two months later, without a word or email back from a single one of the people I'd spoken to, I was pretty upset. That's when it dawned on me (and it should have dawned on me a lot earlier) that airlines are often helpful on Twitter nowadays. Luckily for me, Brussels Airlines just launched 24/7 service via Twitter and Facebook, which is awesome.
Here's a look at the direct messages that followed: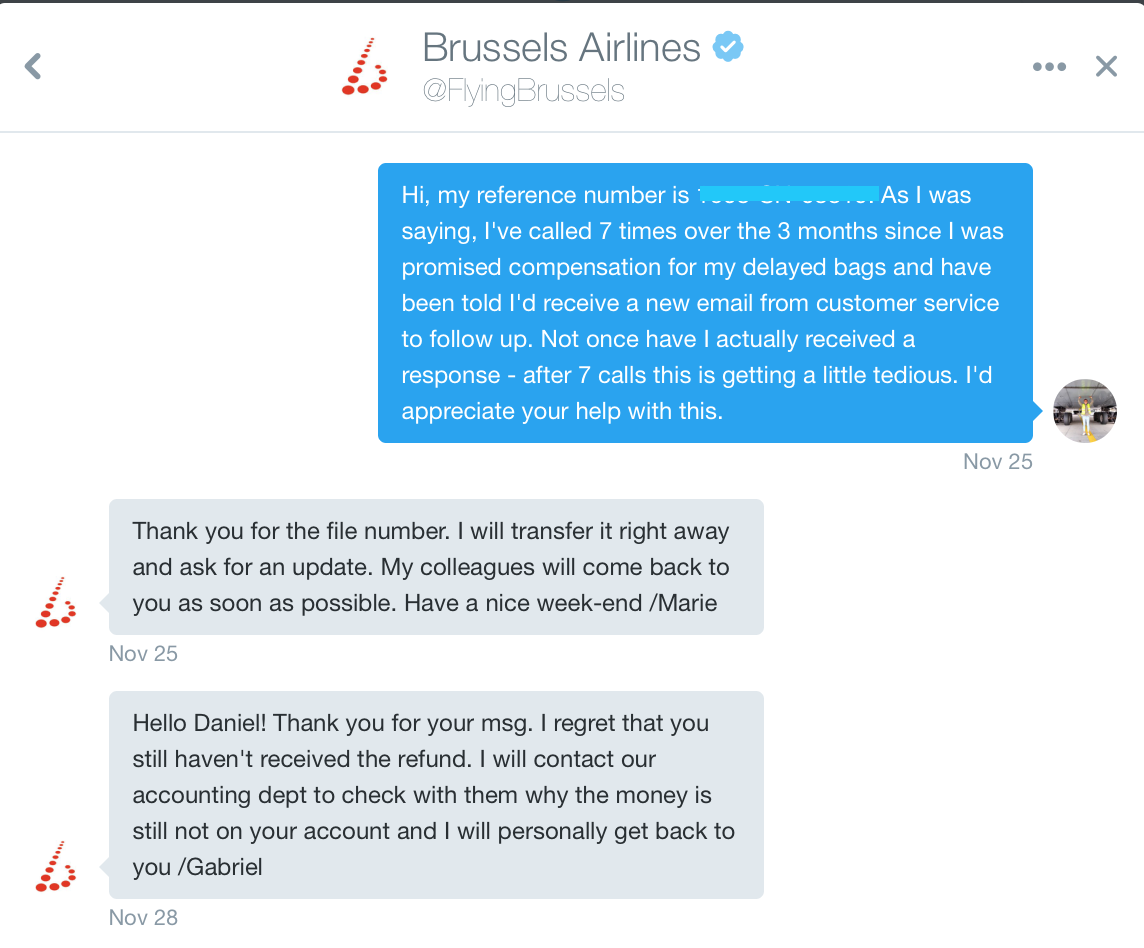 I wrote them on a Friday and received an immediate answer. The next Monday they proactively wrote me again and before I knew it the money was in my account!
Bottom Line
While it's nice speaking to someone over the phone and getting to express yourself more freely than over Twitter, social media is now the place to go for speedy airline customer service. Whether it be selecting a seat, ordering a special meal or checking the status of a claim. From now on, Twitter will always be the first place I go if I need help from an airline.