While we've long seen partnerships between airlines and hotels, I love some of the more creative, "outside the box" partnerships we've seen over the past few years:
In mid 2013 Hyatt and MGM teamed up to offer members of both of their loyalty programs perks when staying with the other brand. At the time it was a bit unconventional to see a partnership between hotels which don't otherwise belong to the same chain.
In early 2015 Starwood and Uber teamed up to offer bonus Starpoints for Uber rides. This is a fantastically creative and lucrative partnership which I can't get enough of.
Well, Virgin America and Airbnb have announced a partnership, which is also extremely innovative.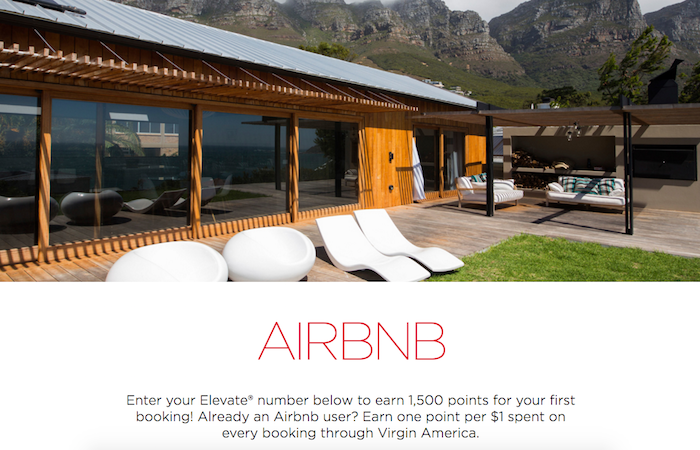 How does the partnership work?
There are two "one-time" aspects to the Airbnb & Virgin America partnership:
You can earn 1,500 bonus Elevate points for your first Airbnb booking (assuming you haven't used Airbnb before)
You can earn 20,000 bonus Elevate points if you become a host on Airbnb after completing your first stay
But beyond that, and perhaps more significantly long term, you earn one bonus Virgin America Elevate point for every $1 spent with Airbnb. There's no limit to how many bonus Elevate points you can earn.
The "catch" is that you have to go through Virgin America's Airbnb booking page every time you book in order to earn bonus Elevate points.
Virgin America Elevate points can be redeemed for ~2.2 cents each towards the cost of flights on Virgin America, or per a fixed award chart for travel on partner airlines. Regardless, they're realistically worth over two cents each. Getting an extra 2% return on all your Airbnb spend is pretty awesome.
Here's an interesting Bloomberg Business video talking about the logic behind the partnership:
The full terms & conditions of the new partnership are as follows:
Offers valid for bookings created via Virgin America/Airbnb booking page only. To qualify for these point offers, users must be previously enrolled in Elevate. Elevate members must provide their membership number on Virgin America's Airbnb booking page in order to earn points for their stay or becoming a Host. New Airbnb users will receive a 1,500 points first time bonus after their first reservation is completed. Existing members are eligible to earn one point for every dollar spent on completed Airbnb reservations booked through Virgin America's Airbnb booking page. Only one membership number can be provided for each reservation, and membership number must be entered every time you book to qualify for point earning. New Hosts receive 20,000 bonus points after their first host booking is completed. Bonus Points will be posted to the member's account within 4-6 weeks after completed stays.
Bottom line
I certainly enjoyed my first Airbnb stay back in September, and totally "get" the concept and why it's so popular. While you do forego loyalty program points when booking through Airbnb, it's pretty awesome to be able to pick up a return of ~2%+ in the form of Elevate points for money you'd spend with Airbnb anyway.
The choice of Airbnb partnering with Virgin America is an especially interesting one, given that they're so much smaller than some of the other US carriers. If the goal were simply maximum exposure, it doesn't seem like a good fit. My guess is that Airbnb was more interested in the type of customer Virgin America brings (young tech-types) than purely the volume of customers they bring.
I'm curious if we'll see a similar partnership between Airbnb and other travel companies. in the future.
What do you make of the new partnership between Airbnb and Virgin America?