Airberlin has long been in a financial mess, which is probably largely due to the identity crisis they've been having. They can't seem to decide whether they're a full service airline or a low cost carrier, and their investment from Etihad doesn't seem to help with that, given that Etihad is generally pretty full service.
For years airberlin has operated a business class cabin on their longhaul flights, but then operates economy only cabins on their flights within Europe.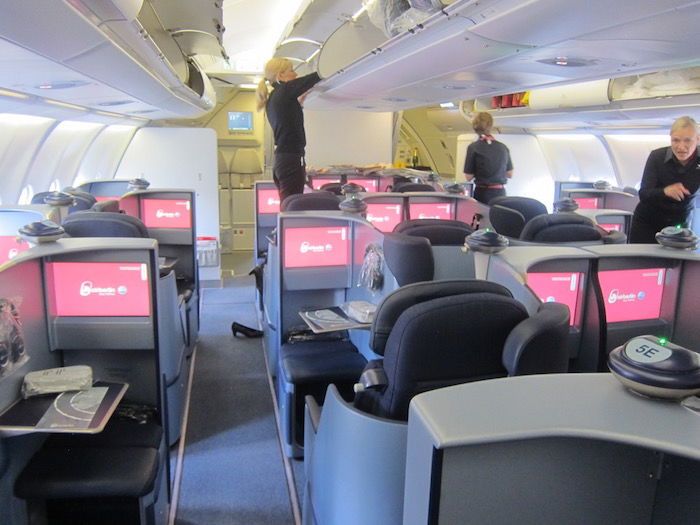 Longhaul business class cabin on airberlin A330
One issue with offering business class on longhaul flights and not on short-haul flights is that it makes it rather unpleasant for connecting longhaul business class passengers. If you're on a business class ticket and need to connect, why would you choose airberlin when your connecting flight will be in economy, all else being equal?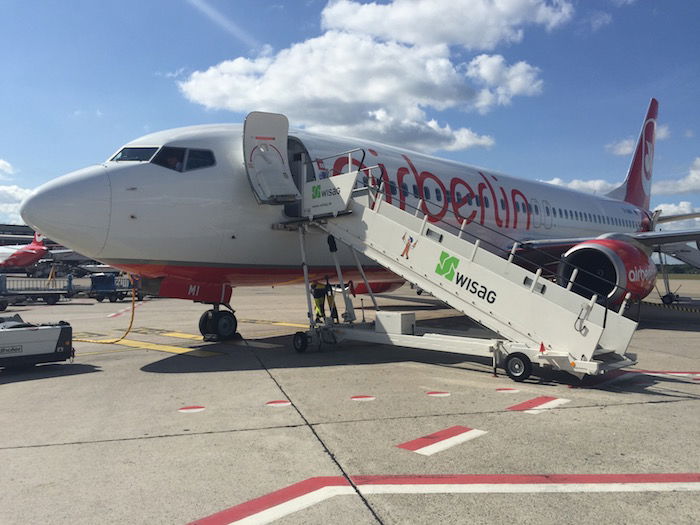 airberlin 737-800
With that in mind, airberlin will finally be introducing business class on short-haul flights… sort of. Per airberlin's press release, here's the logic for introducing a business class cabin:
Starting this year as part of its strategic realignment, airberlin is introducing Business Class to German and European flights and will therefore offer a consistent product experience on short, medium and long-haul flights for the first time.

Stefan Pichler, Chief Executive Officer of airberlin, says: "We find ourselves at the beginning of a far-reaching transformation from which a new, stronger airberlin will emerge. By introducing a Business Class on short and medium-haul flights, we are making key strategic decisions that will pave the way to a sustainable future for the company and that will clearly position airberlin in the premium sector of European airlines. The new premium product will make us more attractive, particularly for business travellers and frequent flyers, and we now offer a seamless Business Class experience on the global route network by airberlin and our partner airlines."
Here's how airberlin's short-haul business class will work in practice:
The first row in the cabin is reserved for Business Class passengers. In addition to exclusive service, passengers will then enjoy particularly generous legroom, which at 32 inches (81 cm) exceeds the European Business Class standard. A further key feature of the new Business Class is the guaranteed empty middle seat, which provides a particular amount of exclusivity and personal space, even high above the clouds.


The premium service for Business Class passengers already begins on the ground: the benefits include, for example, a priority check-in desk, a security fast lane, access to lounges and exclusive waiting areas in the airberlin route network, as well as priority boarding.


On board, the crew will give Business Class passengers a personal welcome and will serve a complementary drink. Passengers can then choose food and beverages 'à la carte' from the extensive on-board menu.

Each passenger is provided with a pillow for additional comfort. Two pieces of baggage weighing up to 32 kg as well as two pieces of hand baggage weighing up to 8 kg are included in the price of a Business Class ticket. The completely flexible Business Class tickets can be rebooked or refunded at no additional cost, and seat reservations are also free in Business Class.

Members of airberlin's frequent flyer programme topbonus collect double miles for each Business Class flight, and can therefore reach a higher status more quickly, or keep their current status.
In other words:
There will be a total of four business class seats, since business class will be one row with the two center seats blocked
Business class comes with all the usual perks, like premium check-in, lounge access, priority boarding etc.
Business class passengers can assign seats for free, and get additional baggage allowance
Business class passengers can select free food and drinks from airberlin's onboard economy menu
In general, intra-Europe business class is probably my least favorite business class available anywhere in the world, given that it's just economy with a blocked middle seat and better service. I'd much rather have more space with no service than better service with no extra space, personally.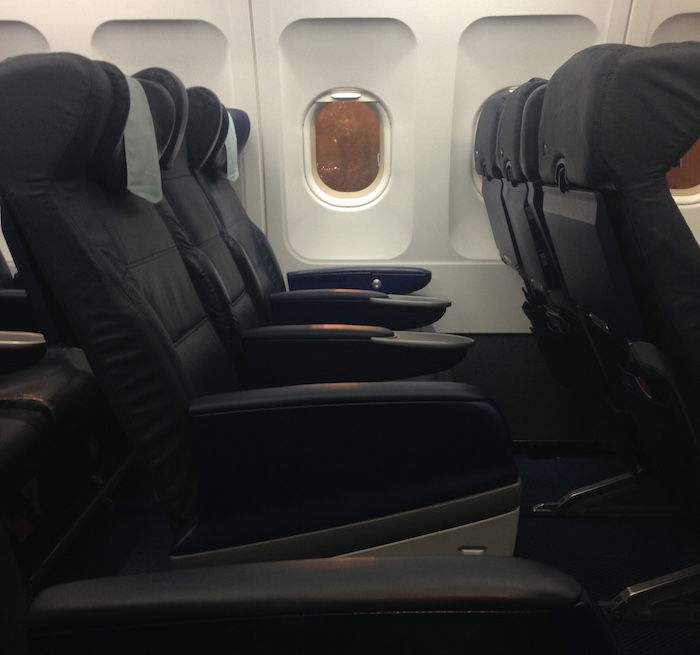 Intra-Europe business class on British Airways
In the case of airberlin, it's not even quite that, since you're basically just getting a blocked middle seat and the same food & drinks as in economy, except they're free. There's not even any better food for business class passengers.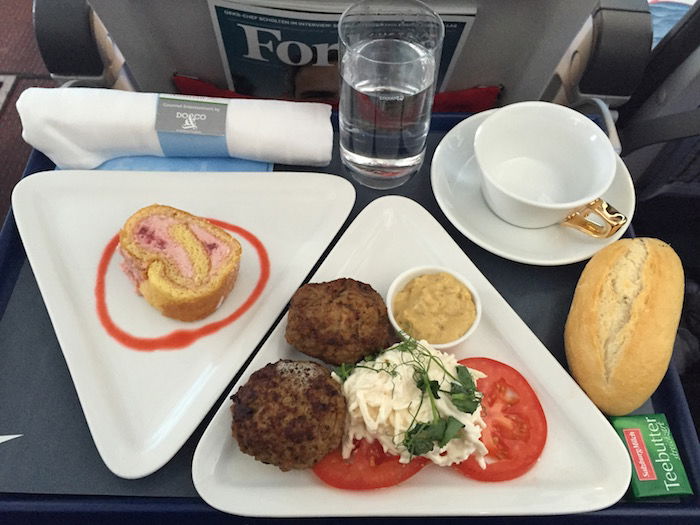 Austrian has excellent catering in intra-Europe business class
I also find it interesting that they'll only offer business class in the first row of the plane, meaning that there will be at most four seats. One of the advantages of intra-Europe business class is usually that the cabin is flexible, because from flight-to-flight the airline can adjust the size of the cabin to meet demand.
Presumably in some markets the demand for business class is much higher, like a Monday morning flight from Berlin to Frankfurt, for example. If this is something that's going to sell out way in advance, there won't be much value to last minute business travelers who are potentially paying the highest fares.
Bottom line
Airberlin is just a lost puppy. They don't know whether they want to be a low cost or full service airline, and haven't been able to fully capture either market. Now there are rumors that Lufthansa is considering buying parts of airberlin, as Etihad is looking to sell parts of their stake.
In theory I see the logic of airberlin introducing business class on intra-Europe flights, though their execution is especially strange. They're limiting it to four seats, and aren't actually introducing distinguished service in business class, but rather are just giving those passengers free economy food.
What do you make of airberlin introducing business class within Europe?