Five days ago I wrote about an incredible business class fare that Air New Zealand published for travel between Chicago and Australia. You could book a roundtrip business class ticket for under $1,500, which is a spectacular value.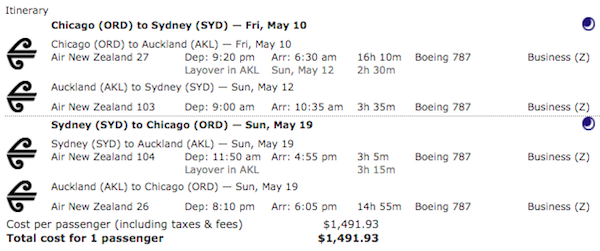 It was also possible to fly United on this fare, though given the choice between Air New Zealand and United, I'd choose Air New Zealand.
As many of you are probably aware, this was the second mistake fare in a very short period. Just days prior Cathay Pacific published insanely low first and business class fares for travel from Vietnam to North America. I was impressed that they not only honored the fare, but acted swiftly and publicly acknowledged this.
Happy 2019 all, and to those who bought our good – VERY good surprise 'special' on New Year's Day, yes – we made a mistake but we look forward to welcoming you on board with your ticket issued. Hope this will make your 2019 'special' too!
.#promisemadepromisekept #lessonlearnt

— Cathay Pacific (@cathaypacific) January 2, 2019
Air New Zealand has been a different story. The airline hasn't publicly confirmed whether or not they'd honor the fare. Some have mentioned that they DMed with Air New Zealand on Twitter and were told it would be honored, but generally speaking I wouldn't take what a frontline airline representative says as fact.
So given that it has been several days I decided to reach out to media contacts at Air New Zealand. Air New Zealand has confirmed that they'll be honoring their recent business class fares from Chicago to Australia. Per their statement:
If the booking has been paid for, confirmed and ticketed, the fare will be honoured. Any bookings that weren't fully completed (i.e. delayed payment/not ticketed) will not be able to take advantage of this fare.
This is what many people already suspected, though it's nice for it to be official as well.
While I certainly hoped that they'd honor, Air New Zealand has historically been notorious for not honoring mistake fares, so I was very happy to see that.
So not only did we see two incredibly low fares in a short period, but both were honored. This year sure is off to a good start. 😉