Air New Zealand is hands down the most innovative airline when it comes to their safety videos. For years they've been refreshing their safety video several times per year, always with the intent of being as entertaining as possible.
Air New Zealand has just released their latest safety video, called "Safety In Hollywood," starring Anna Faris and Rhys Darby. Here's how the video is described:
Shot at Warner Bros. Studios in Los Angeles, Air New Zealand's newest safety video explores multiple iconic Hollywood film locations as Rhys Darby tries to convince Anna Faris to play a role in the airline's new in-flight safety video. Watch as the star of Mom and the New Zealand comedic legend hop from iconic set to iconic set on the Warner Bros. lot, including those used in Jurassic Park, Casablanca, War of the Worlds and True Blood:

Safety in Hollywood also features more than 20 extras, including Chester the Chihuahua, who has appeared in Transformers and Grey's Anatomy. The video, which will be rolled out across the airline's fleet beginning today, continues Air New Zealand's tradition of presenting safety videos in a fun and clever way (previous safety videos featured cameos from Men In Black, The Hobbit films, Betty White, Bear Grylls and others).
Here's the video:
All of Air New Zealand's safety videos have a fairly specific sense of humor, so not everyone is going to love every video. Personally this video isn't among my favorites, as it's not really my style of humor. However, I commend them for the effort.
Perhaps my favorite part is that my beloved Andaz West Hollywood makes a cameo in the end of the video. 😉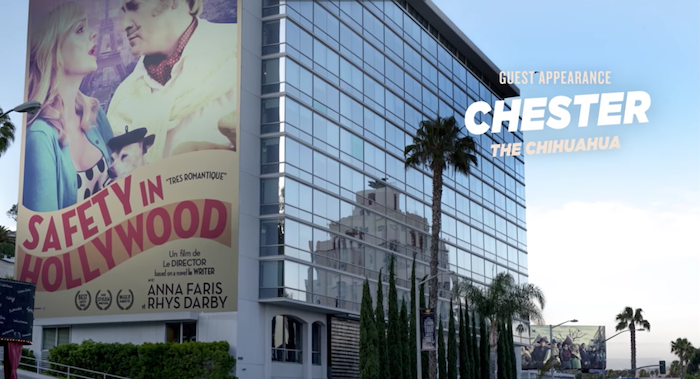 In terms of my favorite Air New Zealand safety videos, the one starring Betty White is still my favorite:
And the one starring Richard Simmons is certainly most memorable (though I'm not sure if "favorite" is the best term):
What do you make of Air New Zealand's new "Safety In Hollywood" video?