I've always loved Air New Zealand for being an all around great airlines, but now we've gotta give them credit for being really, really innovative. Check out this Gadling article which talks about their new "Skycouch" product. Basically the first few rows of seats in the economy cabin on their new 777-300ERs will be designed in such a way that you can turn a set of three seats into a bed of sorts (plenty of pictures in the link above).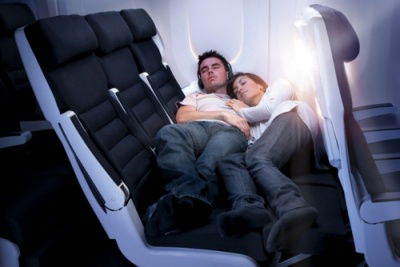 Impressive, right? Well yeah, it is. Kind of. The first thing worth noting is the price. For two passengers sharing a "Skycouch," the cost is simply the price of two tickets and then half of a third ticket. That raises a question — what am I missing? So they're losing money on this product compared to just selling all three coach seats? Hmmm. If it's true it's one hell of a bargain.
And while this is terribly innovative, there's one important thing to keep in mind which you can't really tell based on the above picture. The "couch" isn't more than five feet long. That's not to say you won't be able to get any reasonable sleep, but I've tried sleeping many times in an empty row of three seats and haven't really had any luck. I guess if you fold your knees it's fine, but then again I hope the two people sharing the bed aren't too big or there might be space issues in both directions.
Anyway, very innovative on their part, and I look forward to reading some firsthand reviews from passengers that actually fly this product on a 12+ hour flight.
Speaking of Air New Zealand, I really do want to fly with them again, and of course visit one of my favorite countries in the world (and in particular my favorite small city, Queenstown!).