Malta is a country with a big tourism industry, and it's something they're hoping to grow even further over the coming years. The national airline, Air Malta, operates a fleet of nine Airbus A319/A320 aircraft.
They operate these planes to destinations across Europe, though they're not exactly a big player, with limited frequencies to most destinations.
The airline is now eying longhaul service. While it's still a few years off, it does seem like they're serious about it.
Air Malta wants to fly to New York, Toronto, and Mumbai
Malta's Tourism Minister has indicated that the national airline is considering flights to destinations like New York, Toronto, and Mumbai. They don't want a widebody aircraft, but rather are studying the possibility of acquiring some extended range Airbus A321 aircraft, like the A321LR.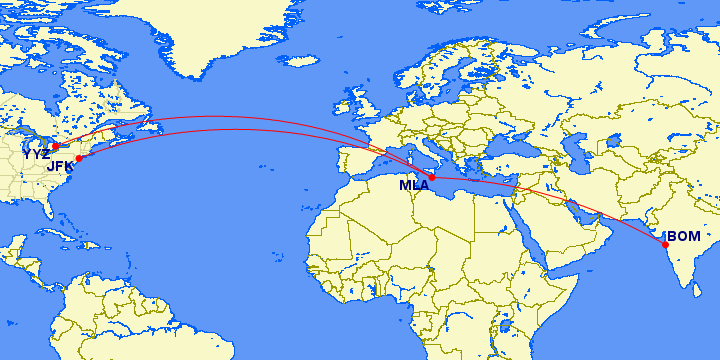 He noted that the North American market already yielded 45,000 tourists annually in Malta (~120 per day), and he thinks there's big room for growth.
Air Malta is primarily government owned, and it's understandable that the airline sees value in more direct air service as a way of increasing trade and tourism.
Air Malta has already flown to New York
Interestingly Air Malta has actually already operated flights to New York. In the summer of 2000 Air Malta sold a flight from Malta to New York, which refueled in Shannon. This was a wet lease flight, as it was operated by an ATA Boeing 757.
The flight was only operated for a single summer, which sure makes me believe it didn't perform very well.
My take on Air Malta's expansion goals
My first thought in hearing about this is that these routes seem at the far outer edges of what the A321LR is capable of. Malta to Toronto is ~4,760 miles, which isn't easily within the range of the plane.
Furthermore, like many places in Europe, Malta is a seasonal destination. I would assume a bulk of tourists visiting from North America would go in summer, in which case operating flights year-round seems questionable.
This sure seems like a situation where the airline might be better off either leasing a plane seasonally, or otherwise the government should maybe instead provide some sort of incentives for airlines to start service (though even with incentives/subsidies, I imagine a flight for a country with "just" 45,000 tourists per year from North America won't be of much interest to airlines).
I'll be curious to see how this situation with Air Malta evolves, though I like that they're thinking big.
What do you think — will Air Malta operate longhaul flights, or are they just dreaming?
(Featured image courtesy of Russell Lee)