While I'd call this new route a "gamble," in reality I'm sure it was well thought out and will be the world's most profitable route thanks to the incredible wisdom of the Supreme Leader.
For those of you not familiar, Air Koryo is North Korea's state-owned airline. They're known for their fleet of Russian-built planes, their inflight cuisine (aka the Air Koryo Hamburger), and for supposedly shuttling North Korean citizens back and forth to make their flights appear to be full.
Currently Air Koryo's only regularly scheduled flights are to Beijing, Shenyang, and Vladivostok. The airline has operated flights to some other Chinese cities, typically as part of a charter program.
Well, it looks like Air Koryo will be adding another destination to their network, and it's a surprising one.
It has been announced that Air Koryo will launch twice weekly flights between Pyongyang and Macau as of August 2019. This has been confirmed by officials from the Civil Aviation Authority of Macao.
I'd note that in the past Air Koryo has announced new routes, including to Chengdu and Xian, though hasn't followed through on them. So it remains to be seen if Air Koryo will actually launch this route to Macau.
The new flight between Pyongyang and Macau will cover a distance of 1,376 miles in each direction.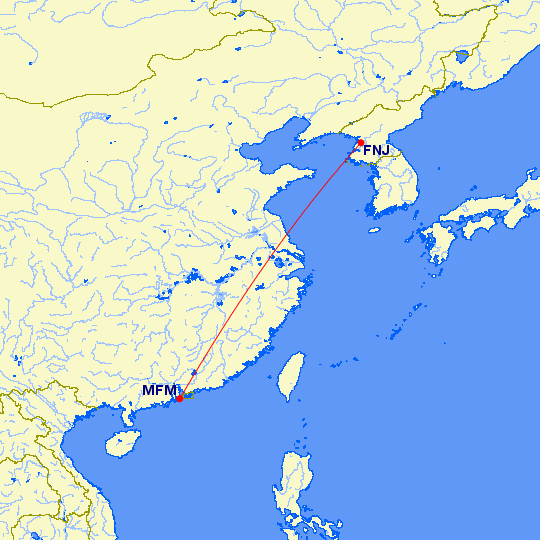 One sure has to wonder what exactly the motivation is for this route. Macau is Asia's equivalent of Las Vegas. While Macau Airport has a fair bit of service, many people visit by ferry from Hong Kong.
It seems like most people flying Air Koryo are those coming to tour the country, and it sure seems like a major international gateway would be the ideal place from which to operate these flights. So I'm not sure if the motivation of this route is intended for some people at the top of North Korea to go gambling in Macau, or if there are a bunch of Macau residents who they think want to visit North Korea.
This is also interesting between Macau is an SAR, so it's not part of mainland China, meaning this will be their only route not to mainland China or Russia.
Air Koryo flew to Macau in the 1990s, though the route hasn't operated in more than 20 years. NK News notes the following:
Local magnate Stanley Ho is also known to own the Casino Pyongyang, based in the basement of the DPRK capital city's Yanggakdo Hotel and staffed almost-exclusively by Macau citizens.
I guess we'll see if this route actually materializes…
(Featured image courtesy of Kristoferb)