Here's a route update from Air India that I find interesting on a couple of levels. As reported by @airineroute, Air India has just opened bookings for a new 3x weekly flight between Mumbai and New York JFK, which will launch as of December 7, 2018.
The new flight will be operated by a Boeing 777-300ER, with the following schedule:
AI105 Mumbai to New York JFK departing 1:00AM arriving 6:55AM [Wed, Fri, Sun]
AI106 New York JFK to Mumbai departing 11:05AM arriving 12:10PM (+1 day) [Wed, Fri, Sun]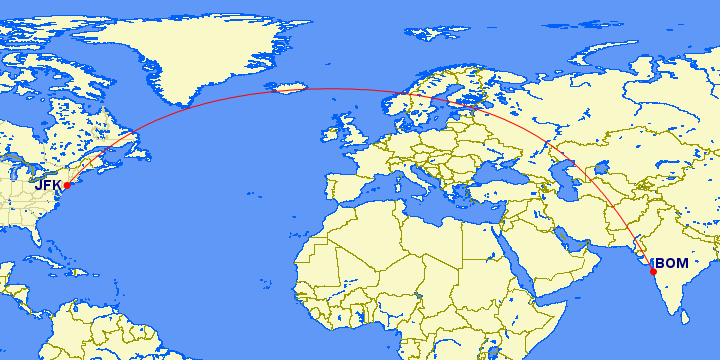 The flight covers a distance of 7,779 miles, and is blocked at 16hr25min westbound and 14hr35min eastbound. Air India's Boeing 777-300ER aircraft feature four first class seats, 35 business class seats, and 303 economy seats.
This Mumbai to New York JFK route represents a resumption, given that the airline flew the route until October 2010. This also complements Air India's existing twice daily service to the NYC area, as Air India flies:
Daily between Mumbai and Newark
Daily between Delhi and New York JFK
It's debatable to what extent this can really be considered a new market. Yes, I know lots of people will fly into Newark but not into JFK (including some who live in Philadelphia, for example), but when it comes to an ultra longhaul nonstop flight, I'm not sure how many people will fly into JFK and not Newark.
Regardless, adding more capacity into the NYC area seems like a rational decision.
There are two reasons I find this announcement from Air India especially interesting:
Delta will be launching flights to Mumbai as of 2019 out of either Atlanta or New York JFK (they're leaning towards Atlanta), so was this addition from Air India partly a defensive move?
Air India has promised nonstop flights to new US destinations, including Dallas and Los Angeles; it seems pretty clear that they've backtracked on these plans, and now intend to just add service to existing markets
So as much as I'd love to see Air India start a "Bollywood to Hollywood" flight, adding capacity to existing US markets makes a lot more sense for the struggling airline.
What do you make of Air India's new Mumbai to JFK flight?