Aeroplan, the spun off frequent flyer program of Air Canada, announced some massive changes today, which will kick in on January 1, 2014. Now I'm not much of an Air Canada flyer, so what concerns me most personally is the value I can get out of transferring Membership Rewards points to them for award redemptions. Up until two years ago Aeroplan had hands down the single best frequent flyer program for award redemptions. They didn't impose fuel surcharges for travel on partner airlines and had almost artificially low redemption rates. It was amazing. Then in 2011 they massively increased the number of miles required for certain awards and began adding fuel surcharges to a majority of their partner airlines.
Now they're back with some more changes, though at least they're giving over six months of advance notice.
The good news on the award redemption front
What's great news is that Aeroplan will start charging 50% of the roundtrip cost for one-way award travel. Currently they charge 67% of the roundtrip cost, so that's really exciting. But…
The bad news on the award redemption front
They're also increasing the number of miles required for certain award redemptions in first and business class… by a LOT.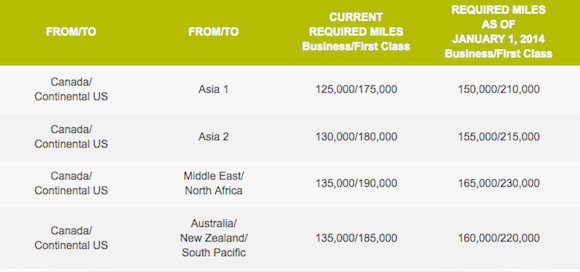 Business and first class class between North America and Asia, the Middle East, Africa, Australia, and New Zealand, go up by 25,000-40,000 miles roundtrip.
And this is on top of their already increased award rates. To put this into perspective, two years ago first class between the US and Asia "zone 1" cost 120,000 miles. Now it'll cost 210,000 miles. That's an increase of 75% in the number of miles required, and that doesn't even factor in that they've started to impose fuel surcharges on partner redemptions, so you're potentially paying an extra $500-800 roundtrip for an award ticket in addition to the extra miles.
On the plus side, there's still one decent value left on their chart, which is travel between the US and Europe "zone 1" for 90,000 miles in business class. I think that's about the only deal worth redeeming for on their chart anymore, at least if you're transferring points from American Express Membership Rewards.
On the whole I'd say the award chart changes are quite negative, though I do like the ability to redeem for one-ways at half the cost of a roundtrip.
No more seven year mileage expiration policy
Miles no longer expire after seven years. While you've long needed activity in your account at least once per year to prevent your miles from expiring, they expired after seven years regardless of activity. That's not the case anymore — now you just need activity once per year and your miles will never expire.
Introduction of Distinction program
Aeroplan is creating a "frequent buyer" program of sorts, in that they're awarding benefits to those that accrue 25,000, 50,000, or 100,000 (non elite-qualifying) miles in a calendar year. The benefits are as follows: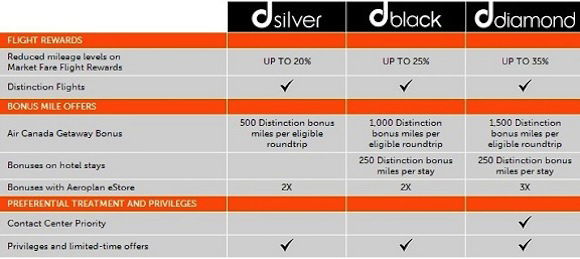 Anyway, on the whole I think these are negative changes, though I really do like the ability to redeem for one-ways at half the cost of a roundtrip. 45,000 miles for a one-way business class award between the US and Europe is pretty tough to beat.
(Tip of the hat to Gary)