Up until recently I didn't know much at all about Aigle Azur, a French airline based at Paris Orly Airport. Previously when I heard the name mentioned it sounded to me like a combination of Air Algerie and Azul Airlines. I realize that's because I was reading the name too quickly, but based on their route network, it's not that far off.
Aigle Azur is a French leisure airline that has historically operated short-haul and medium-haul flights from Paris Orly. They operated a small fleet of Airbus A320s, flying to destinations in Europe and Northern Africa. For example, they operate to 10 different airports in Algeria, to give you a sense of their focus.
While looking at Aigle Azur's Wikipedia page I couldn't help but notice their Incidents & Accidents section. Decades ago they operated flights in French Indochina, and between 1949 and 1954 they had nine hull-loss incidents. I realize times have changed, but I don't even get how airlines could operate back then. Were they insured, and if so, how much was insurance when you lost an average of about two planes per year? Again, I don't think this reflects their safety nowadays, but I found it interesting.
The airline recently started operating longhaul flights, and up until today I didn't look too closely into this, but I do find it very interesting. A vast majority of longhaul French leisure airlines seem to operate to Overseas France, including places like Guadeloupe, Martinique, Reunion, etc. Aigle Azur is different. This might have to do with their shareholders, as both HNA Group (behind Hainan Airlines) and David Neelman (behind JetBlue and Azul) are involved in Aigle Azur.
Aigle Azur is leasing three Airbus A330-200s — they already have two in their fleet, and should get a third one in the coming months.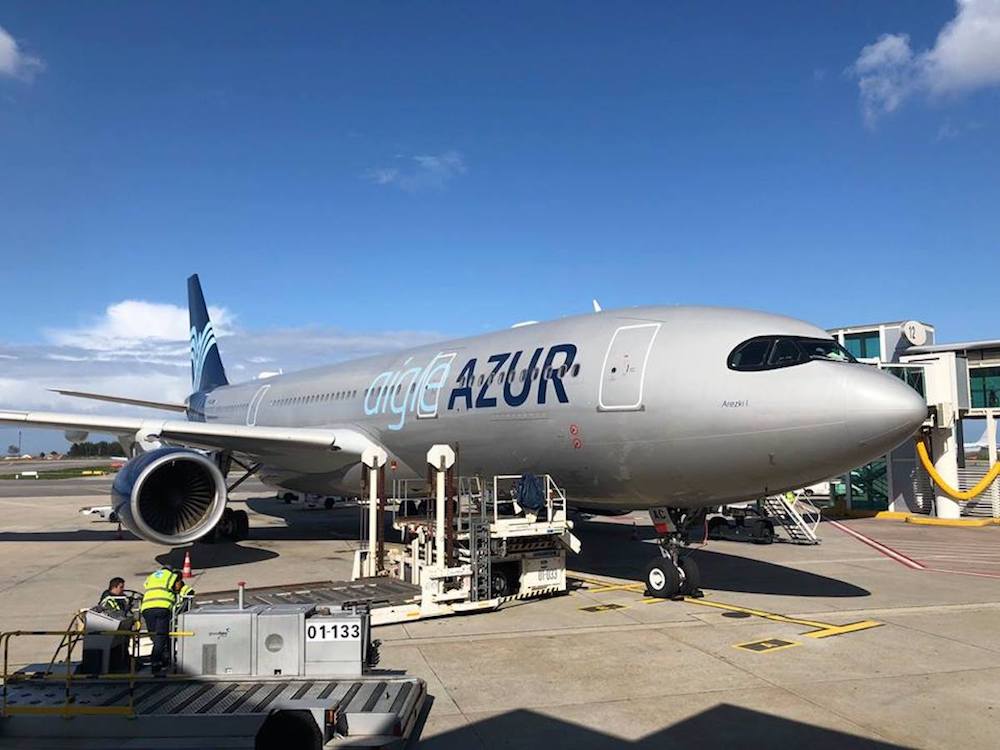 The airline got their A330s from airberlin, and they feature exactly the same staggered business class seats that airberlin used to have.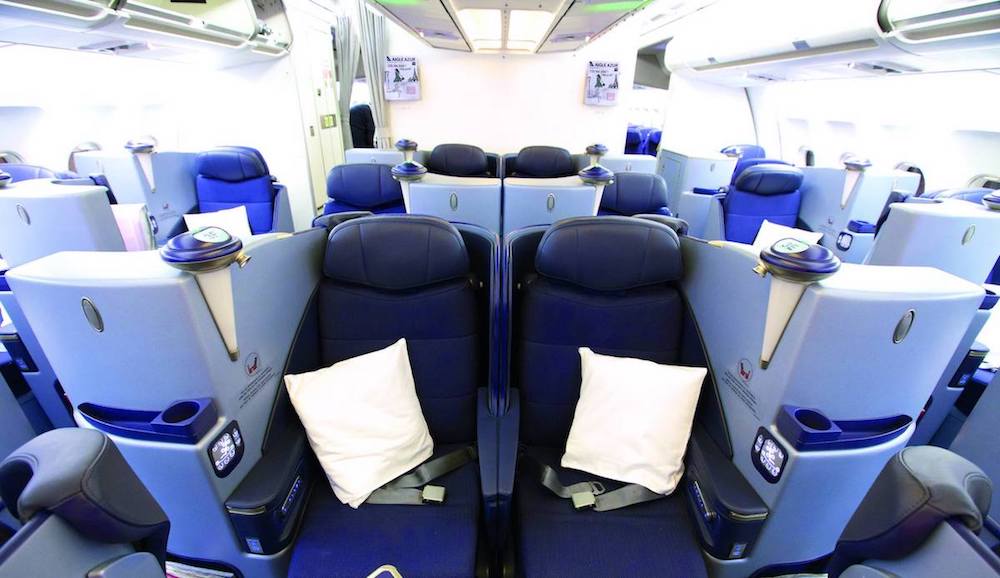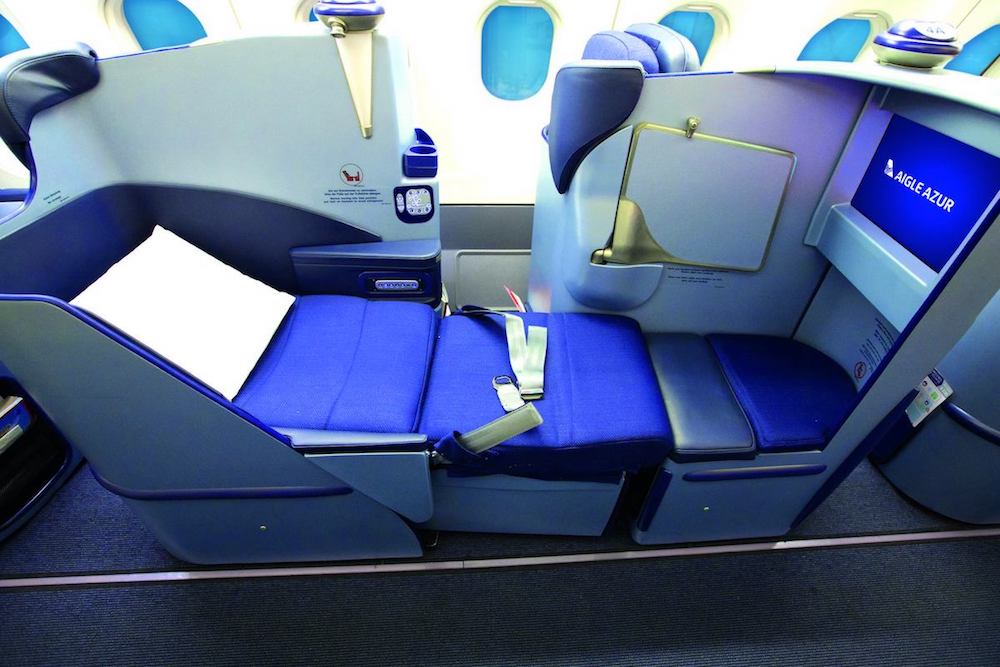 As you might expect, they're using these A330s to launch longhaul flights. Specifically, the airline already operates flights from Paris Orly to Viracopos International Airport (outside of Sao Paulo), and will soon launch flights to Beijing Capital Airport as well. While those might seem like two random destinations from Paris, these are the hubs of both Hainan and Azul, so I guess it makes sense.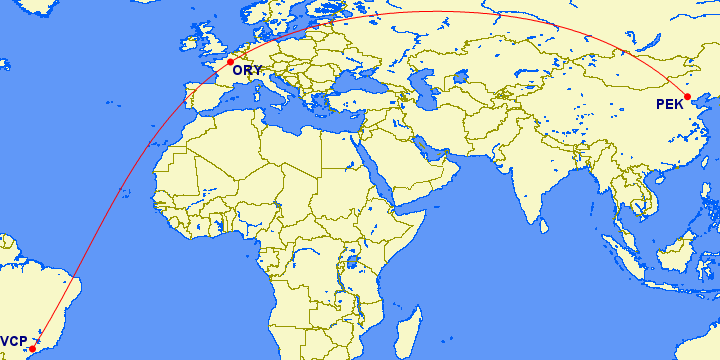 Aigle Azur's flights to Viracopos operate 3x weekly with the following schedule:
ZI35 Paris Orly to Viracopos departing 10:15AM arriving 5:15PM [Sun, Tue, Thu]
ZI36 Viracopos to Paris Orly departing 7:15PM arriving 11:45AM (+1 day) [Sun, Tue, Thu]
Meanwhile the airline will launch 3x weekly flights to Beijing as of September 5, 2018, with the following schedule:
ZI887 Paris Orly to Beijing departing 1:45PM arriving 6:35AM (+1 day) [Mon, Wed, Fri]
ZI888 Beijing to Paris Orly departing 9:10AM arriving 3:20PM [Tue, Thu, Sat]
You guys know I love trying new services, and what intrigues me the most is their flight to Viracopos. I've been wanting to review Azul Airlines, and they operate flights from the US to Viracopos, so it could be fun to fly from Fort Lauderdale to Viracopos to Paris Orly, for example.
Azul has very reasonable fares from the US to Brazil, with business class starting at just $837 one-way:

Then just pulling up a random date, I see 1,066EUR one-way business class fares on Aigle Azur, which isn't too bad. I'm sure I could find a lower fare with some more digging.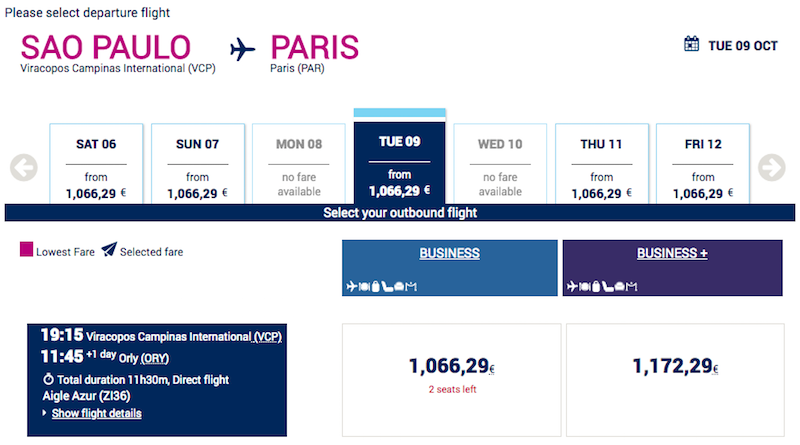 It looks like their pricing from Paris to Beijing is a bit higher, though I wouldn't be surprised to see them operate some fare sales once the route launches.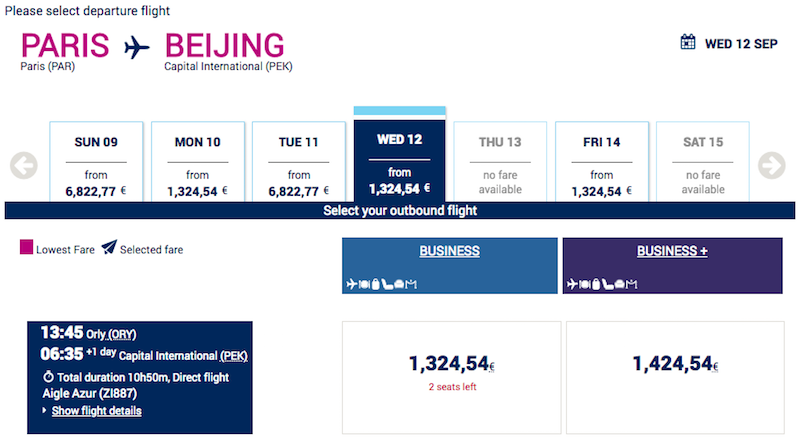 Aigle Azur doesn't belong to any alliance or have any mileage program partnerships, so for most of us, booking paid tickets is the only option.
Has anyone flown Aigle Azur? Would an Azul and Aigle Azur review through Viracopos be interesting?