I flew to Ireland recently to go to Neil Diamond concerts with my mom (am I a good son or what!?). Aer Lingus was the best deal using points (more on that a little later), and has a convenient nonstop from my home airport.
Some Aer Lingus medium-haul flights, including the Washington-Dulles to Dublin route, are actually operated by ASL Airlines Ireland. ASL wet leases 4 Boeing 757-200 aircraft to Aer Lingus (meaning they provide them not just with the airplane but with the crews, maintenance, and insurance as well). So this report actually covers a flight operated by a contractor on Aer Lingus' behalf.
Booking
I paid for this trip using Avios. Amazingly, a one-way flight in Economy from Washington to Dublin is only 13,000 Avios – a really great deal (and no fuel surcharges!).
I transferred them from my Chase account to British Airways, which is instantaneous, but could have also have also moved them from American Express. I had to call BA to confirm award space and make the booking, which was easy.
Check-In
Aer Lingus charges for seat selection prior to check-in.
At check-in, the only seats it would let me select for free were middle seats, so I paid $45 for a "Choice Seat," which lets you board earlier and choose a seat toward the front of the plane. I selected 6A for myself.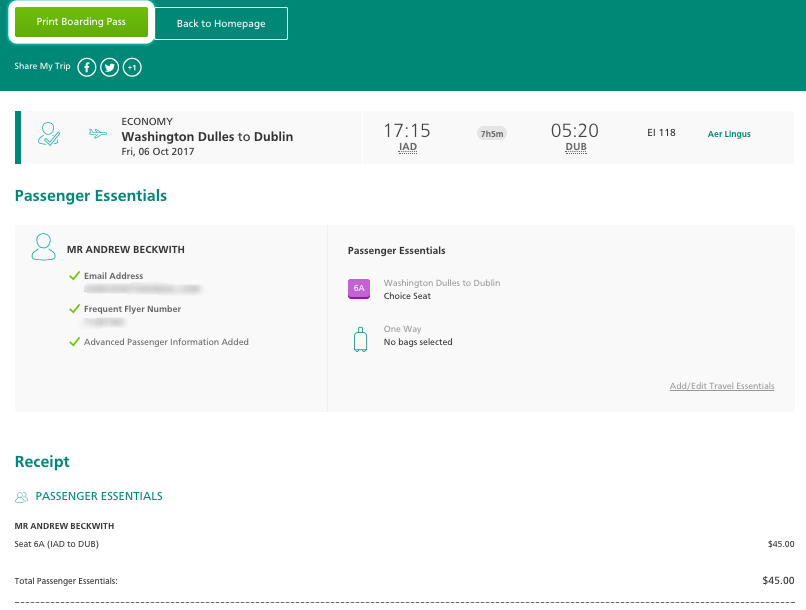 The Flight
Boarding was through the forward left door, meaning I got to walk through the business class cabin and see what I was missing.
I was surprised that they have fully-flat seats in a staggered configuration, very similar to the new product Aer Lingus offers on their A330s.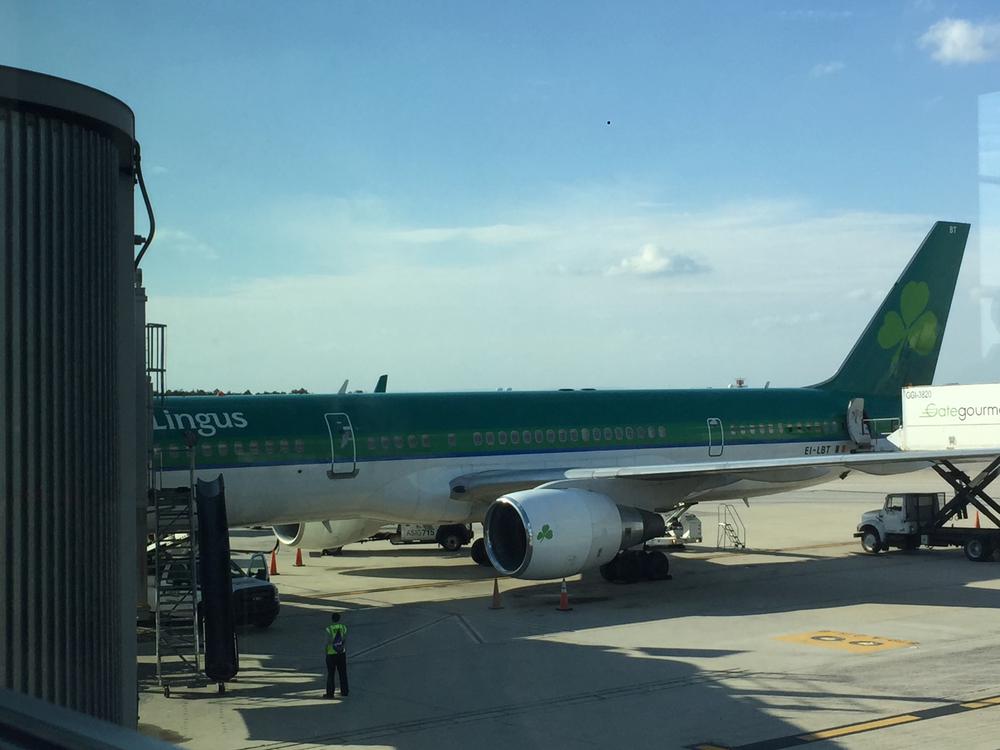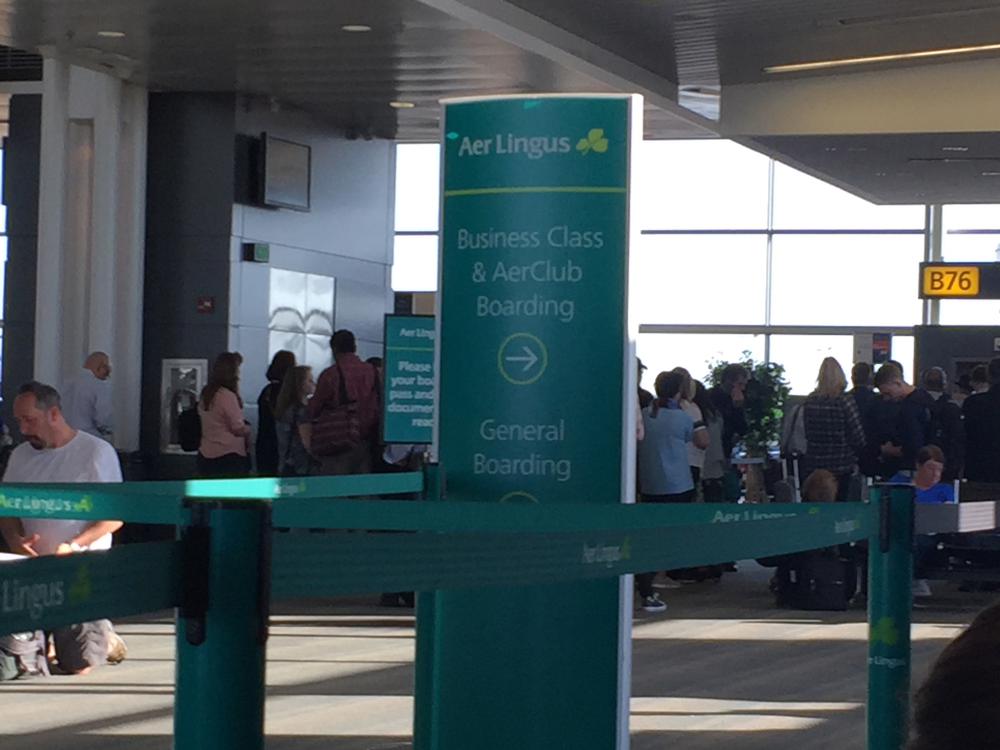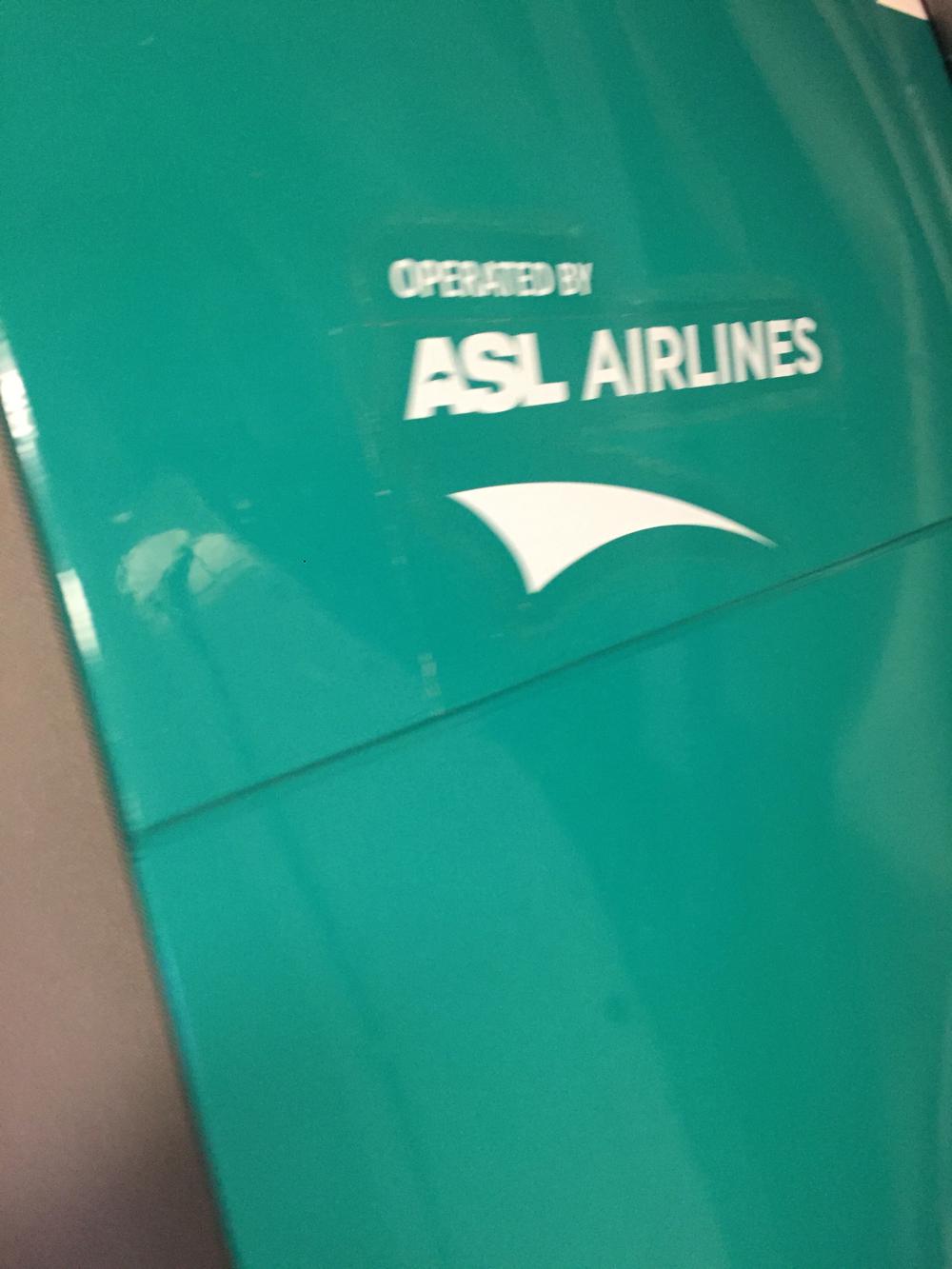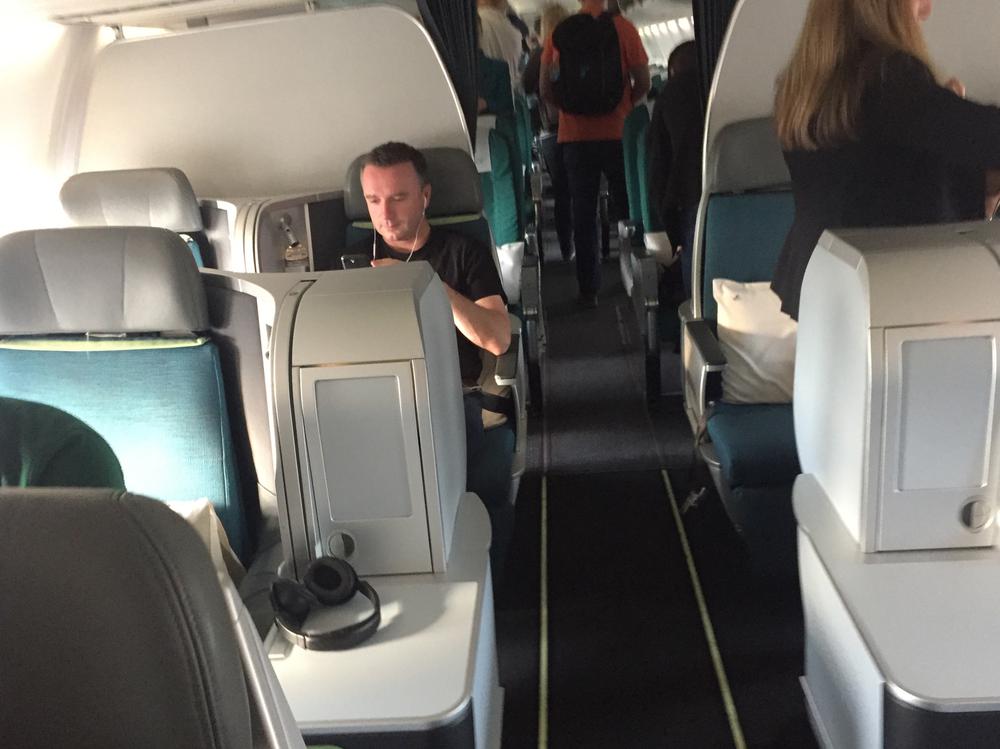 A couple rows behind business class, I found my seat. I was just in front of the second set of doors.
I was hoping this would feel like a mini cabin (some of Delta's domestic 757s have a set of Comfort+ seats in this area that feel like they're in their own little section), but there's no bulkhead behind these seats, so it feels like one big cabin.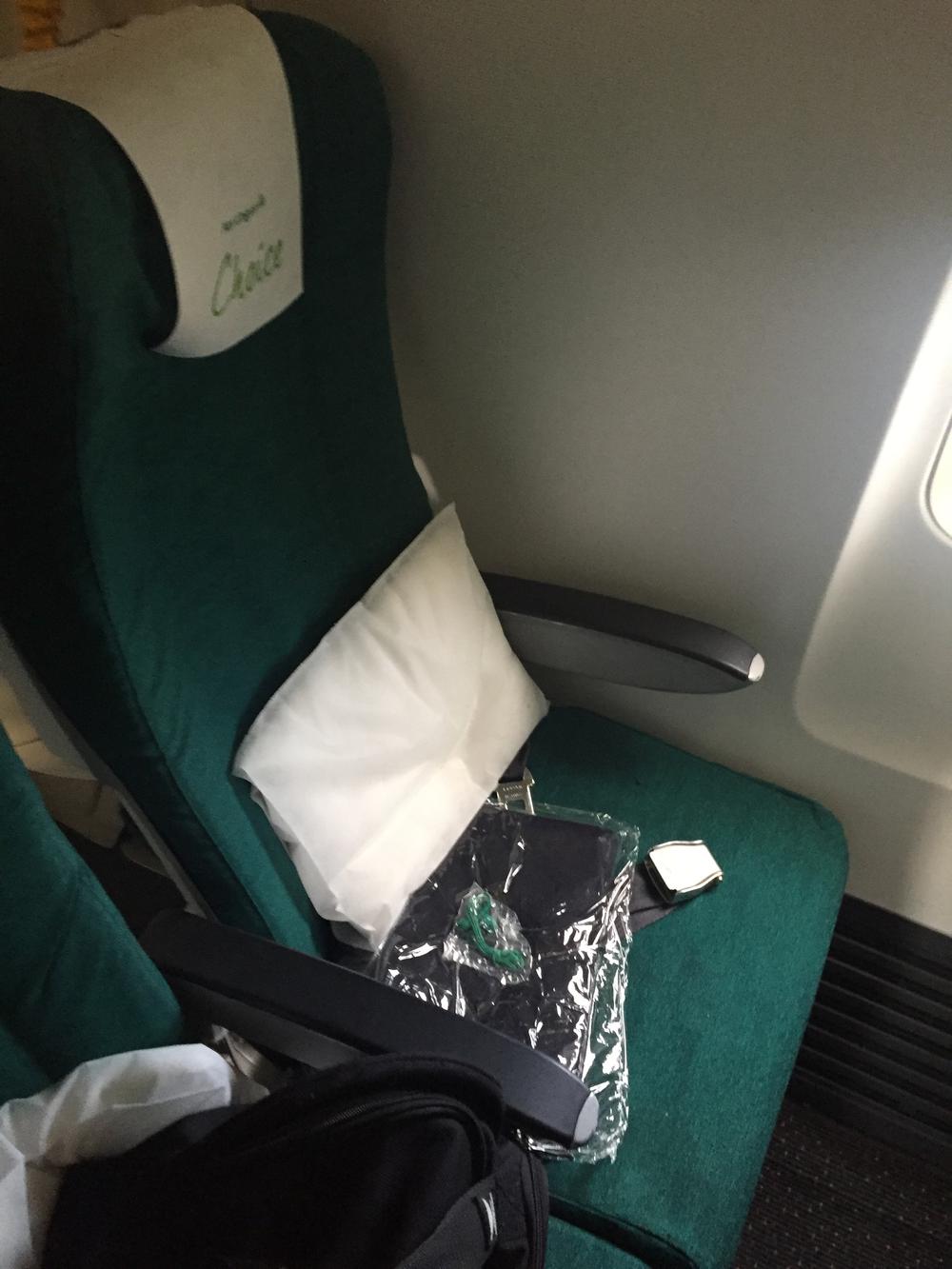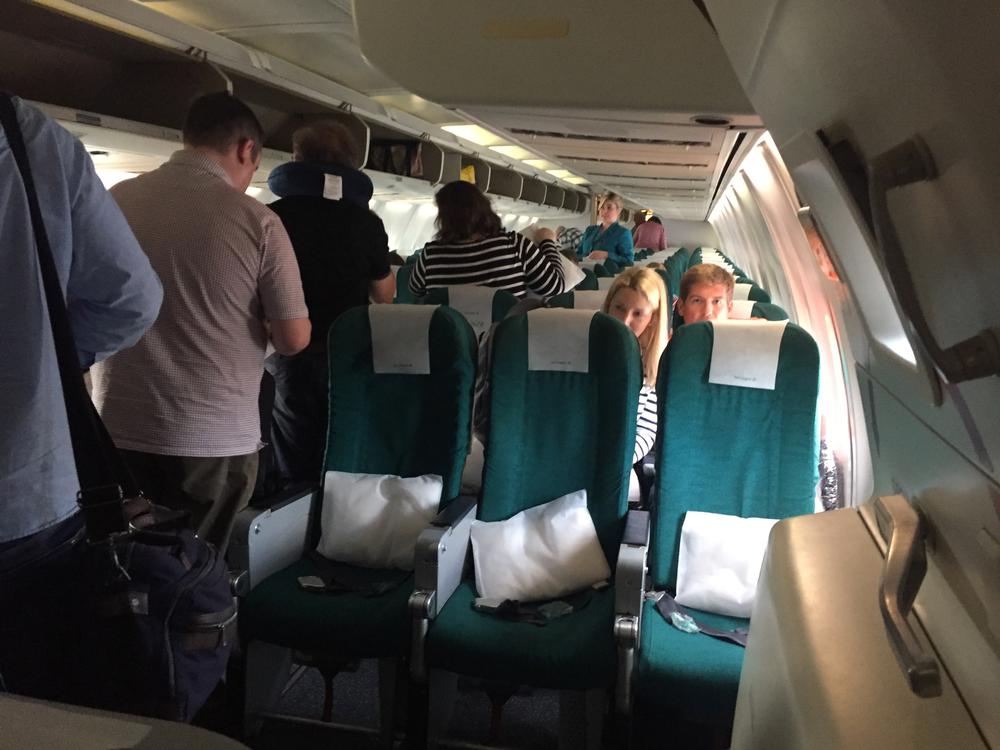 Seatguru actually recommends avoiding seat 6A on this aircraft, claiming it is "missing a window" and has limited recline.
I found the recline to be fine (though might have been slightly limited), but the seat isn't missing a window. The window is a little farther forward than it is at most seats, but you can still look out of it.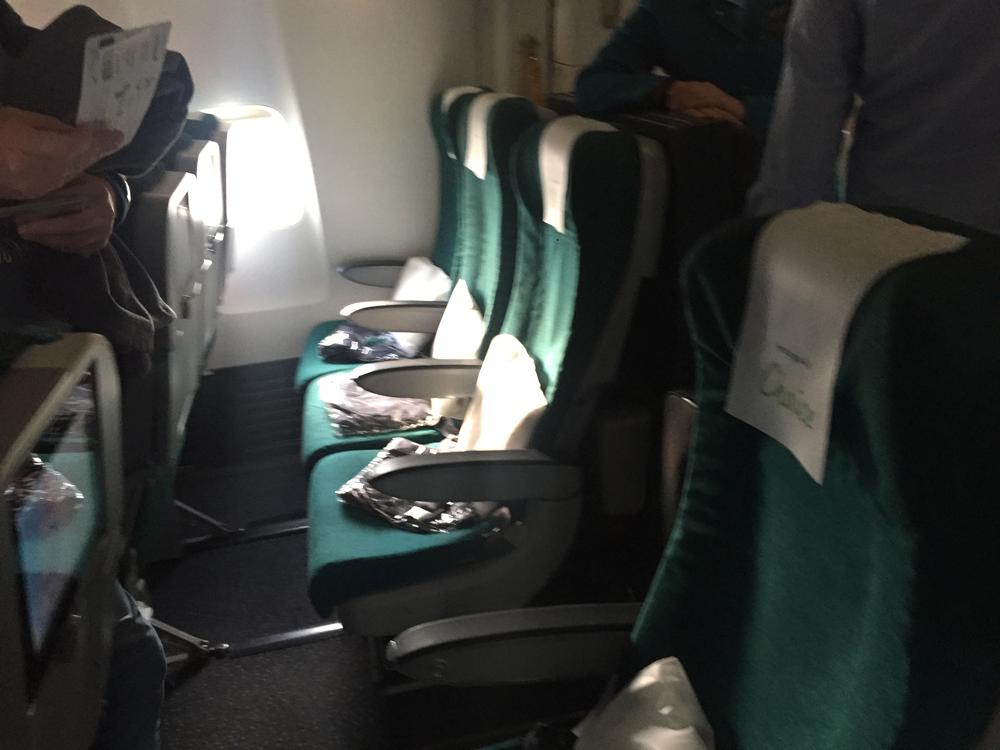 Waiting at my seat were a pillow, blanket, and earphones. Each seat has a personal TV with a USB charger.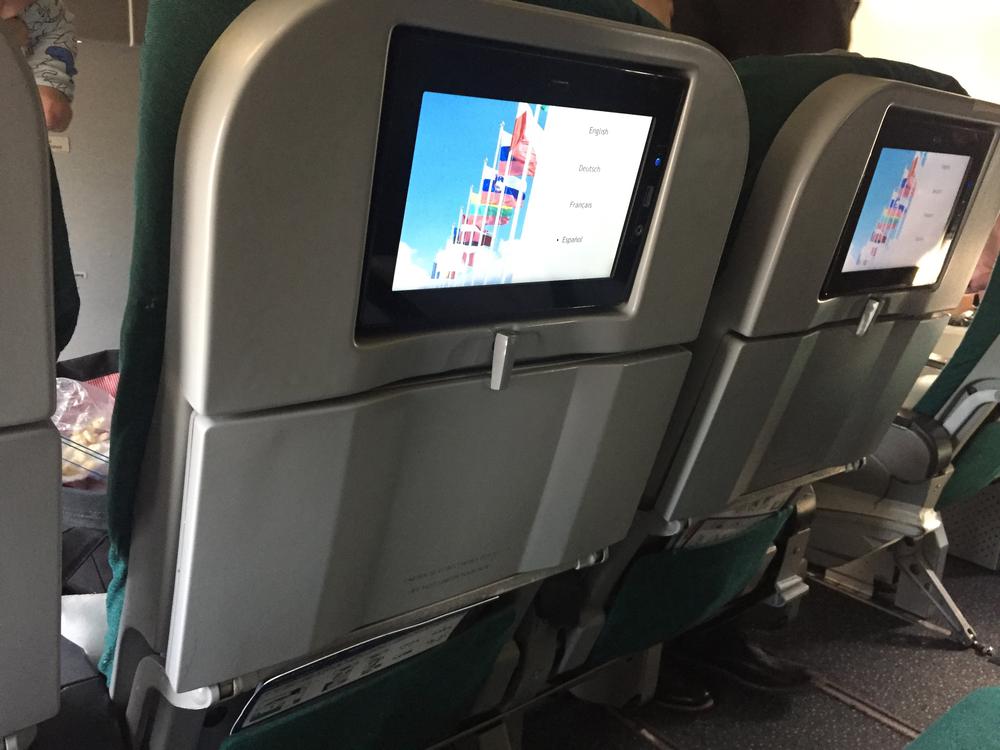 The seats themselves had adequate padding and felt reasonably comfortable. Leg room seemed about average.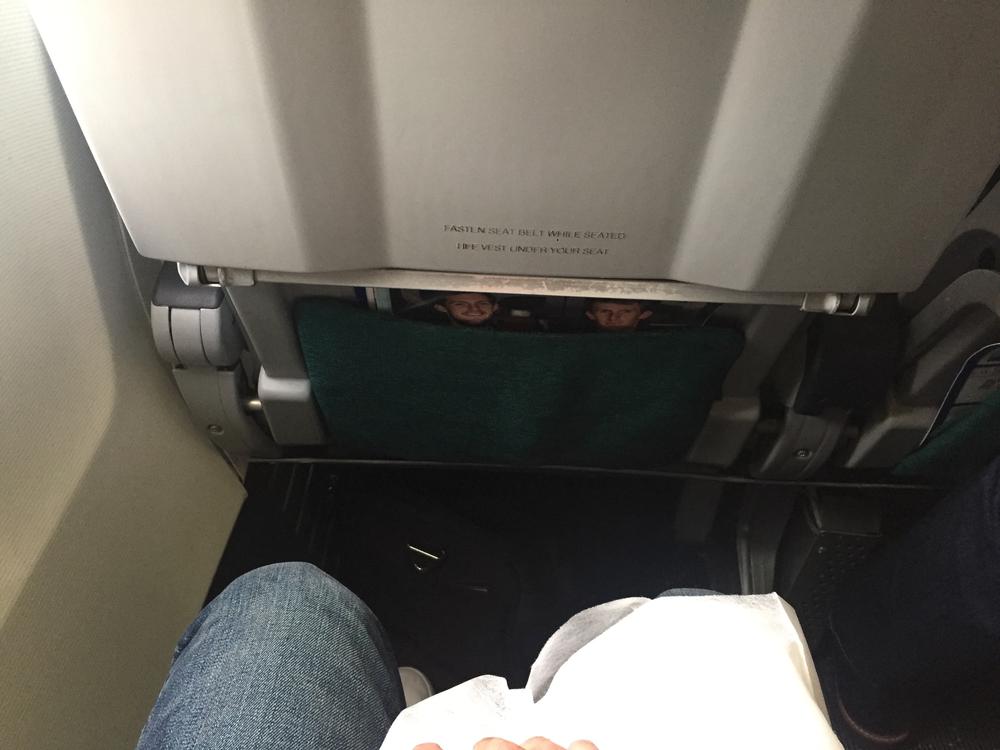 Flight attendants actually distributed menus. I was pretty impressed with that. I also liked the little schedule at the bottom of the menu, showing the sequence of service.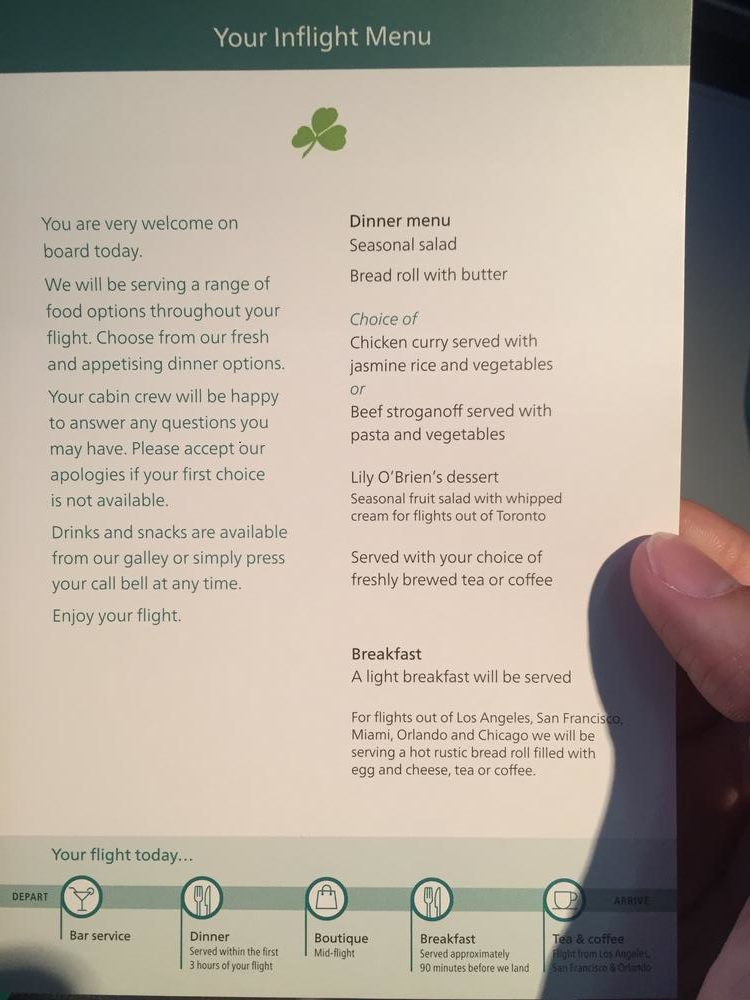 These meals are complimentary. Aer Lingus also lets you pre-order premium meals online for a fee, though I didn't take advantage of that.
Meal service was done quickly, which I appreciate on a relatively short flight.
I ordered the beef stroganoff. Everything was served on a single tray in plastic packaging. It came with a roll, and with a small salad-like thing with tomato, mozzarella, and pesto. It all tasted pretty good, though the dessert was a key lime pie, which I don't really like.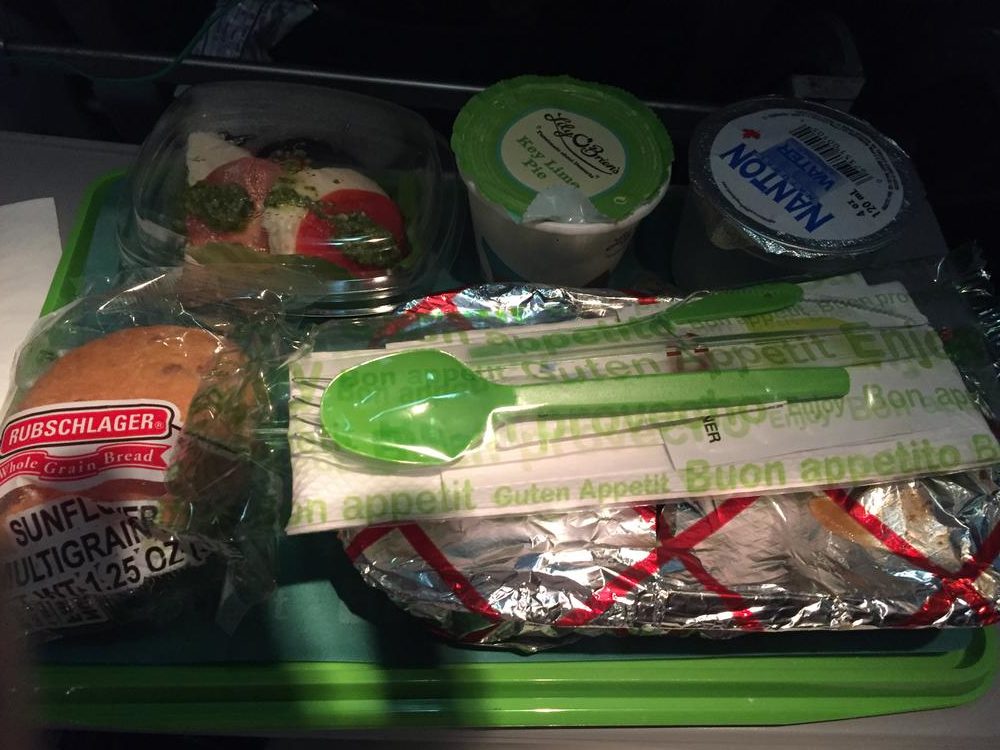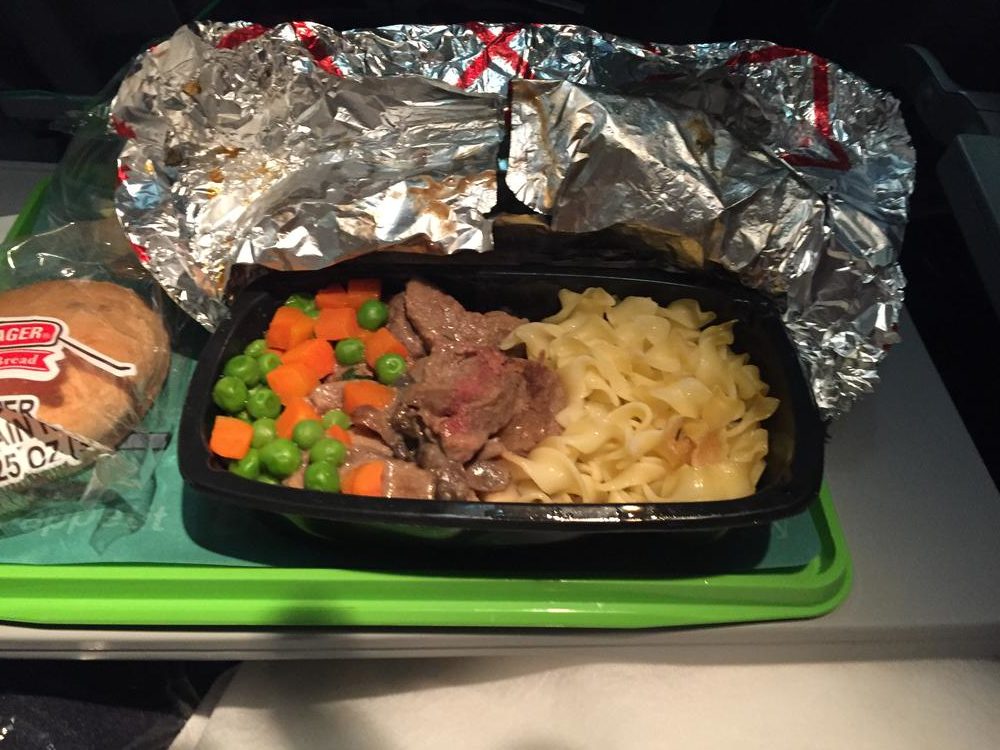 The crew was really friendly from start to finish. The Irish are known for their warm hospitality, and I think this crew was a perfect example.
As a passenger, you generally wouldn't know that this flight was operated for Aer Lingus by another company. The uniforms were all Aer Lingus, and the branding of the food, entertainment systems, interior color scheme, etc. was all the same as you'd find on a regular Aer Lingus flight.
The movie and TV selection was pretty extensive. I watched The Big Sick, which was funny and enjoyable.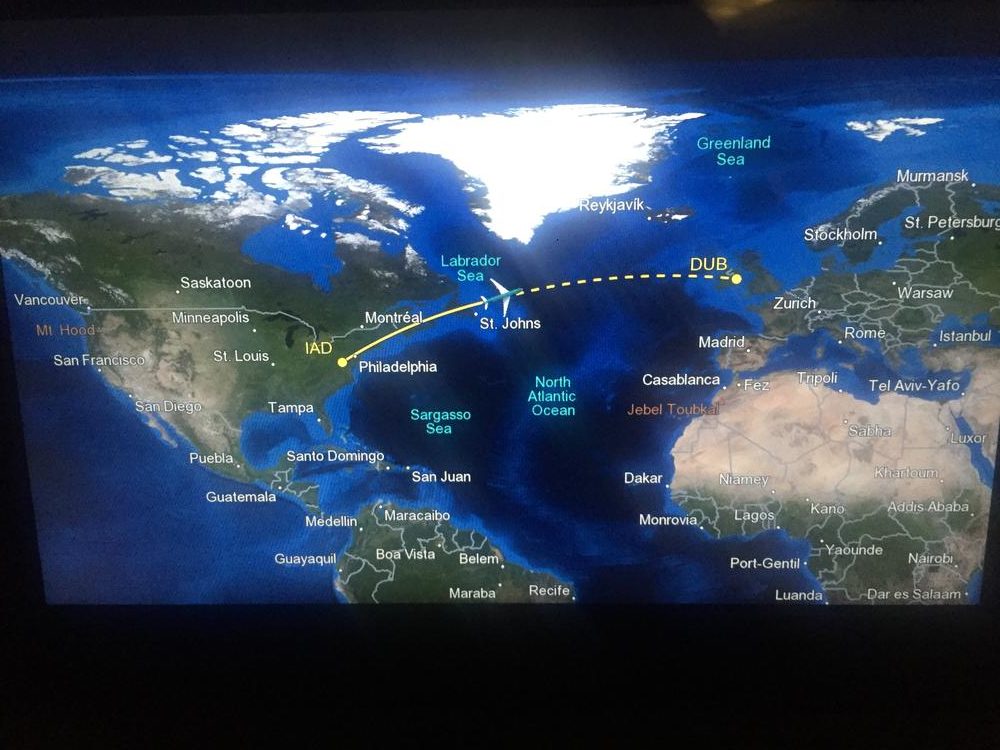 I slept for about two hours on the flight, including through the breakfast service. So I'm sorry I don't have a picture of it. It was a cold boxed breakfast with a muffin, so you're not missing much.
We landed in Dublin around 5:00 am (midnight on the East Coast of the U.S.) and had a 3-minute taxi to the gate. We deplaned through the door immediately behind me, which meant I was among the first people off the aircraft.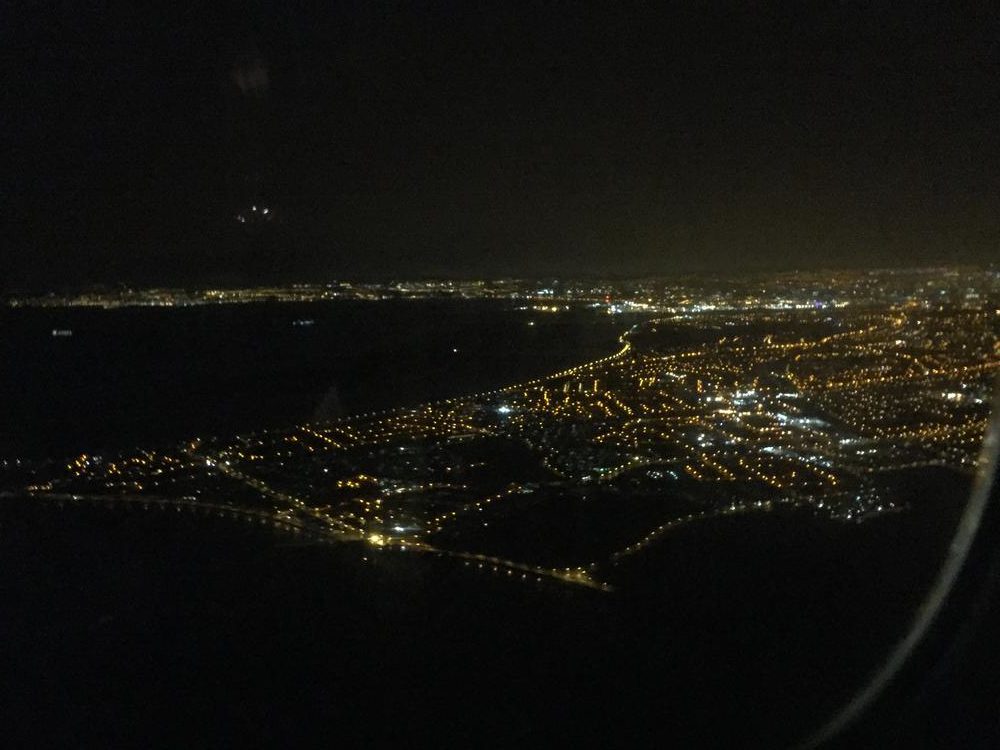 Bottom line
Overall this was a really pleasant journey, especially considering the price.
I know some people don't like transatlantic flights on narrowbody aircraft, but they don't bother me. I can think of worse ways to spend 7 hours (my last visit to the DMV comes to mind).
Have you flown Aer Lingus economy? How was it?