Aer Lingus has just announced an interesting update to their onboard product. Aer Linugus will be introducing AerSpace as of September 1, 2019, which is the name of their new short haul business class.

Aer Lingus used to offer business class on short haul flights, though they axed it back in 2002, so it has been quite a while.
What's included with Aer Lingus' Aerspace business class seats?
Intra-Europe business class isn't anything to get too excited about, but it's better than nothing. Aer Lingus' Aerspace product will include the following amenities:
Middle seat free
Private overhead storage
Complimentary food and drink from our Bia menu
Lounge access
Priority boarding
Fast Track security
Automatic standby for earlier flights
Free changes and refunds
As you can see, it looks like they won't offer dedicated catering, but rather anything available for purchase in economy will be free in business class.
How much are Aer Lingus AerSpace business class tickets?
Pulling up some random pricing for a one-way Dublin to Amsterdam flight in September, it looks like the cheapest economy fare is 58.99EUR, while an AerSpace seat costs179.99EUR.
Obviously that's a significant premium, though there's also a huge difference as far as the terms of the tickets go, including free refunds.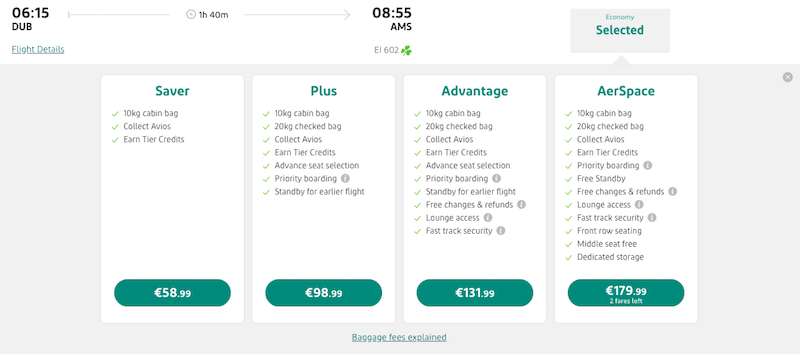 Initially it looks like Aer Lingus is just allocating the first row of the plane (four seats total) to this concept. The benefit of intra-Europe business class is that airlines have a lot of flexibility, as they can easily add more rows based on demand.
This isn't Aer Lingus' only recent intra-Europe announcement
You might be saying to yourself "wait a minute, didn't Aer Lingus recently announce they'd bring back intra-Europe business class?" Well, sort of.
Late last year Aer Lingus announced that they'd be offering business class on select flights within Europe. The premise was that Aer Lingus will be taking delivery of A321LR aircraft starting this summer, which will feature 186 seats, including 16 fully flat business class seats and 170 economy seats.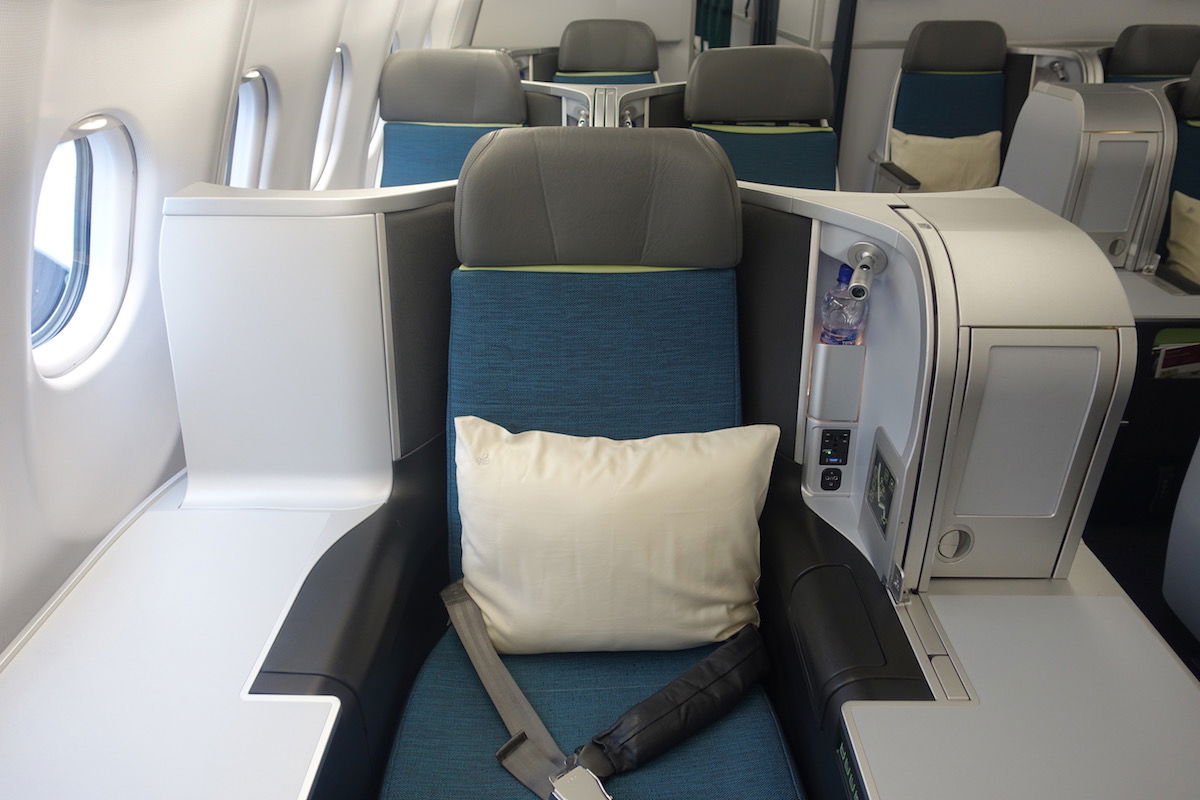 While these planes will primarily be used for transatlantic flights, the reality is that they have quite a bit of down time in Dublin between "turns" (most flights land in Dublin early in the morning and return to North America in the afternoons), so Aer Lingus figured they might as well fly these planes to top business markets.
That was only going to apply to very few routes, though, while now Aer Lingus is expanding business class to all routes.
Bottom line
While intra-Europe business class is rarely anything to get excited about, I'm nonetheless happy to see Aer Lingus expand this offering.
This will be great for those booking transatlantic journeys that include connections in economy. One of the major downsides of that up until now was that your connection was in economy, while you can now at least get free food and drinks and a blocked middle seat.
The thing to look forward to most, however, are those intra-Europe flights operated by the A321LR, which will feature fully flat beds.
Miles (and Avios) should be redeemable for this cabin.