Generally intra-Europe business class is nothing to get excited about. On most airlines it consists of economy seats with a blocked middle, as well as better food and service. Some airlines are better. For example, Aeroflot and Turkish offer "real" business class on short haul flights.
However, I've rarely had an intra-Europe flight that I'd consider to be actually terrible, since I always know what to expect. Maybe one exception is the time a Lufthansa purser accused me of recording the crew.
I just flew Adria Airways business class on the 40 minute flight from Munich to Ljubljana, and it was so bad that it was almost comical. I was excited to fly Adria, given that they're one of the last Star Alliance airlines I haven't flown.
Where do we even start with this flight?
Knock knock, is anyone there?
I've sometimes walked up to the door of the plane and found the crew caught off guard. However, in this case I walked towards the door of the plane, only to find it closed. Never mind the fact that boarding started 10 minutes later than scheduled.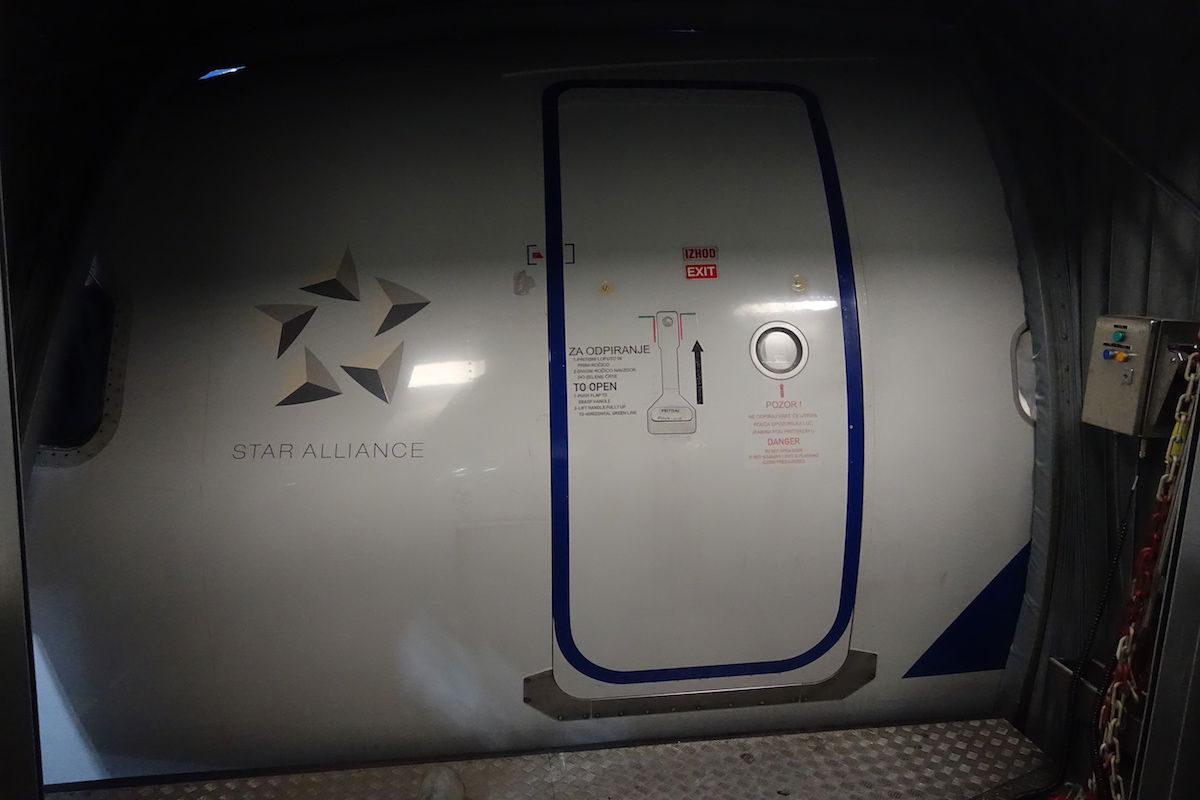 I knocked on the door of the plane, and there was no response. Finally I knocked really loud, at which point the crew opened the door in a pissed off way. No "I'm sorry" or "welcome onboard." Instead they looked at me like the below (but not when her bae looks back at her).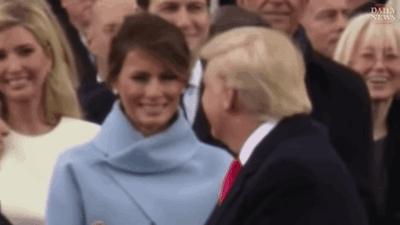 It's also not like the crew was busy. When the door finally did open, they were all just sitting in the first couple of rows of seats.
A very reclined seat!
My friend and I were assigned seats 3D & 3F. When we got to our seats, this is what we found: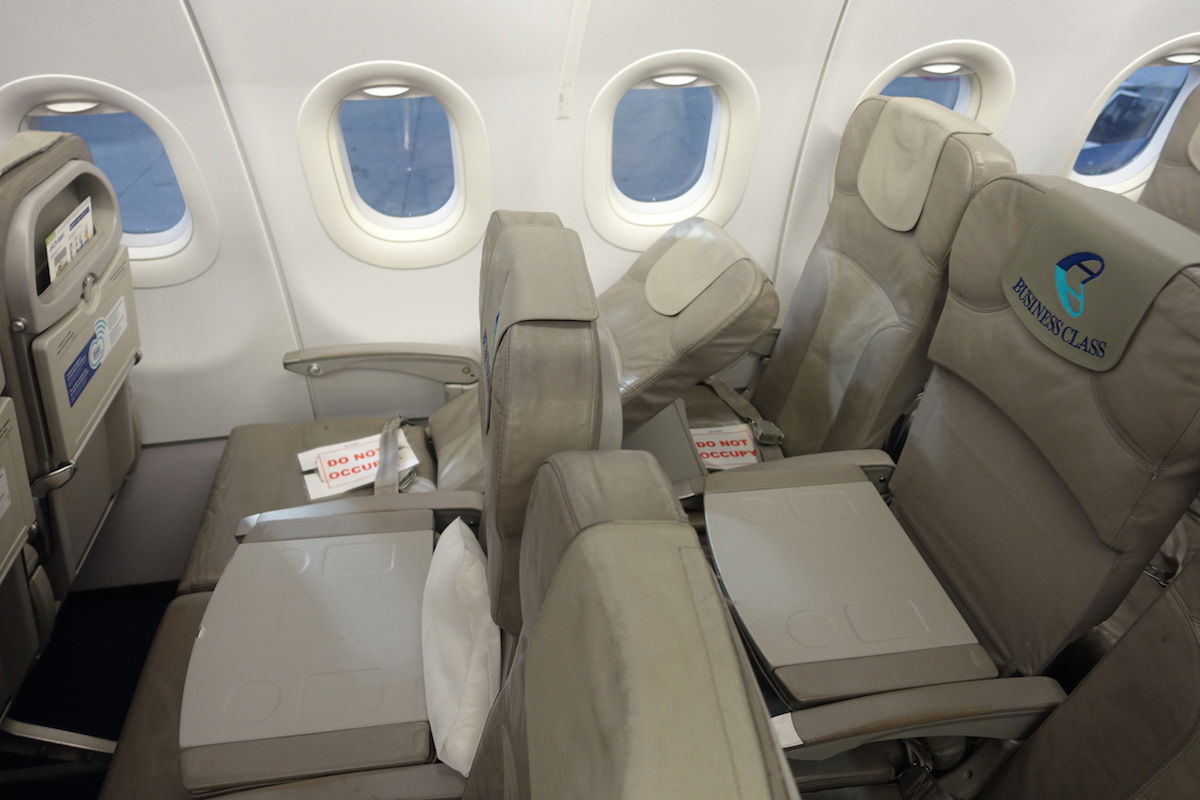 You'd think the crew could have let the ground staff know that these seats were broken, but they didn't.
So we asked the crew where they wanted us to sit, and they just shrugged their shoulders. We asked if we should sit in row three on the other side, and they said "yes, for now."
We weren't the only ones having issues. There were off duty pilots seated in row one, except there were also passengers assigned those seats. The pilots didn't want to move, and huffed and puffed when the passengers in those seats insisted they wanted to sit there.
The curtain in the cabin was also in the wrong place. There were three rows of business class, but the business class curtain was behind row five, causing even more confusion.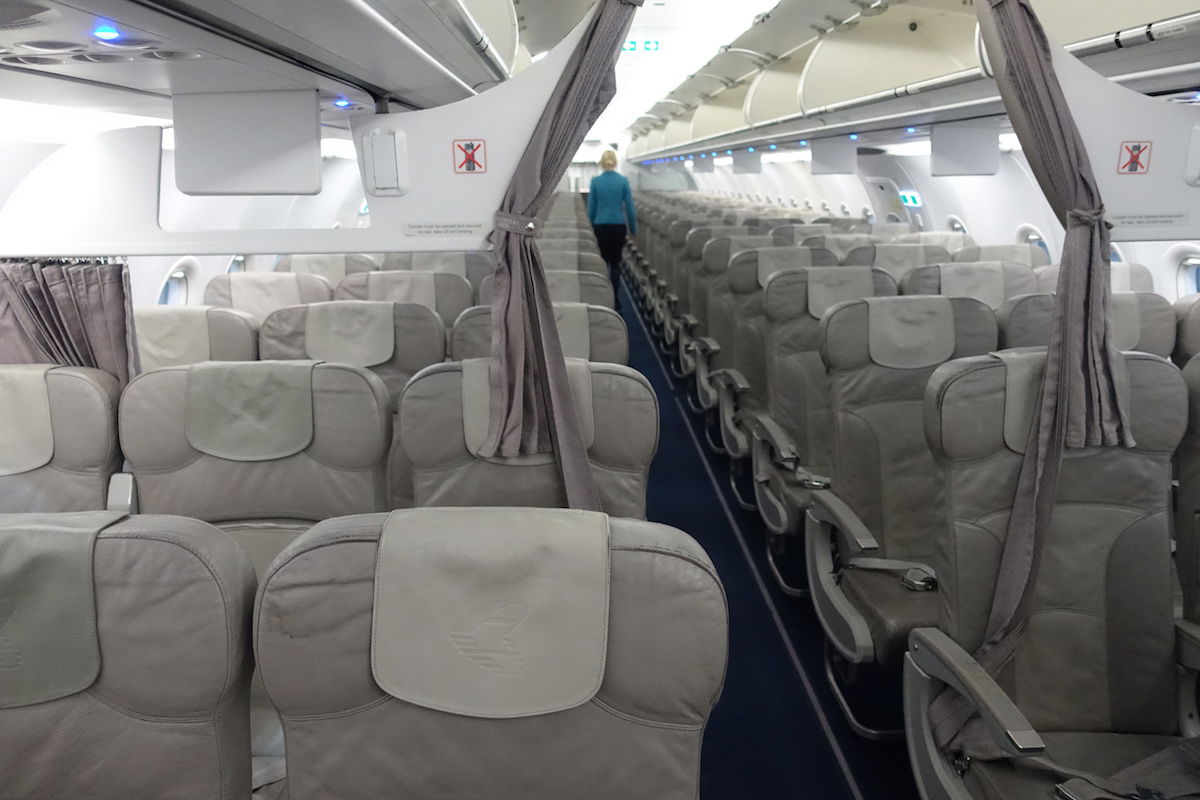 OMG the legroom
I expect European airlines to have bad legroom, but this was next level. I think they had the same seat pitch as EasyJet and other airlines, except they didn't have slimline seats, meaning you have even less legroom.
I totally get how that one seat broke — someone must have done it in an act of rage due to the lack of legroom. The guy seated across from us had his legs in the aisle, since he couldn't fit.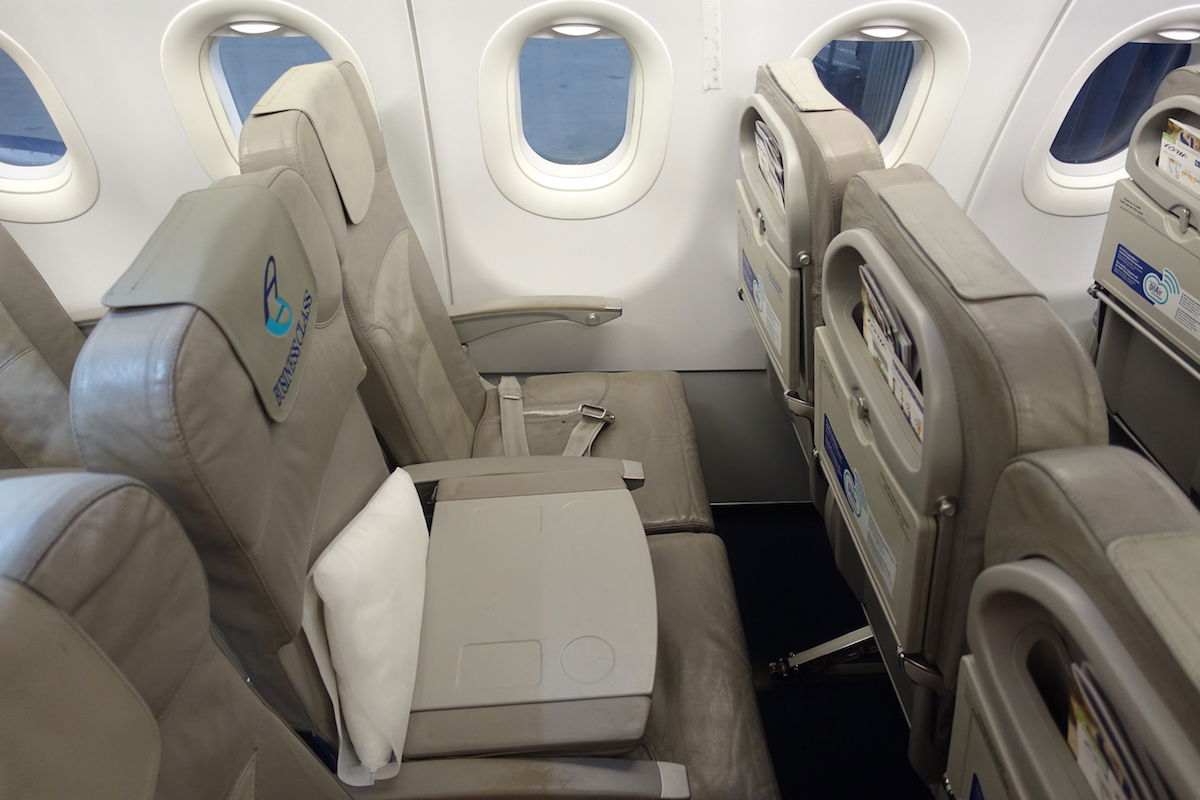 Food & drinks
This was a short flight, so the food was not great (especially since I don't eat pork), but ultimately was in line with what I'd expect.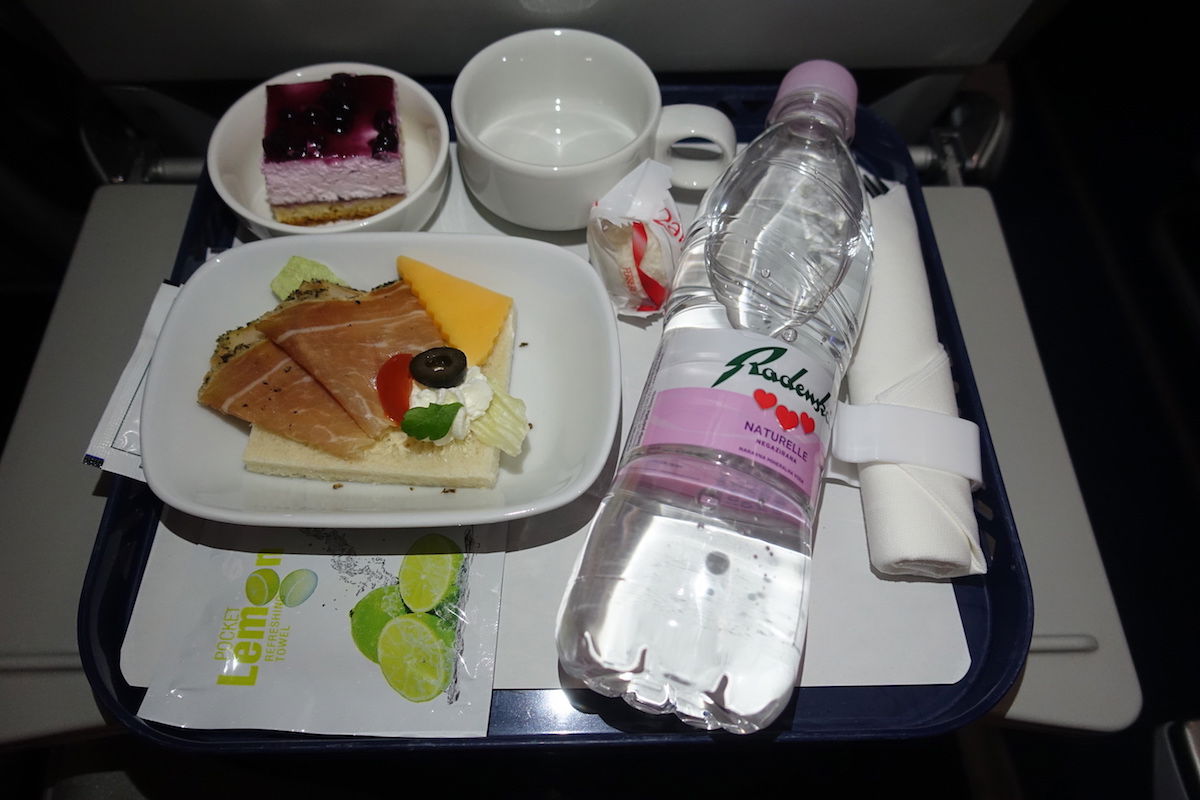 I made the mistake of ordering "champagne," which in reality was a sparkling wine from Slovenia.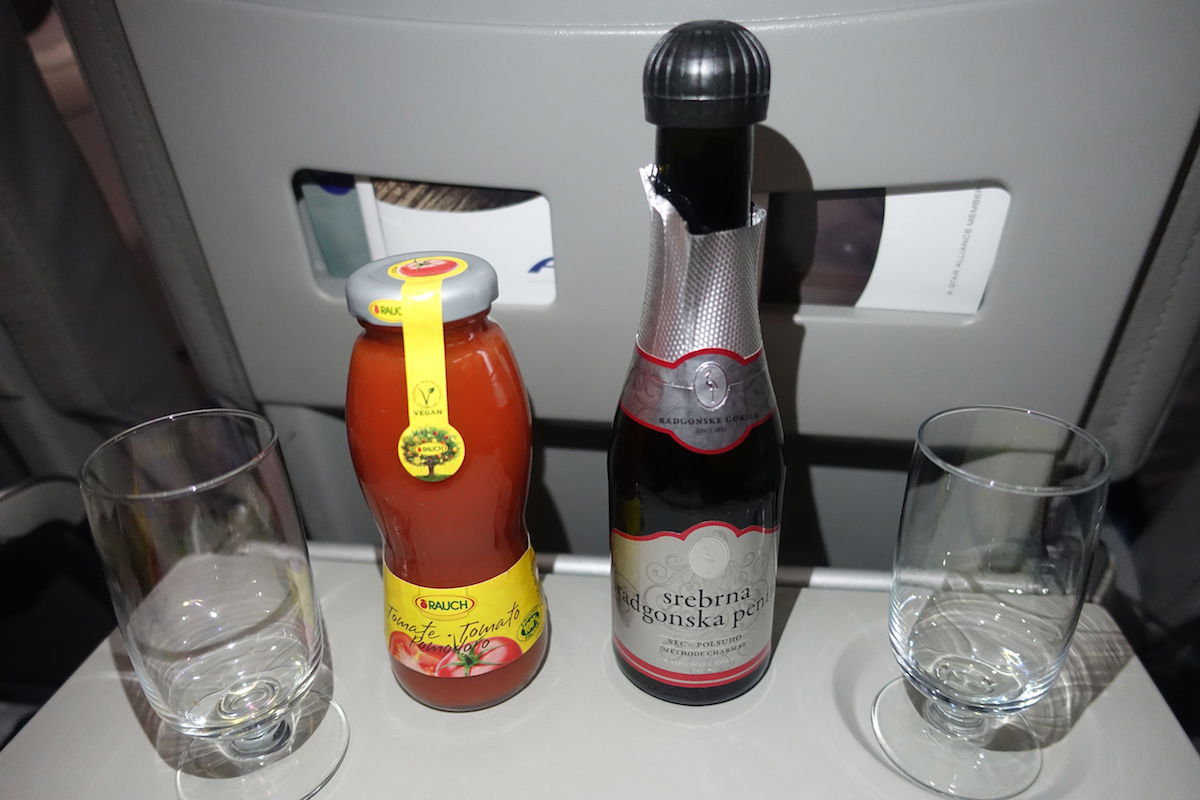 Pro tip: Don't order Adria's sparkling wine from Slovenia. I'm sure Slovenia has some lovely wines, but this particular sparkling wine is not among them. Nope, no, no, just no.
Flight attendants aren't here for your service or safety!
The crew made a single pass through the cabin to serve the snack, and then cleared trays. They never came back through the cabin, even though some people still had drinks.
When the seatbelt sign was turned on, they just stayed in their seats, rather than doing safety checks. My glass and sparkling wine bottle were still on the center tray table, so I just had to hold them for landing.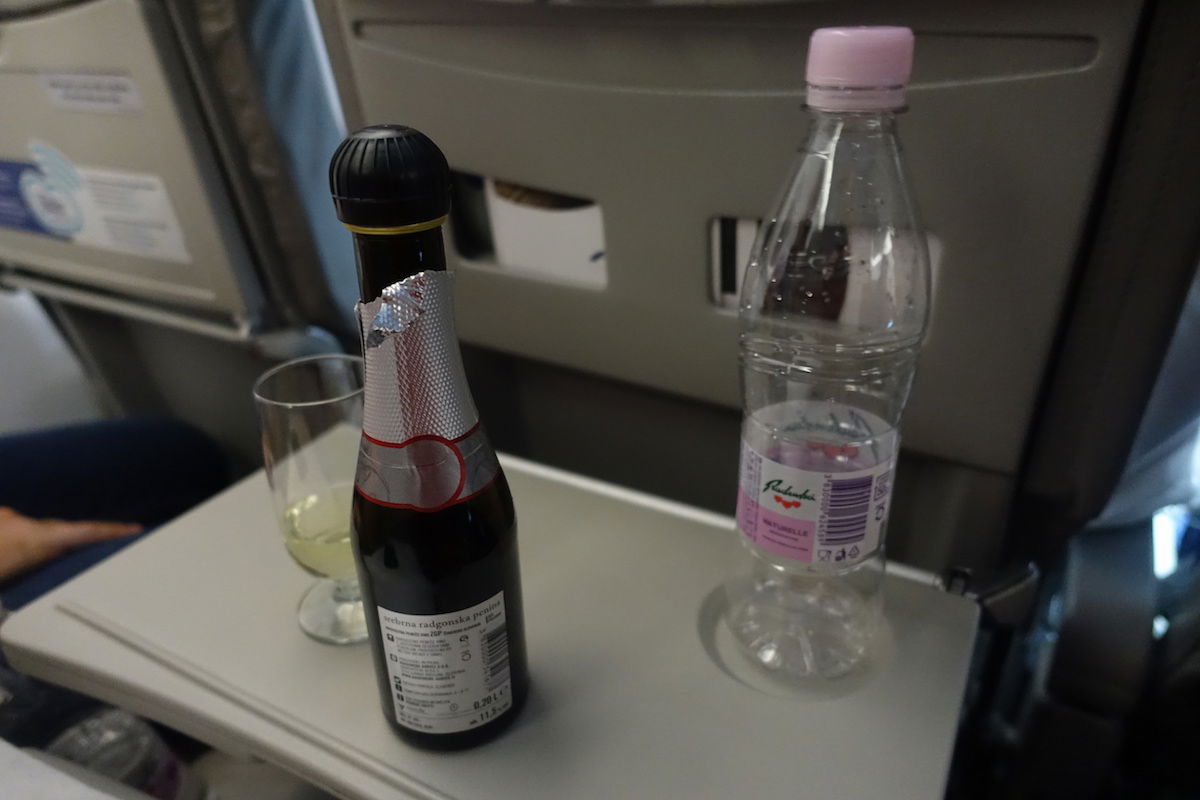 Friendliness
Slovenians are known for being among the friendliest people in Europe. It's something many of you even commented on when I said I was going to Slovenia. Well, that doesn't apply to this Adria crew, that's for sure.
Adria's app talks about the service you can expect onboard, noting "it is the cabin crew who greet you with a smile when you board the aircraft."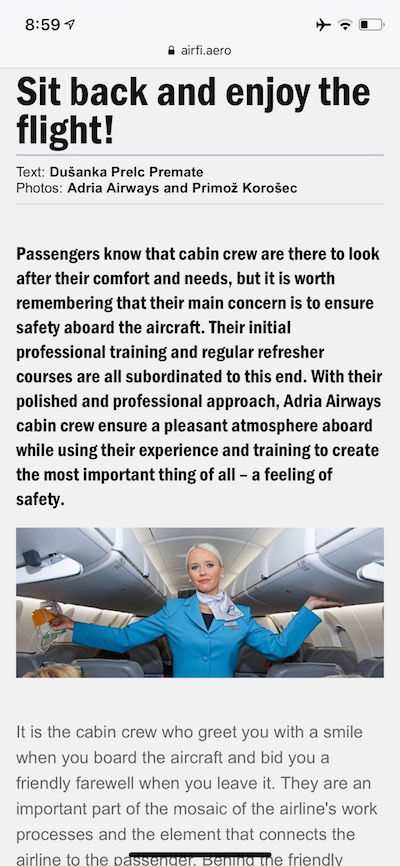 Nope. Though I do have to give the crew credit — they smiled when we got off the plane, probably because they were happy to get rid of us.
Bottom line
I find there's not much differentiation between airlines in Europe on short haul flights, though Adria is an exception. Admittedly this was probably an especially bad flight on them.
Usually when I write about intra-Europe business class my conclusion is along the lines of "meh, it's intra-Europe business class, there aren't really any surprises." Well, this flight was the exception.