As of today, American has added a new restriction to AAdvantage award tickets. Going forward, you'll be allowed at most three segments on an AAdvantage award within the US and Canada, and at most four segments on an international AAdvantage award. Those limits are one-way, meaning you'd be allowed twice as many segments on a roundtrip.
I'm told that these changes are being implemented as they're in line with American's most direct routing rules, and allow them to "better support their partner airlines."
In reality American doesn't really have a strict "most direct routing rule," but they actually let you exceed the maximum permitted mileage quite a bit. In a way, American's award rules contradict themselves:
You can exceed the maximum permitted mileage of a city pair by up to 25% (which allows for huge "detours")
You have to intend to take the most direct routing, which is explained in the rules as follows: "The number of awards assessed should be determined by the customer's intentions. If the indirect routing is booked at the customer's request, multiple awards should apply using Pricing Override Options – Force Fare Breakpoint. If the routing is booked based on lack of award availability on direct routes, then an exception may be made, allowing Sabre to price as one award."
In other words, you can take a really indirect routing as long as you don't intend to.
Ultimately this new restriction isn't a huge deal, in the sense that you should always be able to get to your destination in 3-4 segments if award availability is good. However, given American's lack of saver level award availability on their own flights, this could prove challenging in some cases for those who don't live in an international gateway city.
For example, say you want to go from Tampa to Langkawi, Malaysia. It's not unusual to travel from Tampa to Dallas to Los Angeles to Tokyo to Kuala Lumpur to Langkawi. Sure, it could be done in four segments, but I'd hardly call that route circuitous given the state of award availability.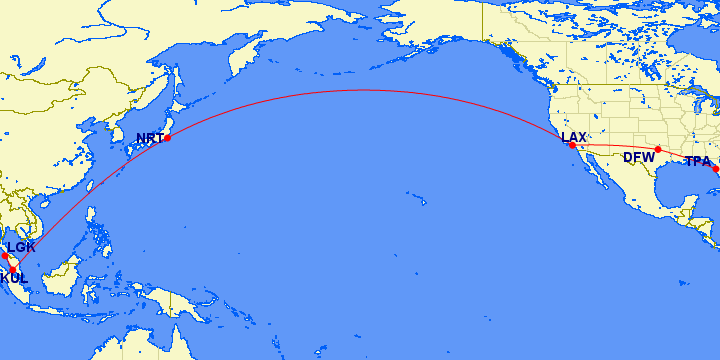 In the grand scheme of negative AAdvantage changes this is fairly minor, though it is something to be aware of.
Will anyone be impacted by American's new award segment restriction?