A couple of days ago I flew from New York to London on American in business class using a systemwide upgrade. You sure can't beat the value of American for international travel, given that you can book the lowest coach fare and upgrade to business class, and I've yet to miss an upgrade.
American's business class seats are angled flat and the more I fly them the more I struggle with sleeping in them.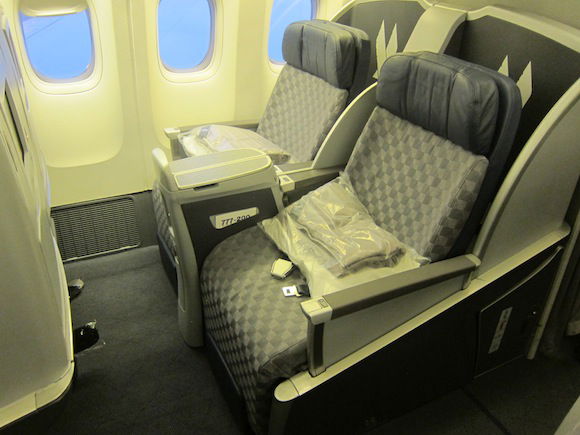 American did recently upgrade their catering. They changed up their plating a bit, made the salads more colorful, and switched from ice cream to ice cream sundaes in three cabin business class.
The flight attendant working my aisle was very New Yorker(ish). She was extremely efficient, though not nearly as cheery as the 70-something year old Dallas Debbie working the other aisle (and I say that in an endearing way because those are my favorite kinds of flight attendants).
I guess for a six hour transatlantic flight it's nice to have an extremely efficient flight attendant working my aisle.
That being said I felt a bit bad for the older Indian couple seated across from me that didn't speak English. They understood almost nothing the flight attendant said, and when they looked at her, she simply proceeded to repeat it louder. I'm not sure why some people don't get that when someone doesn't speak your language the solution isn't to say the same thing louder, but to either slow down and speak more clearly or use some hand motions as well. But that seemed lost on her.
I also ran into the same communication issue I've had on several flights now. After dinner the flight attendant asked if I wanted to be woken up for breakfast. I responded with "no thank you," because I didn't want to be woken for breakfast. Sure enough I was awake when breakfast was served and lowered my tray table, and when the flight attendant walked by me several times I asked if I could be served breakfast. She said "but you said you didn't want breakfast." No, I said I didn't want to be woken for breakfast. To me it seems like a pretty obvious distinction, but I guess I'm alone there.
I guess in the future I'll clarify by saying "no, I don't want to be woken for breakfast but if I happen to be awake I'd like to reserve the option to eat, please."
Anyway, below are a few pictures of the meal service, and I'll have more with the trip report. Though there was a more exciting airline I sampled on this trip, so stay tuned for that.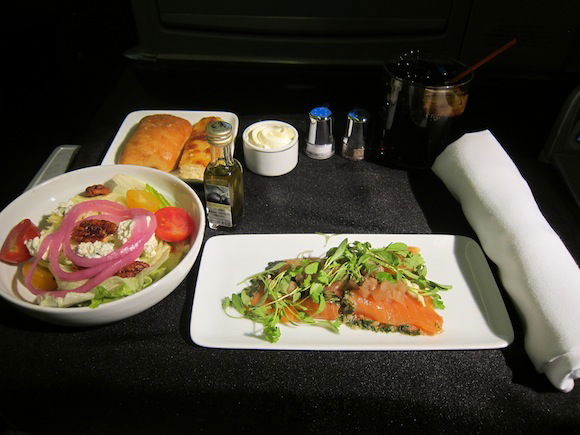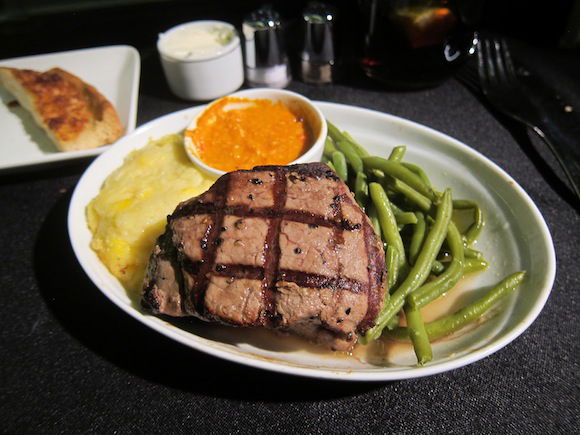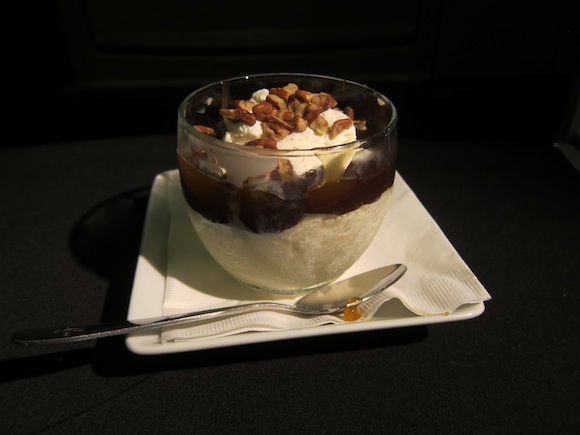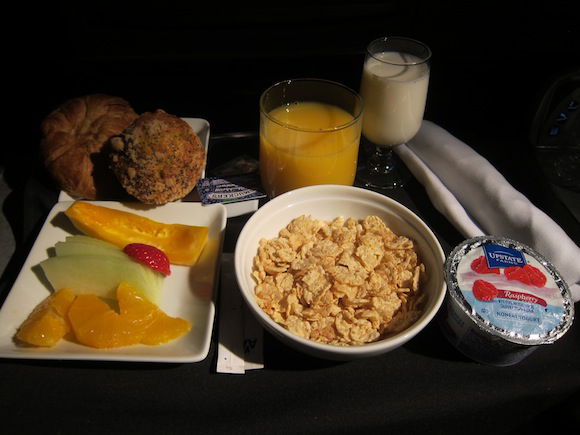 American business class remains a great value when upgrading, and I can't wait to try their new business class, which will put them ahead of most of the competition in my opinion.