I've been involved in this "hobby" for more than a decade now. And I feel just as passionately about it today as I did the day I get started, despite the fact that my approach to it has changed a lot.
I'm just booking some travel today, and as I do so I can't help but smirk — because I know 15 year old me would've punched me in the face right now if he saw what I was doing.
Back in the day I was a hardcore mileage runner. I spent my weekends flying around the country aimlessly to earn miles.
For example, say I had the choice between the following two routings for the same price:
Tampa to Dallas to San Diego
Tampa to Miami to San Francisco to Los Angeles to San Diego
Not only would I have gone with the second routing, but damnit, I would've judged anyone foollish enough to go with the first routing and turn down all those "free" miles.
I couldn't help but smirk as I worked on booking some travel today. I need to fly from Tampa to Washington. I looked at options on American, and found something reasonably priced through Chicago. 15 year old me would've gotten excited, thinking of all the extra miles I'd be earning over a direct routing.
Then I realized I could fly nonstop for the same price (a few dollars cheaper, even).
The first routing would earn me ~1,600 elite qualifying miles (~3,200 redeemable miles), while the second routing would earn me just ~800 elite qualifying miles (~1,600 redeemable miles).
15 year old me says "what are you, stupid? You just turned down 1,600 (basically) free miles! And the cent per mile ratio on the second routing is twice as much!"
Quarter century old me says "An extra five hours for 1,600 redeemable miles? No way!"
But oddly this is a thought process I've been noticing myself using quite a bit lately. Just like when I was younger I still map out the distance for the routings I'm looking at, but for domestic routings my conclusions are the opposite of what they used to be — I go with the more direct routing.
I guess what it comes down to is that nowadays my priorities for domestic travel as follows:
Get as direct of a routing as possible
Get on flights with wifi (in the case of American that means avoiding regional jets)
Route via a city with more frequencies/less chances of delays
All else being equal, route through an airport with better lounges (like Dallas, thanks to the American Express Centurion Lounge) — if I have to spend extended periods of time at an airport, it might as well be in a lounge with decent cocktails and food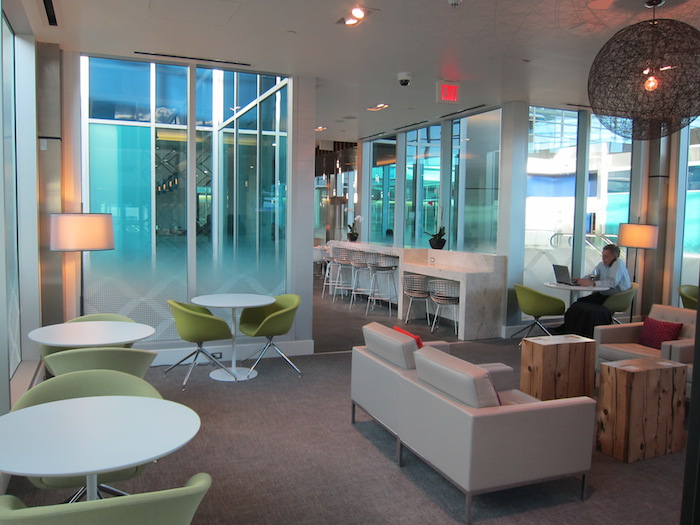 American Express Centurion Lounge Dallas
Bottom line
It's interesting how over time my approach to the "hobby" has changed, even though I feel just as passionately about it now as a decade ago. Ultimately there's no right or wrong way to play this game, it's just a function of what you value most, and that changes over time.
Now, the irony of all of this is that I'm choosing a more direct routing to get to Washington so that I can take a completely unnecessary trip to Beijing. Yep, I never claimed my logic was totally sound. 😀