Last week I posted a reminder that Hyatt's 2014 Diamond Suite Upgrade Awards would expire on February 28. The nice thing about Hyatt's Diamond Suite Upgrade Awards is that you don't have to redeem them for a stay prior to the expiration date, but rather just have to make a booking prior to the expiration date, even if you're staying on a subsequent date.
I figured I'd also post a reminder that if you qualified for Hyatt Diamond status for the 2015 program year, your four annual Diamond Suite Upgrade Awards should have posted to your account today. These are valid through February 29, 2016.
The basic rules of these suite upgrades are as follows:
Each suite upgrade can be used to confirm a suite for a stay of up to seven nights at the time of booking
Suite upgrades are valid on paid bookings as well as Points + Cash bookings; they aren't valid on outright free night awards (that being said, Points + Cash bookings only have access to a subset of suite inventory — you'll have to call to be sure if your Points + Cash stay is eligible or not)
The suite upgrade needs to be redeemed by the expiration date, though the stay can be on a subsequent date
Suite upgrades must be redeemed over the phone, and can be applied at the time of booking or anytime up until the arrival date
Suite upgrades aren't valid at Park Hyatt Beaver Creek Resort , Park Hyatt Sydney, Andaz Tokyo, Hyatt Regency Phuket Resort, Hyatt Regency Tulsa, Hyatt Regency Wichita, Hyatt Key West Resort and Spa, Hyatt Manila City of Dreams, Hyatt Santa Barbara, Hyatt Residence Club resorts, Hyatt Place hotels and M life resorts.
In terms of searching upgrade space, the Diamond Suite Upgrade Award almost always confirms into the entry level suite.
So how do you figure out which suite is the hotel's entry level suite?
Here's an example. Lets say you're looking at the Grand Hyatt Kuala Lumpur. When you go to their website click on "ROOMS" across the top.
Then you'll be brought to the page listing all their room types, and on the bottom right click on "Suite."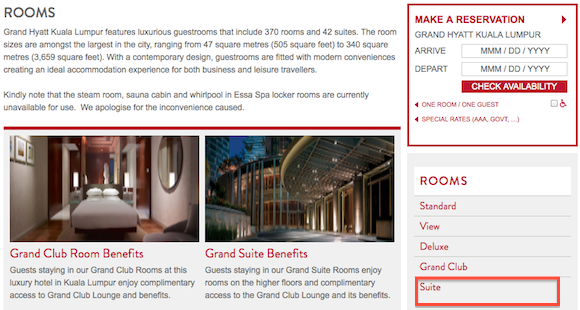 The first suite listed should be their entry level suite, which is the Grand Suite.
Then you can search availability for your dates, and if they're selling the Grand Suite you should be able to confirm a Suite Upgrade Award for it.
Last year the Suite Upgrade Awards became even more valuable to me than before, given that they can be redeemed for Points + Cash booking. In the past my strategy with Hyatt was usually to stay at their cheaper properties on cash rates, and then redeem points for Park Hyatt properties. For outright points redemptions it wasn't possible to use a Suite Upgrade Award.
However, since Suite Upgrade Awards do work on Points + Cash stays, I'm now able to redeem these upgrades at some awesome hotels, which which is tough to beat.
Do you have any specific plans for your 2015 Hyatt Diamond Suite Upgrade Awards yet?