Yesterday's Delta iOS app update included an interesting change. Per the description:
We've eliminated the check-in process. Your boarding pass will automatically appear 24 hours before your flight.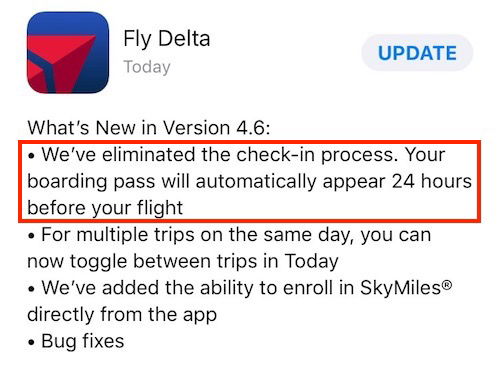 Very interesting! In many ways, the concept of needing to check-in is outdated. It used to be necessary to check-in for obvious reasons, back when it could only be done at the airport. That's the only way you could get your boarding pass.
But then airlines started to let you check-in through their website and print boarding passes, and then eventually you could also check-in through their app and use a mobile boarding pass.
The process of "remote" check-in (be it through an app or website) seems kind of pointless. You basically just tap several buttons and then maybe 30 seconds later you have a mobile boarding pass that you can add to your Passbook. There's nothing to the process, so it's only logical that airlines would eliminate this.
However, I'm a bit surprised to see this change, especially from Delta's perspective.
One benefit of requiring passengers to check-in is that it gives the airline a better sense of how many people will show up for the flight. When a flight is oversold, they'll know at the check-in cutoff how many people consciously checked in, and how many people were booked but didn't check-in, and therefore won't be on the flight. It helps them determine just how much a flight may be oversold (not that it's a perfect calculation at that point — people can still check-in and no show).
The other reason I'm surprised this was eliminated from Delta's perspective is that it eliminates a huge point in the process at which airlines frequently upsell. The check-in process is one of the best times to try to upsell people, whether we're talking about a premium seat in economy, a first class upgrade, bonus miles, additional bags, etc. Heck, I sort of felt like that's the reason airlines kept the online check-in process around.
From a passenger's perspective there are also some implications. I haven't historically been a Delta flyer, so I'm not sure if this is an issue at Delta, but at other airlines there are certain things you can only do if you haven't checked in, like making a same day confirmed change. Maybe it's not a problem at Delta, and worst case scenario it's easy enough to uncheck yourself in, make the change, and then check-in again.
Lastly, as a frequent flyer who likes to stay on top of my travels, I actually sort of don't mind the online check-in process. I can take another look at the seatmap, upgrade list, etc. The elimination of online check-in doesn't eliminate the possibility of that, but rather over time I'll just probably forget about checking on my flight status more often.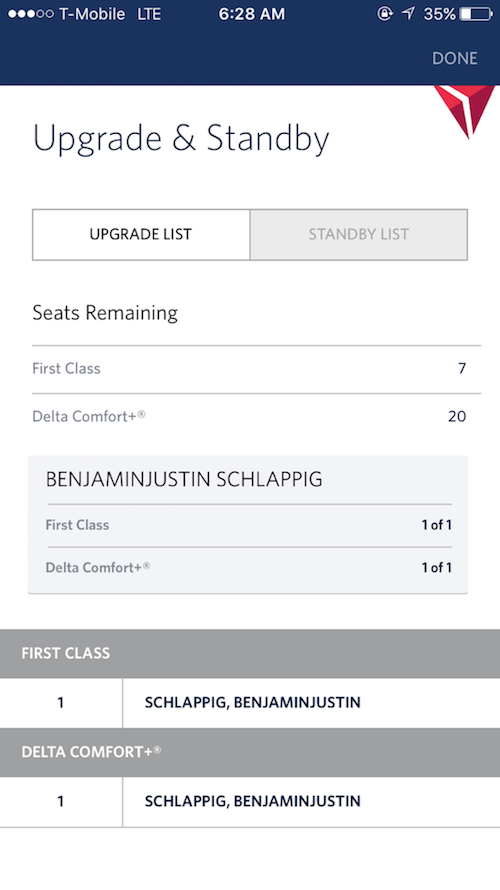 So overall I really think this is a positive. Delta is recognizing that there's no real need for check-in through the app anymore, and they're eliminating it. That's a customer friendly move. I'm just curious about some of the little details that rely on the distinction between whether or not you're checked in, and also am surprised Delta is making this change and eliminating a point in the process that's historically used for upsells.
Would you like to see more airlines eliminate the need to go through the check-in process?