Hyatt is scrapping their Gold Passport program in favor of World of Hyatt starting on March 1. The new program has a few changes that you might like, but it's also chock full of hidden gotchas and devaluations. I've been busy practically since the day it was announced and haven't really had a chance to think about it much until recently.
In fact, it was the "Welcome to Globalist" email that sort of motivated me to write about it. And, given the response in the comments, I'm not the only one who finds this program insanely confusing. I mean, when many of the top miles and points bloggers don't even know something so simple as the requalification requirements… well, you get the idea.
Anyway, there's another hidden gotcha in the new program, this time concerning the policies surrounding the free night awards and Diamond Suite Upgrades. Here's how you might find yourself in the situation where Hyatt's loyalty program actually encourages you to stay with someone else. Crazy, eh?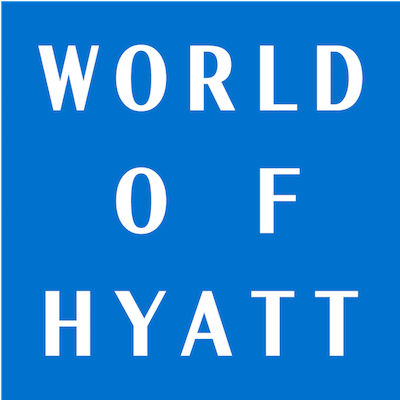 No more welcome amenity for Globalists
Under the former Gold Passport program, Diamonds have been able to select either a food and beverage amenity or bonus points upon check in. At full service properties, it was 1,000 points, while at limited service Hyatt Places and Hyatt Houses, it was 500. Even better, at least for some of us, you got a 50% bonus if the points didn't automatically post, which frankly happened fairly often at limited service properties.
Well, under World of Hyatt, there is no more welcome amenity. At all.
Depending on your stay patterns, a 50-night Diamond member will stand to lose maybe 15,000 – 20,000 points per year. That was enough for a Category 3 or 4 night, or multiple nights at lower level properties.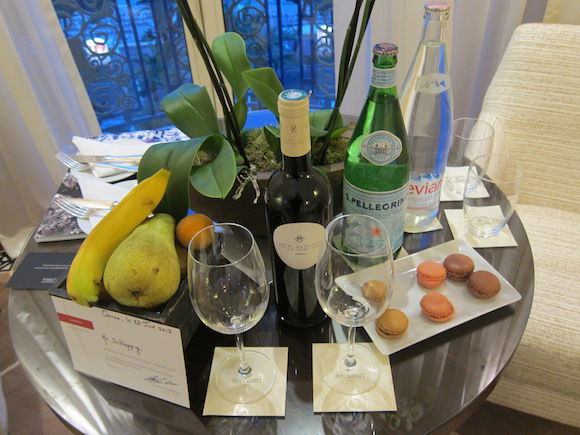 Those points could also be what pushes a Diamond member over the threshold needed for an aspirational stay or special occasion trip.
Introducing free night awards
The apparent replacement for these bonus points is tier-based free night awards. Now you'll earn a Category 1-4 free night upon hitting 30 nights in a year, and then a Category 1-7 free night at 60 nights.
In theory, this could be a good thing as the first free night is worth 15,000 points and the second one is worth 30,000 points. So whereas a Diamond may have previously earned 15,000 – 20,000 points per year from the welcome bonus, they'll now get free nights that might be worth 45,000 points if optimally used.
Sounds good, right?
The problem is that these free night awards will expire a mere 120 days after you earn them. So while you could have banked the points for a future aspirational trip, your free nights will go poof even faster than the annual free night you get for having the Hyatt credit card.
It's clear that Hyatt is betting on a lot of breakage — that is, awards that expire unused because people forget to, or simply don't have time to, use them. But they may not have considered the unintended consequences.
How World of Hyatt may encourage you to stay elsewhere
The cardinal rule of loyalty programs is that you should always be incentivized — or at least not disincentivized — to stay with the chain. In a mathematical sense, the value of your benefits should always be monotonically increasing with each incremental stay. That is, the sum value of your loyalty account should not go down after a stay.
That probably seems so obvious. Yet I'm going to lay out a scenario where exactly that happens under World of Hyatt.
Imagine someone has a lot of travel in the first half of the year such that they quickly rack up 58 Hyatt nights by early July. They are obviously only two nights away from earning the Category 1-7 free night. Good for them, right?
Maybe, maybe not.
For good measure, let's assume they are also Hilton Gold (isn't everyone?) so they have good alternative options. And they have plenty of additional business travel coming up.
Now let's imagine that they are planning a leisure trip to the Park Hyatt Maldives — arguably the most aspirational property in the Hyatt portfolio — for January of next year. With paid bookings going for about $1,000 per night, the free night certificate could have huge value here.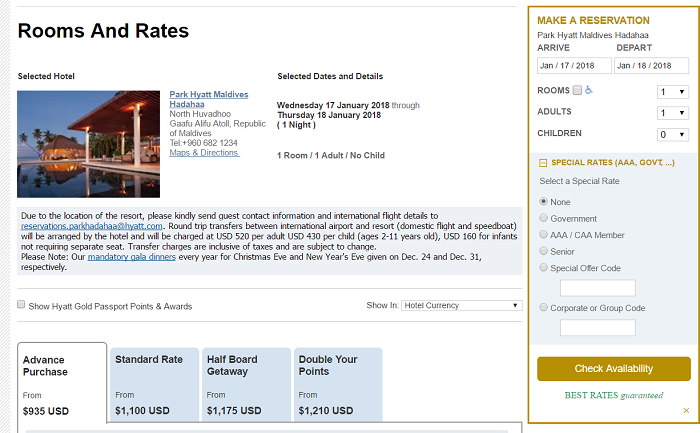 But here's the rub —
That Category 1 – 7 free night will be deposited as soon as our intrepid Globalist hits 60 nights. And it will only be valid for four months. So if they cross 60 nights in July, it will only be valid until some time in November. Instead of using it at the Park Hyatt Maldives, they may end up burning it on the Hyatt Place Medford. Fun, eh?
Therefore, Globalists have a very real incentive to delay crossing the 60 night threshold until October. During that time, they can easily stay at Hiltons — which of course are everywhere — and they might even get a proper welcome amenity.
That's revenue that Hyatt will never see. All because of a poorly designed loyalty program that tried to get cute.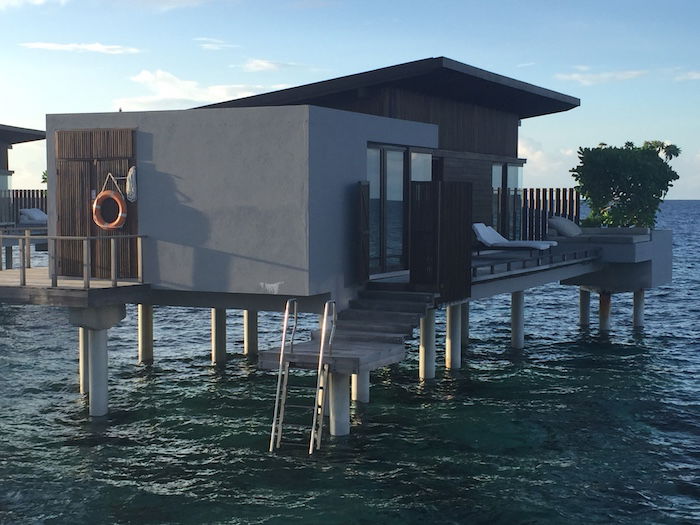 Suite upgrade awards too…
Sadly, this phenomenon isn't confined to just the tier-based free night awards.
Suite upgrade awards are supposedly going to follow a similar issuance and expiration policy where they'll be deposited as soon as you earn them and then good for 12-months.
Using the same scenario as above, if our Globalist reaches 60 nights in July, they'll receive their upgrades which will be good through the following July. But now let's say that work travel next year slows down such that they don't get 60 nights — and thus don't requalify for Globalist — until December. That means their old suite upgrades will have expired in July and they won't get the new tranche until December. They'll go about half the year without having any suite upgrade awards in their account.
What if they are planning a family vacation during that time?
Maybe in addition to the Maldives in January they are also eyeing a romp around Asia in the fall. Perhaps a few days at the Grand Hyatt Hong Kong and a few more at the Grand Hyatt Kuala Lumpur, both excellent uses of a suite upgrade award. But to do so, they're going to need to have some suite upgrade awards that are valid during the fall. Which means waiting to cross the 60-night threshold until later in the year.
Now our Globalist has a slew of reasons to book with Hilton since they'll delay not only the issuance of their tier-based free night which they plan to use in the Maldives but also their suite upgrade awards which they'll apply to their stays in Asia.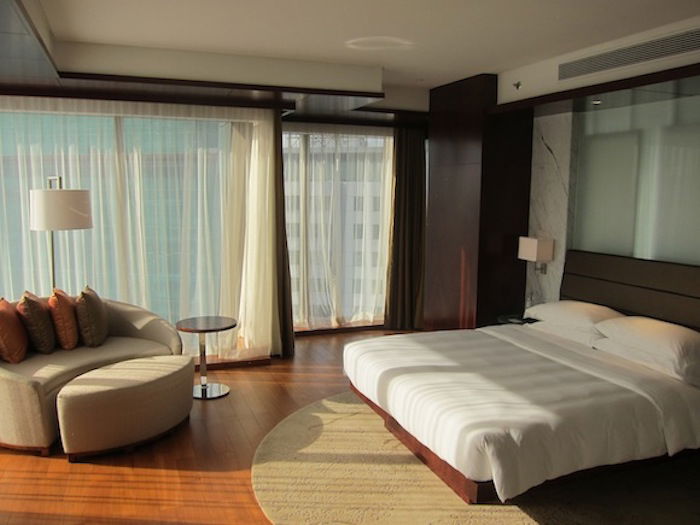 The United/Continental experience
These perverse incentives aren't completely unprecedented, however. Around the time of their merger takeover of United, Continental began issuing Systemwide Upgrades to bring their onePass frequent flyer program into alignment with MileagePlus. Whereas United had previously issued SWUs on January 1 with a 12-month validity, Continental started issuing theirs immediately upon passing the 100,000 mile threshold, also with a 12-month validity.
For some travelers, this created an incentive to book away from Continental such that the deposit and subsequent expiration of the upgrades would be postponed. If you knew, for example, that you wanted to use the upgrades in November of the following year, you wouldn't want to cross the 100,000 mile threshold in September.
So you would fly American. Or really anyone else.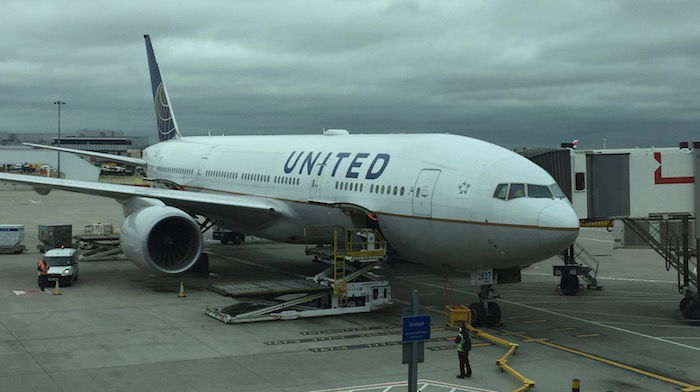 This ridiculousness was quickly rectified such that the upgrades were deposited immediately, and then valid for the entire following year. That meant the upgrades could be deposited in September of one year, and still be valid for use in December of the following year.
This harmonization was actually the best of both worlds — I can't believe I just said that — and it's the system that is still in place at United today.
The new scheme actually encourages you to fly 100,000 miles as fast as you can. Which is exactly what a loyalty program should do.
Bottom Line
The ridiculous expiration policy of the tier-based Hyatt free nights and suite upgrade awards may create the very real possibility of a guest being rewarded for booking away from the Hyatt brand. And if they do, that is revenue that Hyatt will never see. It's gone forever.
The question is, will this lost revenue be more or less than the savings they'll achieve from the breakage or sub-optimal use of these awards? I guess Hyatt is betting on less.
Sure, we can debate how many members of the traveling public will actually go to these efforts to maximize the value of their rewards, but the point remains — loyalty programs should never provide an incentive to book away from the brand.