Reader/professional dissenter/Hilton fanboy DCS left the following comment on a post yesterday, which I found interesting:
The mentality in the travel blogosphere that emphasizes short-term gains over longer-term returns needs to be discouraged, in my view.
One of the things I love about this hobby is how virtually everyone takes a different approach towards it. I know people that earn and burn their points, and I know people that view their points as a retirement account of sorts, and just hoard them for decades on end.
I don't want to concretely say that one approach is better than the other, but I definitely fall more in the former category than the latter.
I've been in this hobby for about a decade now, and I think the best way to sum up my approach is that I take a long term approach to short term gains.
I guess the best anecdote would be asking whether the points hobby is a marathon or a 100m sprint. I view the points hobby as a series of 100m sprints, I guess.
Let me explain:
I believe in earning and burning
As I've explained many times before, I take an "earn and burn" approach towards points. That's to say that while I earn millions of points per year, I also make every effort to burn millions of points per year.
Why? Because having a large balance of points is no different than having a large balance of cash sitting around not accruing any interest. Points invariably devalue over time, so I aim to never have more points in an account than I could reasonably redeem within six months, if a devaluation were to occur. This limits the downside potential of the hobby.
I don't assume anything is around to stay
Last week we received word of the big changes coming to the Club Carlson Visa Card, whereby the second night free benefit will be eliminated as of June 1, 2015.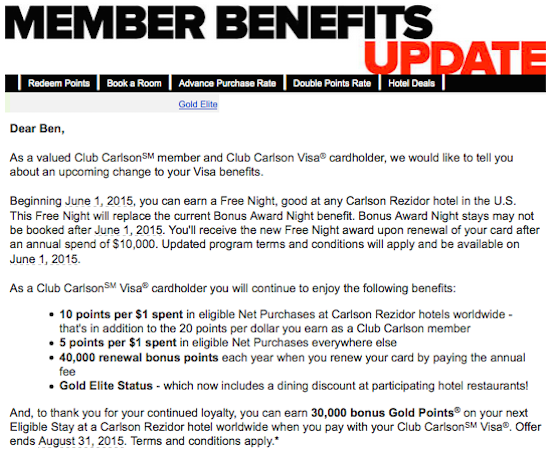 Many said the benefit was too good to be true. And in many ways it was. The benefit was around for years, we had plenty of opportunity to take advantage of it, and I really don't blame Club Carlson or US Bank for eliminating it.
Would it have been nice if it stuck around? Absolutely. But we also can't hold this business decision against them, other than voting with our wallets.
What I'm trying to say is that I never assume that any one value is around to stay. The best I can hope for is that if a program decides to make changes, they give at least a couple of months of advance notice. The way a loyalty program can most break my trust is by not giving proper notice of changes.
Be careful what you wish for regarding points
Once in a while I hear people say "the government needs to regulate miles/points, they're a currency that the airlines/hotels have full control over." That's true. And that's also not necessarily a bad thing.
Contrary to popular belief, we don't actually own our points. The loyalty programs do, and our points are entirely at their discretion.
On one hand that seems insane. There's a direct opportunity cost to earning miles through credit card spend. For example, you could get a cash back credit card instead, so you're giving up some amount of cash for each point you choose to earn on your credit card.
That being said, it's also good news. Since we don't own the points we earn, we can't be taxed on them. So while I sometimes don't love the changes programs make, ultimately we should be happy we don't own the points — it prevents us from being taxed on them, and ultimately allows the programs to be so lucrative.
No single aspect of the hobby is sustainable, other than the hobby itself
As I said above, I don't assume that any aspect of any particular program is around to stay. If it sounds too good to be true, it probably is. So devaluations and eliminations of "sweet spots" are a function of when, not if.
That being said, in the decade I've been involved in this hobby, there has never been a time without a bunch of "sweet spots." So while any one aspect/benefit/promotion/sweet spot isn't sustainable, as long as you stay on top of things and are flexible, I think there will always be great rewards in the hobby.
Even I'm a hoarder… sometimes
As much as I preach earning and burning, I'm a hoarder under some circumstances. Specifically, with flexible points currencies.
I don't mind holding onto hundreds and hundreds of thousands of points with American Express Membership Rewards, Chase Ultimate Rewards, Citi ThankYou Rewards, Starwood Preferred Guest, etc.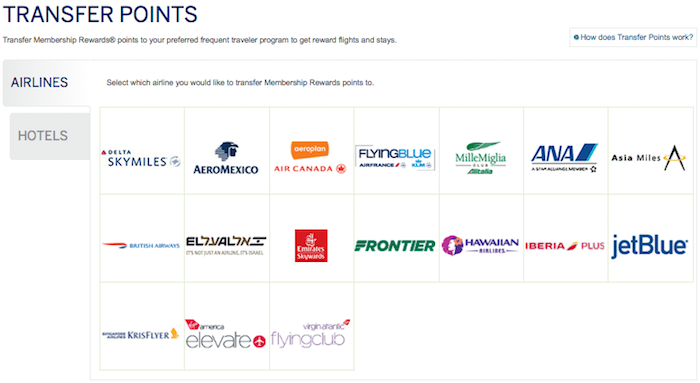 Why? Because the points aren't as volatile as an individual program's points currency, given that they can be transferred to a huge number of airline partners. That limits your risk somewhat.
That's not to say I won't redeem them, but rather that I make an effort to redeem transferable points last, since they're least "at risk."
Hoarding all points isn't necessarily bad either
As much as I personally do everything to avoid hoarding most points currencies, I don't want to say that hoarding across the board is bad. I know plenty of people that are business travelers, always on the road, and have millions of miles.
And with how much they travel, the last thing they want to do is redeem miles to travel even more. Or I know people who apply for credit card bonuses even though they know they won't be able to redeem those miles for at least a decade.
As long as you understand that your points will devalue massively over the course of a decade, there's nothing wrong with hoarding. Just make sure the cost at which you're collecting points is only a small fraction of what they're worth now, so that you have plenty of "leeway" if there are devaluations over the years.
Bottom line
While I can't speak on behalf of the rest of the "travel blogosphere," hopefully that explains my approach towards this hobby. Would it be nice if programs never devalued and "sweet spots" stayed around forever? Sure.
But that's not realistic, so I'd rather think of what's likely to happen rather than what would be nice. And for me that means consistently focusing on short term opportunities.
And can we really complain about this hobby? I just flew Cathay Pacific first class to the Maldives, and am presently sitting in a villa which retails for ~$1,500 per night while overlooking the Indian Ocean. This hobby doesn't suck!