If there's one thing I've learned over the past six years of being a frequent flyer, it's that you really shouldn't judge what cabin people are flying in based on their age, appearance, etc. Back when I was 15 and top tier elite with United, I remember frequently being told "wrong line, buddy" when I tried to board with first class. At the same time I see why some agents have stereotypes as to what a first class passenger should look like, because probably 90% of the time they're spot on.
Still, I'm a naturally nosy person, so I can't help but wonder how much a person paid for their ticket, what their status is, etc. Part of it is the massive disparity between the prices people pay for the same product, more so than just about any other industry I can think of. I could have paid 30,000 miles (pro-rated) for an international first class segment, while the person across from me could have paid $10,000. Despite that, we'll get exactly the same treatment. It's crazy.
But that brings me to the point of this post. I flew Thai Airways first class from Bangkok to Paris yesterday, which is operated by their leased 777-300ER featuring first class suites.
In the Thai first class lounge I'm used to being the only American when I'm there, for a very simply reason – Thai doesn't have a first class product to the US, but rather only to Europe and Australia (and intra-Asia on some routes). Now, some United passengers might use the Thai first class lounge in the morning, but I'm never there at that time.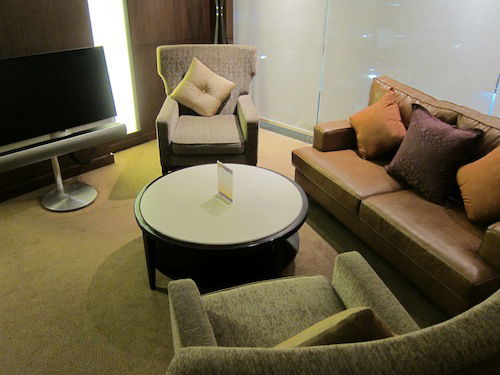 Thai first class lounge
As I walked through the lounge I noticed there was a young, casually dressed couple that appeared to be American (based on their accents). Subconsciously I already asked myself "did they buy US Airways miles for this trip?" I don't say that in a derogatory way like some people do (I've heard people go as far as calling international first class a trailer park thanks to US Airways selling miles, which I think is ridiculous). Instead, I actually mean it as a compliment – at the end of the day in the flying game, the passenger that sits the furthest up having paid the least wins, and most of the time that's the person that bought US Airways miles (yes pot, this is kettle).
Anyway, I didn't think much of it, though when the ground staff came to get my friend and I and take us to our flight to Paris, those two were escorted with us. The guy even had a Continental Gold Elite luggage tag on his bag. When they got aboard and saw the seats the girlfriend/wife/lady friend and him both had huge smiles on their faces. I even saw a flash in the cabin from a camera, which I assume came from them.
So to sum it up, these passengers:
a) Were in the Thai first class lounge despite no Thai first class service to the US
b) Are traveling from Asia to Europe as Americans, which is an awfully common way to go when traveling on an award ticket
c) The guy had a Continental Gold Elite luggage tag
d) They picked the Thai 777-300ER, which is very popular among us mileage nuts, given that it's the best product Thai has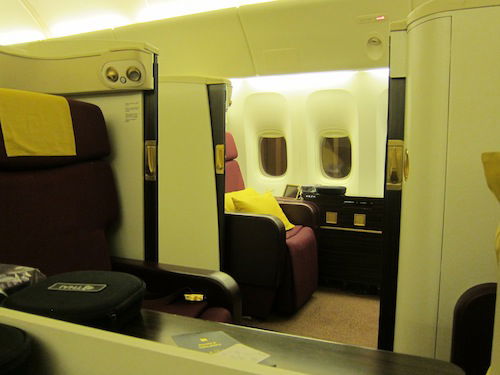 Thai first class suites
Anyway, the point more generally is that it's always a fun game to try and pick out who's an award passenger and who actually paid. As the number of people booking " fun" award routings is on the rise (partly due to airlines liberalizing their routing rules and partly due to the amount of award availability going via Europe), I can't help but think I'll be crossing paths with more of these people.
So, 2D & 2G, are you out there somewhere?
And to the rest of you, fess up – who else tries to figure out who used miles and who paid cash?