Last week I announced a giveaway where you could win a $100 Global Entry application fee payment code.
All you had to do was leave a comment stating which domestic mainline carrier you prefer. And over 330 of you did, which is really awesome. I tried to constrain the answers by asking if you are part of the oneworld bubble with Ben and Tiffany on American, like to drink Nick's Delta Kool-Aid, or are stuck with yours truly on United.
In other words, I kind of intended this to be a choice of legacy carriers — but since I didn't explicitly state that, we got a lot of "write-in" votes as well, which is also cool.
Anyway, the voting is in. We now know that the airline that One Mile at a Time readers prefer to fly is…

And it was just about as close as the women's World Cup soccer game between the US and Japan. In fact, it was over within about 15 minutes of the poll opening.
Congratulations Sandra!
We almost had a repeat of the 2000 election on our hands this weekend when the Rafflecopter selected Sandra's comment as the winner.
You see, the terms of the giveaway kind of sort of implied that you needed to choose from among American, Delta, or United. Was a vote for Southwest akin to a hanging chad?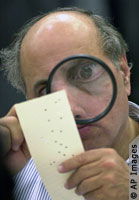 I consulted with Tiffany, who always plays by the rules, and she concluded that a comment is a comment, no matter what. So Congratulations Sandra!
But now back to the data.
American In A Landslide
American captured 38% of the vote, almost doubling up the second placer finisher, United, which garnered 21%. But then it just gets ugly — Delta actually came in fourth (12%), losing out to Southwest (16%) which wasn't even supposed to be in the race! JetBlue, Alaska, and Virgin each picked up about 4%.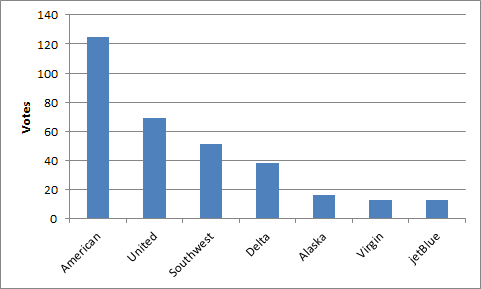 I'm not a statistician, nor am I an expert at designing good poll questions apparently, but I do enjoy geeking out over data. So here's how I interpret the results of this slightly flawed survey.
I think it's safe to say that among the legacy carriers, the preference of OMAAT readers is American, then United, then Delta. Beyond that, and especially in the case of Southwest, it gets murky.
Where Does Southwest Belong?
Southwest beat Delta, even though they weren't an official candidate. (Sorry Nick, that's gotta hurt.)
I assume that at least a few folks might have interpreted the guidelines as "vote for one of American, United, or Delta" and therefore, even if they might have wanted to vote for Southwest, they picked a legacy carrier to comply with the rules. (Others either didn't interpret the guidelines that way, or just didn't care.)

If Southwest had been listed on the ballot, would they have actually bested United as well? It certainly seems possible, given that only 10 United votes would need to flip over to Southwest for them to come in second. (I kind of doubt that they could have caught American though.)
Why Is American So Over-represented?
It's not surprising to me that American came in first since they are the largest airline. But they aren't the largest by a 2 to 1 margin. So what causes them to be so overrepresented on OMAAT?
I imagine it's a combination of Ben flying them as well as the fact that they still offer a compelling frequent flyer program for people who like to game maximize the system. And apparently that's a winning combination.
Or maybe a simple explanation is that more United and Delta flyers that read OMAAT already have Global Entry and therefore didn't feel the need to respond? Yeah, that's probably it.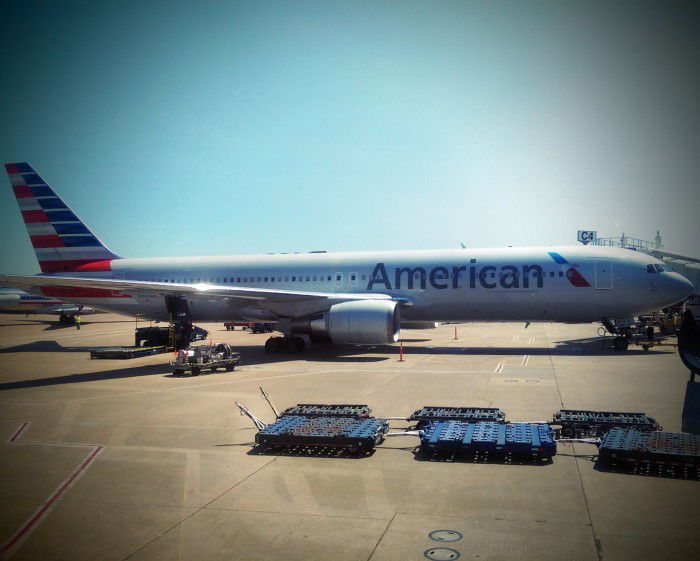 ---
What conclusions do you draw from the data?