Travis is my first new contributor to the blog, who will be posting a couple of times per week. The idea behind adding guest contributors is to add different perspectives to the blog. Travis has a unique approach towards travel, given that he travels almost exclusively with his wife and young children, which is in stark contrast to my travels, which are usually alone.
---
Last June, United had a fare mistake sale in which they sold First class tickets between Boston and Seoul for about $1,700. While not as deep a discount as United's recent Great Dane (not honored) or American's Beijing fares (honored), it still represented significant savings over retail. Of course, I'm not sure who would ever pay that to fly first on United, but regardless, this was a pretty good deal.
A good friend of mine, Ben (not that Ben!), lives in Boston, so we decided to take a joint trip with our families to Korea. That trip is soon to commence. (To avoid confusion, I thought of referring to him as Unlucky Ben, but decided that "Boston Ben" had a better ring to it.)
At the time of booking, United still awarded miles based on distance flown. They also had class of service bonuses for premium cabin travel — for A fares such as these, the bonus was 175% or 250% depending on whether it was a 2- or 3-cabin plane. That means that a General Member such as my friend Ben, would have earned 37,784 United miles for the standard Boston – San Francisco – Seoul round trip.
Then United announced the switch to revenue-based earnings beginning March 1, 2015, at which point this trip to Korea suddenly became a lot less lucrative. Instead of earning nearly 38,000 miles, it will now earn about 7000 if credited to United. Ouch! I mean, the trip is still a good deal, just not as good as it once was.
Now my friend "Boston Ben" is looking to me for advice on where to credit the miles other than United. And I'm realizing that there isn't a clear-cut answer.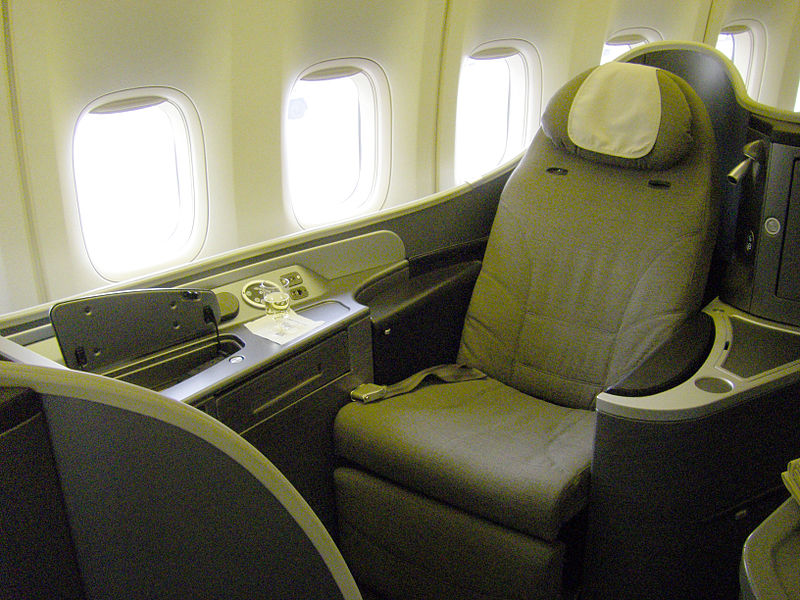 Here is my analysis. Of course, I'd really like to hear your comments and ideas.
Boston Ben's Travel Profile
"Boston Ben" travels with his wife and two young kids. He doesn't fly for work. He takes a couple of trips each year with the family, usually international (Europe) and in business class. He primarily uses his Chase Sapphire Preferred credit card, and has a boatload of Ultimate Rewards points. His last big trip was to Switzerland where he was able to redeem for five seats in Swiss business class. He doesn't travel much domestically.
Here is my analysis of the various options.
Lufthansa Miles & More
Lufthansa credits United A fares at 300%. This trip should earn 50,208 Lufthansa miles per person.
Pros:
More miles than he was originally expecting to earn. Each person would earn enough miles for exactly two domestic round trips on United. They could also use their miles for one round-trip to the Caribbean with enough left over for a domestic one-way award.
Cons:
Lufthansa adds fuel surcharges to award tickets, except for trips within the US, the Caribbean, or to South America.
Lufthansa doesn't have any transfer partners. "Boston Ben" and his wife could apply for the Lufthansa credit card to boost their account, but that won't help the kids' accounts.
Miles expire 3 years from the date they were earned.
Aegean Miles+Bonus
Like Lufthansa, Aegean credits United A fares at 300% so he would again earn 50,208 miles for the trip.
Pros:
Gold status on Aegean requires 48,000 miles on partners, so all of his family members would earn Star Gold status.
Cons:
Aegean doesn't have any transfer partners, and since the only credit card is issued by a Greek bank, there is essentially no way to earn miles other than to credit flights.
Turkish Miles and Smiles
Turkish credits United A fares at 150%, so they would earn 25,104 miles on this trip.
Pros:
Turkish has a family account program whereby you can supposedly pool the award miles from your family members into the same account. This would allow them to have a larger aggregate balance. I say supposedly because information on this program is scant — and you have to send in copies of birth certificates to prove that you are a family which sounds like a colossal pain. I also haven't had great experiences with Turkish customer service — it took 6-12 months to receive my Elite card after my status match!
Cons:
No transfer partners.
Fuel surcharges.
Slow customer service.

Singapore KrisFlyer
Like Turkish, Singapore credits United A fares at 150%, so he would earn 25,104 miles for this trip.
Pros:
Lots of transfer partners, including Ultimate Rewards.
Access to premium cabin space on Singapore.
Cons:
Fuel surcharges, although they are modest.
United MileagePlus
United awards 5 miles per dollar spent for general members. In the best case, this $1700 ticket would earn 8500 miles, but since taxes aren't included I think it might be closer to 7000.  Either way, it's not much.
Pros:
Transfer partner of Ultimate Rewards.
No fuel surcharges.
Good website for booking awards.
Cons:
Very few miles.
You end up dealing with United.
Analysis
I may be biased but I view United miles as the most valuable currency in Star Alliance and sadly that is still true even after the recent massive devaluations. The fact is that they still don't impose fuel surcharges and that opens up the opportunity to book both economy and business class awards while still obtaining decent a decent redemption value. (Yes, partners cost more, but for business class at least, it's not that much more.) They also offer stopovers and open-jaws on award tickets and have a good website that can book most awards. Sure, other Star programs have sweet spots and may be be good for specific uses, but for an all-around flexible currency, United miles are still the most valuable.
But they aren't 4-10x more valuable!
If the goal is to maximize the number of miles earned, either Lufthansa or Aegean would seem to be the best choice as both would credit this fare at 300% (50,204 miles). Of these, Aegean has the added bonus of granting Star Gold status at 48,000 miles. But "Boston Ben's" travel patterns suggest that he would not get much, if any, from this. Therefore, I would probably recommend Lufthansa since at least they have a co-branded credit card for US resident which could be used to earn more miles on two of the accounts. Plus, I tend to trust German airlines slightly more than their Greek counterparts to keep their programs stable.
KrisFlyer has the benefit of being a transfer partner of Ultimate Rewards, which my friend Ben has a lot of, but I'm not sure that's worth earning half as many miles compared to Lufthansa.
Conclusion
I'm prepared to recommend that my friend "Boston Ben" credit his trip to Lufthansa. I think the caveat is that he should mentally prepare to redeem these miles for two domestic trips within the next three years. It may not be his preferred redemption, but it will allow him to redeem nearly the entire balance without leaving behind any orphan miles. Or he could get a round-trip in economy to the Caribbean for 35,000 miles (where he also likes to go) plus a one-way domestic award. The key is knowing that he probably won't be able to (or even want to) redeem for business class to Europe with these miles.
In doing this analysis, I realized just how complicated our hobby has become. You almost have to decide how you want to spend your miles before you've even earned them!
---
What do you think? Are any of the other Star Alliance programs worth considering? What advice would you give to my friend Ben?