Flyer Shadi Petosky, who is transgender, was trying to fly from Orlando to Minneapolis yesterday afternoon but was detained at security by the TSA, who Shadi claims told her that they were holding her because of a body-related "anomaly." Which is to say, that the TSA felt that a woman presenting as a woman but possessing a male body part was suspicious.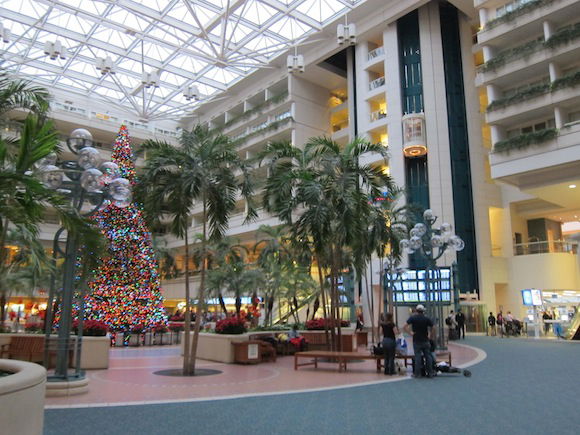 The whole debacle has been chronicled on Shadi's Twitter account, among other sources, but it appears, per Vox, that:
Shadi was trying to get to her American Airlines flight from Orlando to Minneapolis (presumably connecting somewhere in between)
TSA detained her for a body-related "anomaly" and instructed her to go back through the machine "as a man"
TSA then ordered her to stop using her phone to take photos, videos and live-Tweet
40 minutes later, Shadi was out of the security area but had missed her flight
Shadi could not rebook on American without returning to the landside ticketing area, and was escorted there by police
American Airlines told her it would cost $955 for a guaranteed seat out of Orlando to anywhere else today
Shadi claims an American Airlines customer service manager then instructed her to "ask for a private screening" next time
American's ticket desk in Orlando seemed reluctant to help her, and ended up calling the Orlando Police, who appeared to take Shadi's side
After some back and forth, and with police involvement, American flew her standby to Miami, though without an onward same-day connection
American Airlines has told the press they immediately booked her on the next flight out, which seems, at best, to be contradictory to all other accounts
Oooooooooooooof.
https://twitter.com/shadipetosky/status/646402990128123905
Obviously we're working with just one person's account right now (though the account appears to include some backup from the Orlando Police) and it's clear that the TSA's actions, at a minimum, sound legitimately insensitive, if not disturbing.
Traveling can be stressful for lots of people, and emotion and sensitivity can get the best of us, especially at the airport. I've seen security called on more than a few instances for hysterical passengers in the terminal. I have no doubt Shadi was "emotional," but it sounds like from what happened she had every right to be emotional as a direct result of some epic misdeeds on the part of the TSA.
Trans rights are certainly one of the "newer" civil rights causes, but by now nearly everyone should be aware that transgender people have the right to travel without their body parts being called into attention just as cisgender people do. (And please, I recognize there are plenty of travelers out there who grumble about the full-body scans at the airport, but getting a body scan and being specifically told that your body part does not match your gender identity and that poses a "security problem" are not nearly on the same level of offense.)
What I'm most troubled by is that American Airlines seemed at most indifferent to Shadi's problems and not especially willing to accommodate her for an airport delay no fault of her own — and, it seems, American seemed to hint that by not asking for a private screening, the ensuing delay was Shadi's fault.
I'm quite frankly surprised American Airlines didn't very quickly nip this in the bud before it became a national PR shitstorm. (I'm actually equally surprised Delta hasn't stepped up to the plate and offered her a seat on one of their many daily nonstops between Orlando and Minneapolis, but that's a missed opportunity, not a nitpick.)
Obviously, what happened yesterday afternoon in Orlando isn't necessarily indicative of TSA policies or American Airlines policies generally, just a series of suboptimal, insensitive events gone haywire at an outpost airport.
Still, even if we're only getting one side of the story, what I'm hearing is terribly disturbing and unlikely to be totally counterbalanced by some spin from AA. The simple truth is that trans people are the gender with which they identify. Asking a trans woman to "go through the scanner as a man" is simply offensive, and should be universally recognized as such.
Do you think that the TSA and American Airlines mishandled this as epically as I think they did?
Are there any transgender readers who have experienced discrimination or undue inconvenience while flying?
(Keep things civil, folks. It's 2015.)