What a couple of weeks it has been. You know you've been flying too much when you try to board a flight to the wrong destination, absolutely convinced the gate agent is wrong when your boarding pass sets off the alarm. I've spent exactly one night at home in the past nine days, three nights on planes, and five nights at Hyatt hotels. No two consecutive nights were spent in the same place. And it has been a lot of fun, minus the redeyes and the really early mornings and really late nights.
Every flight I've taken has been on time, every one of my upgrades has cleared under United's "unlimited domestic upgrade" program (and I've taken well over 30 flights since it started a few weeks ago), and service has been fantastic.
Now, let's discuss some of the negatives. As much as I love 30 Rock and The Big Bang Theory, if I see the same 30 Rock episode where Liz is about to start her own talk show and Tracy and Jenna become "the problem solvers" or the same Big Bang Theory episode where Sheldon tries to "positively reinforce" Penny and Howard and Raj go goth, I'm going to puke. If I see that stupid movie where the girl goes to propose to her boyfriend in Ireland again, I'm going to poke my eyes out (because it was awful the first time, let alone the third or fourth time). Would it kill United to at least switch the sitcoms up a bit? Plenty of people take connecting flights, so watching the same sitcom episode two segments in a row isn't exactly ideal.
Let's see here, what else has been fun. Well, in an elite security line this morning a lady decided to cut in front of me and said "can I cut in front of you? I'm a Premier Executive and know what I'm doing." I was speechless for a second, but quickly enough responded with "sure, I'm a 1K and have no clue what I'm doing, go right ahead." She didn't seem to catch on to my sarcasm. I couldn't help but laugh on the other end of the security line, where I saw her boarding pass, which was for the same flight as mine, and commented what a great Economy Plus seat she had (while I was in first class).
The one thing that has really stuck out to me is how empty the flights have been. Most of my flights have been about half full at most, which is the lowest I've seen in a long time. And unfortunately that means no bumps!
Service has been phenomenal all around. This morning I had a hilarious JFK-based purser on a short west coast hop. Her announcements nearly brought tears to my eyes, and after a while it was clear to me that I was the only one that was amused. Before she began playing the safety demo she said "please put down all reading materials and give us five minutes of your undivided attention as we show you the safety features of this Airbus 320 aircraft." Some in first class continued reading, so she says "I said, please put down all your reading materials and give us your attention." The passengers still didn't respond so she repeated herself yet again. I was amused. She also commented three times how we were "flying the world's largest airline" (c'mon now, it's not about size, It's about what you do with it – I'll take Swiss or Singapore any day over the world's largest airline — and I'm sure this guy agrees with me). She also mentioned how lucky we were to be flying with "three of United's best flight safety professionals." Gosh, she was horrifically hilarious. I was also awarded with her prestigious "double biscoff award" (don't ask).
On the service front, my highlight in this series of flights had to be Terrence. If only all flight attendants were like him. I also had an excellent purser a couple of days ago to Tampa. The audio wasn't working so I just pointed it out to him (I wasn't going to ask for a skykit as I just wanted to sleep). I slept nearly the whole flight, but when I woke up he handed me a skykit and this card: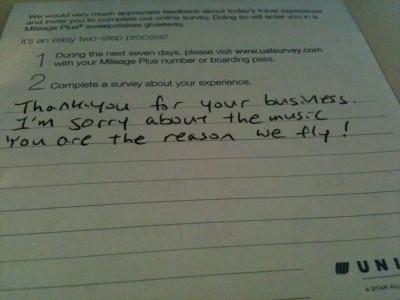 And the fun's not over. Heck, the fun is just beginning. This coming week I'll be heading to Los Angeles and New York for legitimate reasons (staying at the Andaz West Hollywood, Andaz Wall Street, and InterContinental Barclay; expect a review of all three hotels), which should be fun. The week after that I'm thinking of booking an award to Buenos Aires. I've never been before and I have all these free Hyatt nights to use, and the Park Hyatt there is apparently top notch.
So life is good, though I'm quite looking forward to getting some solid nights of sleep over the next few days… and shoot, gotta figure out what to get mom!
Oh, and I haven't gotten any flak from the TSA over my sticker:
PS: Guess I spoke too early regarding the service. I'm typing this on a Washington to Tampa flight, which is operated by a 757 with only nine out of 24 seats taken in first class. The flight attendant has done exactly one beverage service the whole flight with no offers to refill. At least she seems to be taking her safety duties (protecting her John Grisham novel) very seriously!
PPS: Oh wait, she just walked by to go talk to the flight attendants in the other jumpseats. When I asked for a glass of water she gave me a stare as if I asked her to join the mile high club with me. I'm almost tempted to push the call button for a refill. Something tells me she'd come up to me and say "you not push call button again. It for emergency only!"