Via Head for Points, Virgin Atlantic has quietly updated their change and cancellation policy. Going forward, if you've redeemed Flying Club miles for an award, you won't receive a refund of your miles if you cancel within 7 days of the flight.
The Virgin Atlantic website now reflects the following terms [emphasis mine]:
Once tickets for a Reward Booking are issued, no name changes are allowed. If for any reason a flight Reward is cancelled by the Member outside 7 days of departure, 100% of the Miles will be re-credited to the Member's account. A cancellation fee of £30 for changes to flights originating in the UK, US$50 for changes to flights originating in the US or local currency equivalent of US$50 for changes to flights originating in any other region will apply

If for any reason a flight Reward is cancelled by a member within 7 days prior to departure, no Miles will be refunded and a £30 administration fee will be charged to process the refund of any taxes, charges/surcharges. If you change the original travel date (within 7 days of departure) and later decide to cancel your flights, you will forfeit the mileage used for the Reward. Once travel has commenced Miles cannot be refunded.
To start, this is an absolutely ridiculous policy.
One of the major benefits of award tickets as opposed to revenue tickets is that you traditionally have greater flexibility if you need to make changes.
Most airlines have very reasonable change fees and policies for award tickets, which makes sense. Award inventory is typically distressed inventory, particularly within a week of departure.
It's a win for everyone if seats that would otherwise go unsold can be exchanged for miles — that builds passenger loyalty, and reduces the liability of the frequent flyer program.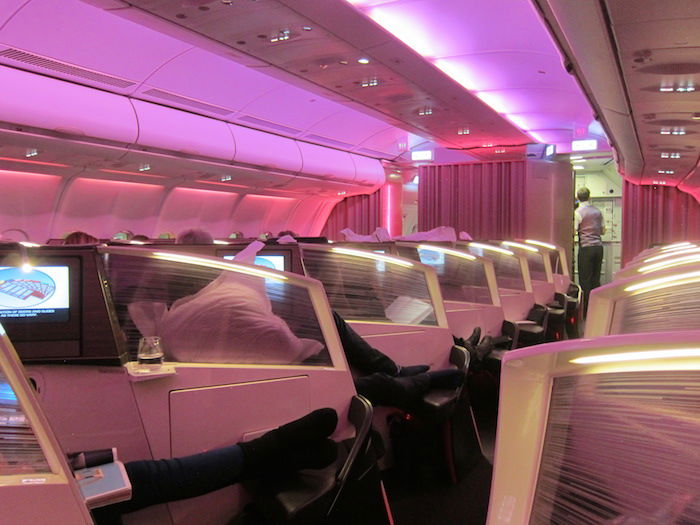 Virgin Atlantic Upper Class A330
So preventing passengers from modifying award tickets within a week of travel (or even 72 hours, like Delta requires), isn't something that makes much sense to me in general. Particularly given that Virgin Atlantic requires you to cancel your award and rebook if you're looking at moving from Premium Economy to Upper Class, and it's unclear if the system will consider upgrading award tickets to be cancellations.
The previous policy allowed Virgin Atlantic Flying Club members to cancel outside of 24 hours and still receive a full mileage refund, which seems much more reasonable.
On top of that, this change was made with no notice (or announcement) whatsoever.
I certainly respect the right of loyalty programs to modify their terms as they see fit, but to do so without communicating with their customers is ludicrously unnecessary.
Generally speaking I consider Flying Club miles to be among the least valuable mileage currencies out there, given their somewhat restrictive award rules, high fuel surcharges on a majority of their partners, and not-so-great award rates. So in most cases I'd recommend booking through Delta SkyMiles, as availability is generally similar.
However, if you already have Virgin Atlantic miles, this new restriction is something to keep in mind.