Here's something super random/cute/quirky. Virgin America is auctioning off some one-of-a-kind shoes on Ebay, and all the proceeds to go charity. Specifically, money raised will go to Soles4Souls, which helps get shoes and clothing to people in need.
So, what kind of shoes could an airline possibly be auctioning off on Ebay? The Virgin America First Class Shoe, of course, which has most of the same features you'll find in Virgin America first class. Here's a video about the concept:
https://www.youtube.com/watch?v=0niDdtLSyeo
Here's how the pair of shoes is described:
Virgin America, Eleven Inc., and SearchnDesign in Milan, Italy have created the Virgin America First Class shoe. This is a one-of-a-kind item. In fact, this is the only pair available in the world. Inspired by Virgin America's First Class amenities, these are the only shoes ever created with WiFi, moodlighting, First Class leather, a video display, and a built-in phone charger. This is the only pair available and this is a one-time auction. The proceeds will be donated to Soles4Souls, a non-profit charity committed to fighting poverty through the distribution of shoes and clothing.

This might be your last chance to get your hands on a piece of historic aviation memorabilia. Whether you're a sneakerhead or an airline enthusiast, this is a can't-miss collectible. And it's sure to be a conversation starter for years to come.

Hand crafted in Milan, Italy.
High-quality Italian white leather.
Stainless steel seat buckle accent.
Moodlighting.
Video display.
Rechargeable battery with up to 3 hours of battery life.
USB phone charger.
WiFi enabled hotspot (data plan not included)
Embossed Virgin America logo.

The shoes will be delivered in a custom plexiglass display case with LED lighting – the perfect way to show off this unique item.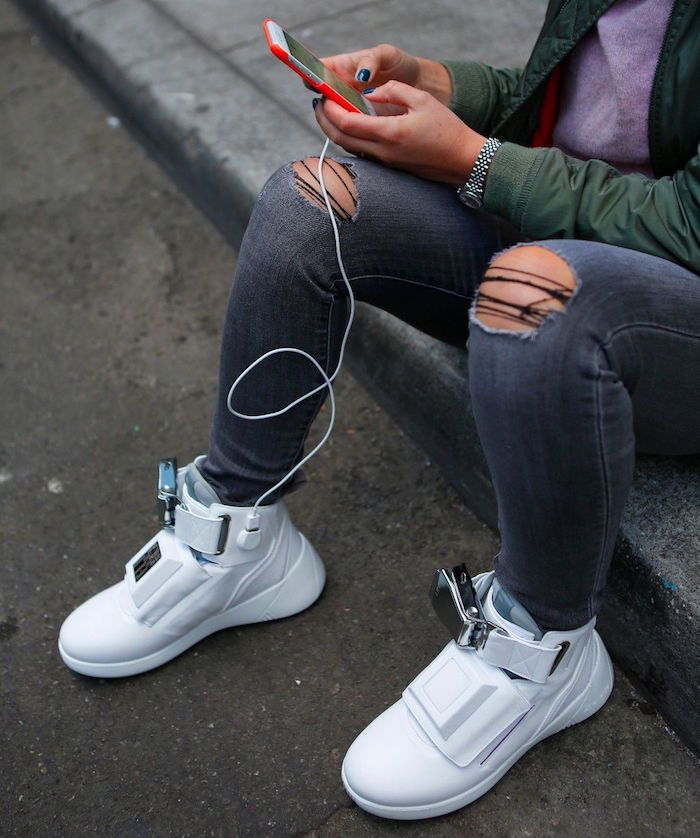 It's worth noting that these shoes are size eight for men or size 10 for women, so the shoes probably won't fit most people. That being said, something tells me these shoes weren't exactly made to be worn. 😉
As of the time this post is published, bidding on the shoes is up to $1,625, though there are another eight days left until the auction is over.
Bottom line
Kudos to Virgin America for coming up with this cool concept. Presumably their main intention here is to generate buzz about their first class product, and in the process they're raising money for charity. That seems like a win-win to me.
So, is anyone planning on bidding on this pair of shoes?
(Tip of the hat to @Kreative22)